Hungary to Build Fence to Stop Non-White Migrants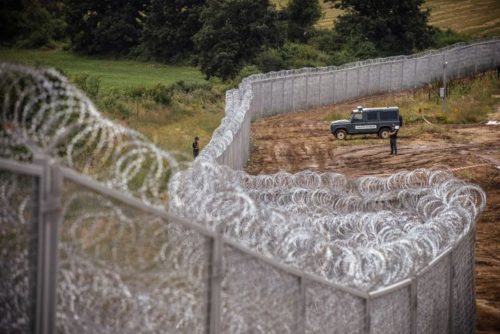 Pope Francis attacks all those who would "close the door" to "migrant" invaders
EDITOR'S NOTE: Serbia's condemnation of the fence is misplaced. What must be recognized is that the root causes of the "migrant" invasion — Israel's aggression, her intelligence agency's complicity with ISIS, the wars for Israel being fought by the US and its "allies," and the open borders policies of Western nations — can all be traced back to the Jewish power structure. Jewish influence over our nations must be terminated decisively if we are to survive.
* * *
SERBIAN prime minister Aleksandar Vucic said he was "surprised and shocked" by a Hungarian plan to close the border with Serbia and erect a four-metre-high fence along their shared border to keep out illegal migrants.
(ILLUSTRATION: The wall on the Bulgarian border with Turkey, erected in 2014 to stem the flow of mostly Syrian migrants.)
Hungary said Wednesday it was building the barrier to keep out migrants as Europe struggles to deal with a massive flow of people from Africa and the Middle East.
"I am surprised and shocked. We will discuss this decision with our Hungarian colleagues," Mr Vucic said live on state television during a visit to Oslo.
"Building walls is not the solution. Serbia can't be responsible for the situation created by the migrants, we are just a transit country.
"Is Serbia responsible for the crisis in Syria?"
The move was announced as Pope Francis hit out at nations that "close the door" to those seeking a safe haven from war, poverty and persecution.
In Budapest, foreign minister Peter Szijjarto said Hungary's government has ordered work to start on the fence along the length of its 175-kilometre border with Serbia.
"Preparation work for the fence should be completed by next Wednesday. This decision does not break any international treaty, other countries have opted for the same solution," he said, citing similar barriers on the Greek-Turkish and Bulgarian-Turkish frontiers, and around Spanish exclaves in Morocco.
Bulgaria's fence, along a section of its 240-kilometre border with Turkey, also aims to keep out migrants and the nation has plans to extend it.
The UN refugee agency's regional spokesperson Kitty McKinsey condemned the fence plan.
"The right to seek asylum is an inalienable human right. So we are concerned that erecting a fence would place too many barriers to this right," she said.
Last year, Hungary received more refugees per capita than any other EU country apart from Sweden.
This year, 54,000 refugees have already entered Hungary, according to government figures, a sharp rise from the 2,000 who arrived in the central European state in 2012.
As a European Union member, Hungary is in the passport-free Schengen zone, unlike Serbia.
Once inside Hungary, migrants can therefore travel easily elsewhere in the 26-nation zone.
Hungary has said about 95 per cent of migrants to enter the country this year came through Serbia.
Hungary 'cannot afford to wait any longer'
More than 100,000 migrants have arrived in Europe this year, 60,000 through Italy alone, according to the EU's border agency Frontex.
On Tuesday, European interior ministers failed to come to a decision on EU proposals to redistribute 40,000 Syrians and Eritreans who have arrived in Europe, and to resettle 20,000 Syrians living in camps outside Europe.
Mr Szijjart said that with EU efforts towards a satisfactory joint approach proving to be "long and time-consuming", Hungary "cannot afford to wait any longer".
We have made progress today but we are not there yet," EU migration commissioner Dimitris Avramopoulos said after the talks in Luxembourg.
"Words are not enough."
The fence will evoke memories of the Cold War-era barriers, including the Berlin Wall, that separated Communist eastern Europe, including Hungary, from the capitalist west.
On Wednesday, Pope Francis demanded greater respect for "our brothers and sisters who seek refuge far from their own lands".
"I invite everyone to ask God's pardon for those people and institutions who close the door to those who are seeking a family, who are seeking to be protected," he said.
By comparison, France said it was "doing its part" by creating 10,500 new housing units for asylum seekers and immigrants.
In seven years, the number of asylum seekers has nearly doubled in France to reach more than 66,000 cases in 2013.
As a result, there is a severe lack of housing facilities and half of all asylum seekers have to fend for themselves, resorting to living in slums, squats or sleeping rough.
* * *
Source: ABC News