Billionaire Ronald Lauder Urges Congress to Fight "Surge Of Anti-Semitism"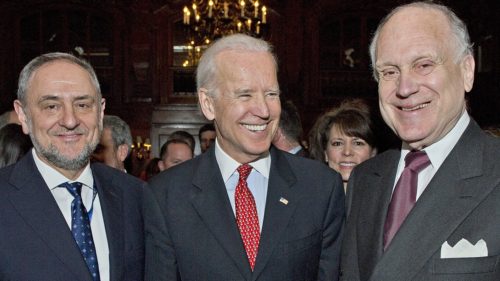 BILLIONAIRE RONALD LAUDER, a fierce Jewish affairs advocate, urged Congress on Tuesday to take a stronger lead in combating what he described as a surge in anti-Semitism across Europe. (ILLUSTRATION: Vice President Joe Biden (center) met with World Jewish Congress President, billionaire Ronald Lauder (right) and WJC CEO Robert Singer (left) on Tuesday.)
Lauder, who is the World Jewish Congress' president, testified before a House of Representatives subcommittee and highlighted a growing number of attacks targeting Jews in Europe. Lauder called the trend "reminiscent of a darker time that we thought we had behind us" as he cited the recent terror attacks in France and Denmark that shocked the international community.
"European leaders have stepped up and strongly condemned these attacks on Jews and the rise of anti-Semitism. The United States must do the same. The United States must lead," he said. Lauder criticized the government for not having a U.S. representative walk in front during the Paris march where 1 million people, including leaders from across Europe, protested the attacks on satirical newspaper Charlie Hebdo and a kosher grocery store in January.
During the hearing, eight representatives launched a Bipartisan Taskforce for Combating Anti-Semitism. Lauder's testimony pointed to Jews making up less than 1% of population in France, though they were victims of more than half of all racist attacks in that country last year. He also said anti-Semitic attacks doubled from the year before in France, Great Britain and Austria. "You don't have to be a mathematician to see an obvious trend here," he said.
Lauder is worth an estimated $3.9 billion — largely from his stake in the cosmetics conglomerate his mother Estee founded — but he has focused much of his career on diplomacy and politics. President Ronald Reagan appointed him U.S. ambassador to Austria from 1986 to 1987 — a time he has said shaped him due to experiencing instances of anti-Semitism. Before that, he served as deputy assistant secretary of defense for European & NATO affairs from 1983 to 1986.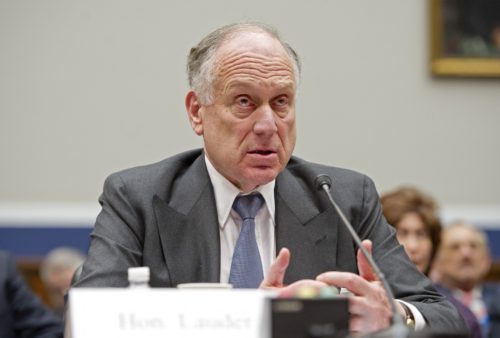 He cited four reasons for the recent wave of anti-Semitism across Europe: A minority of Muslim immigrants adopting radical Islamic values, the rise of small Neo-Nazi extremist groups, "an educated, elitist class" having "a pathological hatred of Israel," and social media aiding the spread of propaganda.
"There are thousands of young European Muslims that have left to fight with Islamic radicals in Iraq and Syria, and there is a real fear that they could return, bringing the bloodshed with them. Some have already returned and we have seen the consequences," he said.
Lauder, who represents Jewish communities across 100 countries, pointed to meeting with Jewish leaders in Rome last fall. He said they told him that their children and grandchildren will "definitely" immigrate to more welcoming countries, and that they estimated the Jewish community in Italy's capital would disappear in 25 years.
* * *
Source: Forbes