South Africa: White Woman Judge Tells the Truth About Blacks and Rape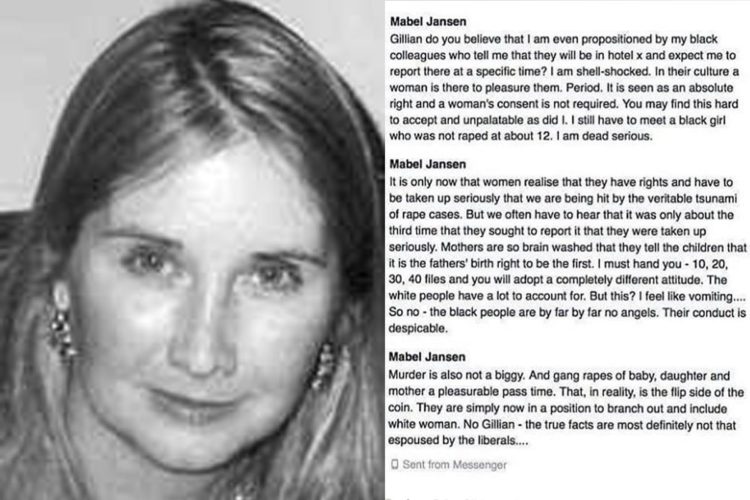 Introductory Note: Judge Mabel Jansen was suspended from her job and is now in fear for her life after telling the truth about rape in South Africa to a leftist Jew in a private note. The judge said that she had yet to meet a 12-year-old Black girl who hadn't been raped, often by her own father — and stated that, as a White woman judge, she was expected by her Black male colleagues to appear for sex at hotel rooms upon demand. The Jew responded by "outing" the judge as a "racist." In Black-Marxist-run South Africa, that can be a death sentence.
by David Sims
JUDGE MABEL JANSEN has gotten into trouble for telling the truth about race. She made the mistake of trusting a Marxist "liberal" to keep a private communication private. Of course, the liberal did just the opposite, publishing it and revving up the old mass-vilification steamroller.
Mabel Jansen, speaking to Gillian Schuttel, a Jewess, via Messenger, said:
Gillian do you believe I am even propositioned by my black colleagues who tell me that they will be in hotel x and expect me to report there at a specific time? I am shell-shocked. In their culture a woman is there to pleasure them. Period. It is seen as an absolute right and a woman's consent is not required. You may find this hard to accept and unpalatable as did I. I still have to meet a black girl who was not raped at about 12. I am dead serious.

It is only now that women realise that they have rights and have to be taken up seriously that we are being hit by the veritable tsunami of rape cases. But we often have to hear that it was only about the third time that they sought to report it that they were taken up seriously. Mothers are so brain washed that they tell the children that it is the father's birth-right to be the first. I must hand you – 10, 20, 30, 40 files and you will adopt a completely different attitude. The white people have a lot to account for. But this? I feel like vomiting… So no — the black people are by far by far no angels. Their conduct is despicable.

Murder is also not a biggy. And gang rapes of baby, daughter and mother a pleasurable pastime. That, in reality, is the flip side of the coin. They are simply now in a position to branch out and include white women. No Gillian — the true facts are most definitely not that espoused by the liberals…
There are several different kinds of liberals. They all hew to the same wrong-headed ideology. But some of them do so in ignorance. I was, myself, one of these "naïve" liberals until I was 35 years old. But other liberals never tire of presenting their lies as the truth knowing fully well that the truth isn't really what they say it is. These are the "evil" liberals, the ones who have carved out a reputation and, perhaps, a monetary income by vending the lies of liberal doctrine and by making trouble for anyone who dares disagree with those lies.
Liberals (in their feminist incarnation) have claimed to be champions of a woman's right to be safe from rape. Long ago, in the heyday of Susan Brownmiller, Kate Millett, Andrea Dworkin, etc., this was one of the big projects of the feminist left.
But over the years, I began to notice that feminists in general sometimes ignore sexual harassment and sexual assault cases, turning a blind eye and looking the other way when pursuing them with determination would conflict with racial political correctness. Then women's rights and alleged rapes often go on the back burner.
It doesn't always happen so: The feminists did, after all, go howling after Bill Cosby. But when accused rapist Bill Clinton was president, the feminists ignored the credible statements of Juanita Broaddrick because Bill Clinton was using his political influence in ways that the leftist feminists approved of.
In time, it occurred to me that perhaps there was more leftist than feminist in a lot of so-called feminists. Modern feminism was, in its inception, the work of mostly Jewish women, and it seems plausible that their ostensible mission (women's rights) isn't really their primary mission, the Zionist mission, which is subverting Western Civilization.
Assuming that's how things are, the selective blindness of the feminists with regard to some rapists and certain rape cases would make sense.
It would be like that in South Africa to an even greater extent than it is in the United States, because South Africa is an already fallen formerly White country, whereas the United States is still in the process of falling. Judge Mabel Jansen is like a soldier on the defeated side, who had been hiding behind the curtains for a while, but she spoke to a Jewish woman, who twitched the curtain aside and shouted, "I found an enemy!"
It is almost comical that Mabel Jansen, speaking to Gillian Schuttel after the latter had begun a witch-hunt against the former, thought that she could make Schuttel feel guilt or remorse for having put the lives of Jansen and her family into danger. Of course Schuttel did that — and quite without remorse. Jansen didn't really appreciate that Schuttel was her enemy in every bloody sense of the word. Marxists have been calling for, and laughing at, the deaths of those who oppose them since Vladimir Lenin called for "as much blood as possible" during the Bolshevik Revolution. I think that Gillian Schuttel intended to impose mortal danger upon Mabel Jansen, and she is apparently very pleased to have been successful.
* * *
Source: Author and Support Mabel Jansen