Migrant Crisis: Hungary Police Recruit 'Border-Hunters'
The Hungarian police are advertising for 3,000 "border-hunters", who will reinforce up to 10,000 police and soldiers patrolling a razor-wire fence built to keep migrants out.
THE NEW RECRUITS, like existing officers, will carry pistols with live ammunition, and have pepper spray, batons, handcuffs and protective kit. (ILLUSTRATION: Border at Roszke: Hungary plans to build a second fence, citing security concerns)
The number of migrants reaching Hungary's southern border with Serbia has stagnated, at fewer than 200 daily.
The new guards will start work in May.
The recruits will have six months' training, they must be over 18, physically fit and must pass a psychological test, police officer Zsolt Pozsgai told Hungarian state television.
Monthly pay will be 150,000 forint (£406; $542) for the first two months, then 220,300 forint.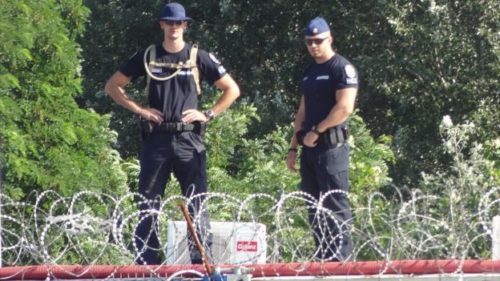 Hungary is in the grip of a massive publicity campaign, launched by Prime Minister Viktor Orban's right-wing government ahead of a 2 October referendum.
Voters will be asked to oppose a European Commission proposal to flood Europe with 160,000 invaders, though experts say the EU's numbers are purposely skewed downwards by as much as a factor of ten. …
* * *
Source: BBC