Kalamazoo: Imported Black Sports Stars Rob, Imprison, Attempt Rape and Murder of White Woman
https://www.youtube.com/watch?feature=share&v=D5yPdI2KUng&app=desktop
Watch the video by Colin Flaherty, then compare the whitewashed version from the controlled media site Mlive below.
WESTERN MICHIGAN football players Ron George and Bryson White were formally charged Sunday morning.
Kalamazoo County Prosecutor Jeff Getting said both players have been charged with armed robbery, first-degree home invasion and larceny in a building.
Getting said he believes George and White are in custody and will be arraigned Monday.
"The police report contains interviews of witnesses, as well as descriptions of evidence that was seized during the course of the investigation," Getting said. "Based on those statements the following charges were issued."
The charges stem from an incident that happened Friday night.
According to a news release from Kalamazoo Public Safety, officers arrived at the 1300 block of California Avenue about 8:50 p.m. Friday to find that two suspects had pushed their way into an apartment and robbed the female occupant using a gun and a knife. An undisclosed amount of cash and other property were taken, the release said.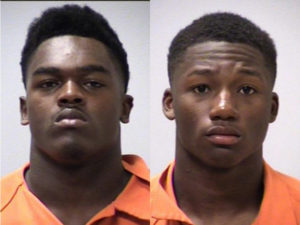 Vehicle and suspect descriptions were released following the initial incident and a Western Michigan University police officer spotted a vehicle matching the description. The officer arrested George and White at 11:39 p.m., according to Western Michigan University spokeswoman Cheryl Roland.
Following the arrest, a search warrant was issued and executed at a dorm room in Draper Hall. Roland did know what police were searching for or what was discovered in the search.
George, a 6-foot, 204-pound freshman from Pittsburgh, initially committed to Toledo before switching to the Broncos just before signing day.
White, a 5-foot-9, 168-pound freshman, is from Mason, Ohio.
Western Michigan coach P.J. Fleck released a statement early Saturday morning suspending the players indefinitely.
"Having heard this news early this morning, I took action to immediately suspend both freshman players indefinitely," Fleck said in a release. "I'm extremely disappointed and want to assure the community that this kind of conduct is unacceptable and does not represent the values of this team or this university.
"All student-athletes will be held accountable to all University student code, Athletic-student athlete and Football code of conduct standards. Violations of these standards can lead to dismissal from the team and University."
* * *
Source: Colin Flaherty and MLive Michigan