Black Rioters in Baltimore Smash Police Cars, Attack Motorists in Frenzied Protest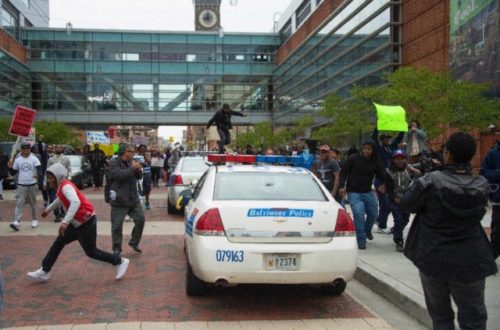 PROTESTERS SMASHED police cars and shop windows in downtown Baltimore on Saturday when the biggest demonstration over the death of a young African-American man in police custody turned violent. (ILLUSTRATION: Black rioters pouncing upon stationary Baltimore police cars, which appear to be doing nothing about it.)
More than 1,000 people joined an orderly 90-minute rally at Baltimore city hall demanding justice for Freddie Gray, who died last Sunday from spinal injuries, a week after his arrest in the city's impoverished west side.
But the mood shifted dramatically when several scores of protesters moved on to the Camden Yards baseball stadium, an hour before the scheduled start of a Baltimore Orioles-Boston Red Sox game.
Live images from local television news helicopters showed a youthful crowd hurling soda bottles and trash cans at police officers alongside the Sports Legends museum and Camden Yards ticket booths.
"Protesters are now breaking windows and throwing items at us," the Baltimore police department confirmed on its Twitter feed. "We are asking everyone to remain peaceful."
Others were seen smashing shop windows and blocked intersections, with one motorist getting a rock through her car window, CBS affiliate WBAL reported.
Five police cars were seen by an AFP photographer getting their windows smashed, before riot police moved in.
* * *