California: Hate Hoax Number 18,942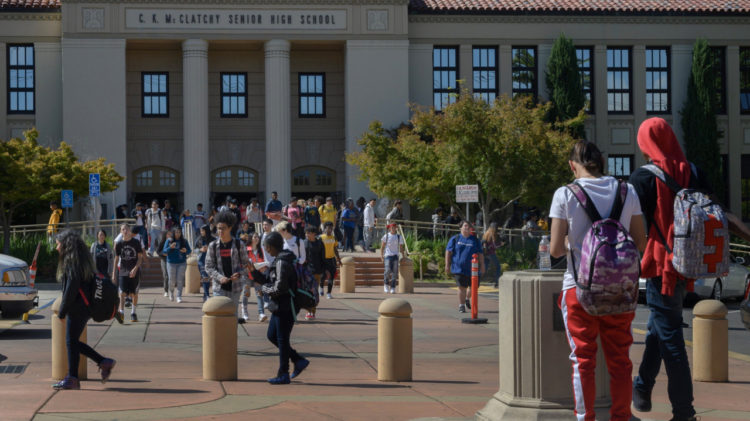 by David Sims
ON 11 February 2022, the news media frantically spread the word about a "racist incident" in the Sacramento Unified School District. Racially insulting graffiti was found at C.K. McClatchy High School (3066 Freeport Boulevard, Sacramento, CA 95818). The graffiti was removed.
School officials pontificated about how the incident "proved" that racism was alive and prospering in the United States. Leftists demonstrated in protest, waved signs, shouted "end hatred of Blacks" and "no room for hatred," and so on, with their leaders shouting about the need for a "racial reckoning" (beating up White people and stealing their money via government wealth transfer schemes).
And then, of course, the police discovered, on 17 February 2022, that the graffiti artist was a 10th grade Black girl. Not only did they catch her in the act; she confessed. She was caught on security video cameras writing the word "colored" over one drinking fountain and the word "white" over another.
That's how it goes. For every genuine act of racial hate by a White person, there are a thousand hoaxes of racial hate by Blacks. The next time you hear about a story like this in the media, you can be reasonably certain that it is based on a big, fat lie.
Of course, once it became known that the perpetrator was not White, the stern calls for punishment magically evaporated, and the incident was demoted by the media from a "hate crime" to a child's prank.
You might be interested in reading the so-called "Equity Overview" of C.K. McClatchy High School, the Sacramento, California school involved. It got a score of 3 out of 10. The overview stated
Underserved students at this school may be falling behind other students in the state, and this school may have significant achievement gaps.
Translation: Blacks can't learn as much or as fast as Whites do, because of their inferior brains — but because this is an impolitic thing to say, we're going to describe Blacks as "underserved," rather than "as dumb as rocks."
From the report:
Student Racial Composition
Whites, 22%
Mestizos, 43%
Asians, 16%
Blacks, 9%
College Readiness
Whites, 9/10
Mestizos, 6/10
Blacks, 4/10
Advanced Coursework, AP classes
Whites, 27%
Asians, 29%
Mestizos, 15%
Blacks, 7%
Advanced Coursework, College Classes
Whites, 10%
Asians, 11%
Mestizos, 9%
Blacks, 4%
Test Scores, Math
Whites, 9/10
Asians, 8/10
Mestizos, 6/10
Blacks, 2/10
Test Scores, English
Whites, 72%
Asians, 66%
Mestizos, 36%
Blacks, 22%
Discipline, Percent Suspended
Whites, 1%
Asians, 1%
Mestizos, 5%
Blacks, 20%
Discipline, Chronically Absent
Whites, 16%
Asians, 10%
Mestizos, 23%
Blacks, 44%
* * *
Source: Author