Huge Surprise: Austrian Jew Carves Swastika on His Own Body; Cries "Anti-Semitism"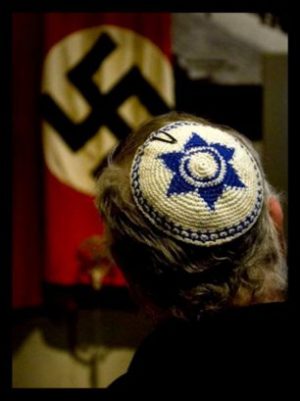 AN AUSTRIAN [based on his behavior, likely a Jew — Ed.] who claimed attackers carved swastikas on to his chest and forehead is now being investigated for carrying out the carvings on himself as part of a bizarre revenge plot on his neighbour.
A relation of his neighbour even spent three months in pre-trial detention after he was accused of the attack, which police now believe was carried out by Austrian Robert T. on himself.
The 52-year-old had first claimed in September that he was attacked as he cycled home one night by three masked men, who pinned him down and carved a swastika into his forehead.
In February this year he then claimed he was attacked a second time when he said a young man waved him down and asked for help, saying his girlfriend was trapped in the car but when he went to their aid he was hit in the back of the head and passed out.
He said when he regained consciousness, he was lying partly submerged in an ice cold stream with his hands tied behind his back when one of his attackers leaned over him and scratched a swastika into his chest with a knife.
Both incidents were being investigated in relation to a long ongoing dispute between T. and his neighbours where he lives in Bad Fischau near Wiener Neustadt.
In February police chief Inspector Leopold Etz said they believe that the suspects live in the same neighbourhood as the victim and have been trying to force him and his family to move out of their home in a dispute which goes back years.
The neighbour's son-in-law was even arrested last year following the first attack but later acquitted after three months in pre-trial custody due to a lack of evidence. T. had then claimed that his attackers said the second incident was revenge for accusing their relative.
Now police say it appears T., who had told newspapers he had been afraid to leave the house following the attacks, made the whole thing up and carved the swastikas onto his own body to try and frame his neighbours.
Police became suspicious about some of the statements provided by T., including there being no injury to his head despite saying he was hit there hard enough to be knocked out in the second attack.
He was reported on Monday for providing false testimony, slander and falsely claiming an offence took place. His wife is also being investigated for providing false testimony.
Spokesperson for state prosecutors Erich Habitzl confirmed to the Kurier that they will soon decide on what charges to bring against the man, who denies any wrongdoing.
* * *
Source: The Ugly Truth