Harvey Weinstein and the Rape of Non-Jewish Women in Hollywood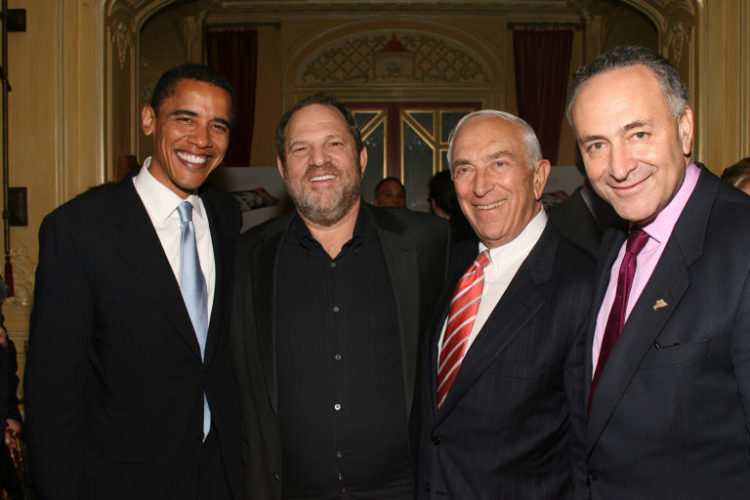 by Karl Radl
JEWISH HOLLYWOOD mogul Harvey Weinstein has been in the news a lot recently after the New Yorker printed a superb piece of investigative journalism by Jodi Kantor and Megan Twohey. Where they detailed how Weinstein had long abused his position as the founder and head of the Weinstein Company as well as formerly Miramax to sexually abuse and molest female employees and starlets. (1)
This should be no particular surprise since Jews have long had quite the problem with rape and sexual molestation within the ranks of their tribe. (2) What hasn't been mentioned in the multitude of media coverage — and I'd almost say deliberately played down and ignored — is that Weinstein and his defenders are almost without exception Jewish and his victims non-Jewish.
Take for example his principal attorney and public advocate Lisa Bloom — daughter of Jewish actress Gloria Allred (nee Bloom) — (3) and staunch public defender of Weinstein's 'integrity' Jewish fashion mogul Donna Karan — founder of the famous brand DKNY — who suggested that the non-Jewish women were simply 'asking for it'. (4) Jewish actress Mayim Bialik has also been quick to defend him and claim his victims are in effect 'immodest whores' (5) as has Jewish Hollywood director Oliver Stone. (6)
Former Disney Chairman and fellow Jewish Hollywood mogul Jeffrey Katzenberg has half-heartedly distanced himself from Weinstein even though he almost certainly knew about what his confrere was getting up to and openly hinted that isn't the only Jewish sexual predator in the upper echelons of the industry. (7)
Jewish Libertarian Cathy Young has also taken to the pages of the Jewish Daily Forward in an effort to warn the goyim — who clearly just don't understand the moral necessity of Jewish womb imperialism — not to 'start a witch-hunt' (as has Robert Zaretsky in the same publication and Naomi Dickson in the Times of Israel), (8) which in other words means that there are likely an awful lot more Jewish sex offenders in Hollywood that need to be shamed and then shot.
While Jewish groups that have been supported by Weinstein — such as the famous Simon Wiesenthal Centre which awarded him its second 'Truth to Power Award' in 2015 for 'humanitarian work' with 'Shoah survivors' — have not only not condemned Weinstein, but actually refused to rescind their awards to him. (9)
Compare that to his known victims, which have included:
Heather Kerr in the late 1980s (10)
Laura Madden in 1991 (11)
Rosanna Arquette in the early 1990s (12)
Miro Sorvino in 1995 (13)
Asia Argento in 1997 (14)
Ashley Judd in 1997 (15)
Rose McGowan in 1997 (16)
Zelda Perkins in 1998 (17)
Lucia Evans (nee Stoller) in 2004 (18)
Lauren Sivan in 2007 (19)
Emma de Caunes in 2010 (20)
Jessica Barth in 2011 (21)
An Unnamed Italian Actress in 2013 (22)
Emily Nestor in 2014 (23)
Ambra Battilana Gutierrez in 2015 (24)
Lauren O'Connor in 2015 (25)
Notice a trend?
Well that's because only one of the dozens if not hundreds of women (Rosanna Arquette) that we now know that Weinstein sexually assaulted, molested and raped were Jewish. They are nearly all non-Jewish and even more specifically: of European origin or extraction, while Rosanna Arquette is that rare phenomenon: a blonde Jewess.
Evidently this is a distinct preference on Weinstein's part since both of his wives — former Mrs Weinstein Eve Chilton and the current Mrs Weinstein Georgina Chapman — have both been non-Jews of European origin or extraction. (26)
We also know for a fact that Weinstein's Jewishness is also a factor in his sexual exploitation and rape of these non-Jewish women.
Since as Kantor and Twohey wrote in their article in the New Yorker:
'Mr. Weinstein was a volcanic personality, though, given to fits of rage and personal lashings of male and female employees alike. When a female guest of his had to wait for a hotel room upgrade, he yelled that Ms. O'Connor would be better off marrying a "fat, rich Jewish" man because she was probably just good for "being a wife" and "making babies," she wrote in her memo. (He added some expletives, she said.) His treatment of women was sometimes written off as just another form of toxicity, according to multiple former employees.' (27)
In other words; non-Jewish women should have sex with — and preferably marry — 'fat, rich Jewish men' because that is all they as non-Jews — and probably shiksas (literally 'non-Jewish whores who secretly crave sex with Jewish men' according to Jewish culture as well as Judaism itself) — are capable of doing. Thus Weinstein feels entitled to their 'sexual labour', (28) because he is a Jew — i.e. a powerful member of God's chosen people — and they are a sub-human vessel that should honoured to be raped and sexually humiliated by a Jewish man.
The idea that his Jewishness is incidental to his conduct is put to bed by the fact that he specifically states that the 'fat, rich man' should be 'Jewish' when he had no need to do so and dismisses the claim that it was just a 'power' or 'class' thing.
Why mention Jewishness if it isn't a factor and why is there only a single Jewish victim?
That isn't likely to be a coincidence no matter which way you wish to slice the evidence.
The fact that he has only now been ousted from his own creation — the Weinstein Company — (29) is actually evidence of this, because his brother — Ben — and his own fellow Jewish directors and executives knew exactly what Weinstein was up to, but refused to do anything about it. (30) Even though Ben Weinstein himself has now been accused of doing the same things as his brother (31) and this is likely to cause the Weinstein Company to fold or be sold. (32)
Hence why there is now an open police investigation in regards to Harvey Weinstein's behaviour, who knew about it and did nothing as well as looking into the suggestions that he was not the only one. (33)
After all; all but one of the victims were just non-Jewish women.
Who cares about them: right?
No matter how desperate the Jewish media is to reclaim the narrative as a feminist cause célèbre and 'proof of rape culture'; (34) the fact remains that Weinstein sexually assaulted and raped non-Jewish women of European origin and/or extraction — not Mexicans, Chinese, or Indians.
That is no accident.
References
(1) https://www.nytimes.com/2017/10/05/us/harvey-weinstein-harassment-allegations.html; http://forward.com/fast-forward/384758/3-women-accuse-harvey-weinstein-of-rape-in-new-yorker-expose/
(2) For example see: https://www.jofa.org/education-jofa-journal/preventing-abuse-our-jewish-communities-fall-2015-winter-2016/judaism-and; https://www.ncbi.nlm.nih.gov/pubmed/17974935; https://www.timesofisrael.com/orthodox-jews-convene-to-stop-to-domestic-and-sexual-abuse/
(3) http://forward.com/fast-forward/384538/gloria-allred-slams-daughter-lisa-bloom-for-defending-harvey-weinstein/; http://forward.com/schmooze/384642/harvey-weinsteins-career-is-probably-over-lisa-blooms-career-definitely-is/
(4) https://www.timesofisrael.com/donna-karan-backs-weinstein-suggests-sexy-women-asking-for-it/
(5) http://www.thejewishstar.com/stories/modesty-bialiks-suggestion-inflames-the-internet,14569; https://www.timesofisrael.com/mayim-bialik-deeply-hurt-over-weinstein-comment-backlash/
(6) https://www.timesofisrael.com/oliver-stone-weinstein-being-condemned-by-vigilante-system/
(7) https://www.timesofisrael.com/former-disney-studios-chairman-weinstein-a-monster-in-pack-of-wolves/
(8) http://forward.com/opinion/national/385236/its-a-good-thing-that-harvey-weinstein-has-been-stopped-but-lets-not-start/; http://forward.com/culture/385474/harvey-weinstein-loses-his-honor-putin-and-mussolini-get-to-keep-theirs; http://blogs.timesofisrael.com/we-must-demand-a-better-response-to-sexual-harassment/
(9) https://www.timesofisrael.com/wiesenthal-center-isnt-withdrawing-prize-given-to-harvey-weinstein/
(10) https://www.timesofisrael.com/two-more-weinstein-accusers-go-public-with-sex-assault-claims/
(11) https://www.nytimes.com/2017/10/05/us/harvey-weinstein-harassment-allegations.html
(12) https://www.newyorker.com/news/news-desk/from-aggressive-overtures-to-sexual-assault-harvey-weinsteins-accusers-tell-their-stories
(13) Ibid.
(14) Ibid.
(15) https://www.nytimes.com/2017/10/05/us/harvey-weinstein-harassment-allegations.html
(16) Ibid.
(17) Ibid.
(18) https://www.newyorker.com/news/news-desk/from-aggressive-overtures-to-sexual-assault-harvey-weinsteins-accusers-tell-their-stories
(19) http://www.etonline.com/tv-reporter-lauren-sivan-claims-harvey-weinstein-sexually-harassed-her-2007-88856
(20) https://www.newyorker.com/news/news-desk/from-aggressive-overtures-to-sexual-assault-harvey-weinsteins-accusers-tell-their-stories
(21) Ibid.
(22) https://www.timesofisrael.com/two-more-weinstein-accusers-go-public-with-sex-assault-claims/
(23) Ibid; https://www.nytimes.com/2017/10/05/us/harvey-weinstein-harassment-allegations.html
(24) Ibid.
(25) https://www.nytimes.com/2017/10/05/us/harvey-weinstein-harassment-allegations.html
(26) http://jewishnews.timesofisrael.com/harvey-weinstein-the-downfall-of-a-hollywood-king/
(27) https://www.nytimes.com/2017/10/05/us/harvey-weinstein-harassment-allegations.html
(28) http://forward.com/opinion/384521/harvey-weinsteins-casting-couch-sexual-harrassment-was-never-ok/
(29) https://www.jta.org/2017/10/09/arts-entertainment/movie-mogul-harvey-weinstein-fired-following-sexual-harassment-claims; https://www.timesofisrael.com/film-producer-harvey-weinstein-ousted-from-weinstein-co/
(30) http://forward.com/opinion/384521/harvey-weinsteins-casting-couch-sexual-harrassment-was-never-ok/
(31) https://www.timesofisrael.com/harvey-weinsteins-brother-also-accused-of-sexual-harassment/
(32) https://www.timesofisrael.com/weinstein-film-studio-facing-sale-or-shutdown-report/
(33) https://www.timesofisrael.com/los-angeles-police-open-weinstein-sex-assault-investigation/
(34) Ibid; also http://forward.com/news/384669/anti-semitic-alt-right-pounces-on-harvey-weinstein-scandal-to-bolster-consp/; http://www.cjnews.com/perspectives/nothing-jewish-powerful-man-abusing-power; http://jewishjournal.com/news/nation/225584/jewish-news-site-refers-to-harvey-weinstein-as-a-jewish-kind-of-pervert/; https://www.richardsilverstein.com/2017/10/11/anti-semitic-attack-harvey-weinstein-tablet/; https://www.huffingtonpost.com/entry/harvey-weinstein-anti-semitism_us_59de57f7e4b00abf3645b90f
* * *
Source: Semitic Controversies