"You White, Bitch": The Real Face of Hate
Blacks beat White sister and brother
by David Sims
HERE IS what most violent racism looks like. It's Black thug versus White victim.
In March 2015, in Indianapolis' Brookside Park, a White girl (Barbara Snelson, estimated age 12-14) and her little brother (Tyler, age 5) were taking a walk. They were surrounded by members of a Black gang, one of whom told the White girl that they were "gonna beat yo' azz."
One of the Black women, whose real name is reportedly Destiny Martin (and who goes by the nickname "Nook Babiiee") punched the White girl in the face and knocked her to the concrete walk and then began hitting and kicking her head, face, and body. One news article reported that Destiny Martin owned a pair of brass knuckles and had been looking for an excuse to try them out.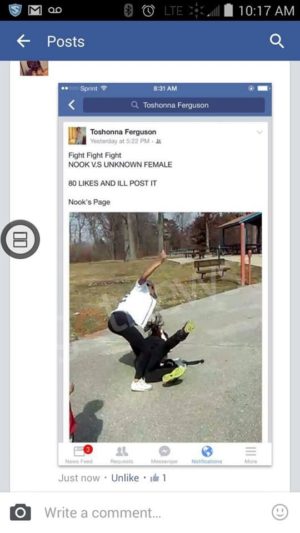 The White girl never tried to fight back. It would have been useless anyway, since all the other people there were Blacks too. All the White girl did is ask, in a panicky tone of voice, "What did I do?"
A teenage male Black in the crowd answered: "You white, bitch."
After a large Black man pulled Destiny Martin away from the White girl, the White girl and her little brother began walking back toward their home. But they hadn't gone far before Destiny Martin caught up with them and attacked the younger White girl once again. This time, a very brave 5-year-old brother tried to help his sister. And then Martin began beating up on the little boy.
The White girl got up and wrapped herself around her little brother taking the remaining blows herself. When the Black thugs had enjoyed themselves sufficiently, the two White children dragged themselves off.
Another Black female, Toshonna Ferguson, used her iPhone to record the attack.
I'm surprised that it took more than two years for me to find out about this. I scan local news for this sort of thing, and I find lots of similar cases. But this one is fairly clear. A large number of Blacks in their late teens violently chased down two White children in a public place and beat them for sport and for spite. Then they laughed.
And the Jewish-controlled mainstream media said nothing at all about it.
Here are some samples of "Nook" and her postings on social media:
[The time for absolute, total, and irrevocable separation has come. — Ed.]
* * *
Source: Author