The Content of Their Character: Black Woman Cheerfully Admits to Murdering Her Own Children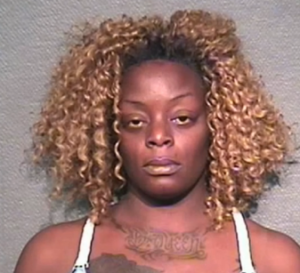 How likely is it we will hear the "mentally disabled" defense again, used to coddle a race whose native IQ barely passes 70?
A TEXAS MOTHER has been charged with two counts of capital murder after allegedly confessing to drowning her two children in a bathtub, the Houston Police Department confirmed in a press release obtained by PEOPLE.
The bodies of Sheborah Thomas' (pictured) 7-year-old son Orayln "Ray Ray" Thomas and 5-year-old daughter Kahana Thomas were found under her neighbor's home Sunday, police said. Their causes of death are still pending autopsies.
Police were alerted after Thomas, 30, allegedly told an acquaintance on Sunday that she killed her children. She later told investigators that she drowned the children in a bathtub on Friday, then wrapped them in bed sheets and placed them in a trash can behind her home, which is about 3 miles from downtown Houston.
On Saturday, Thomas attempted to dig a hole near the side of her home, but couldn't create a space deep enough to bury the children's bodies, she allegedly told investigators. At that point, she allegedly said she moved the bodies under the neighboring house.
Police said that Thomas' motive remains unclear and that the investigation is ongoing. Thomas also has a 12-year-old son, who is unharmed.
The unidentified acquaintance told authorities he drove past Thomas throwing out a large quantity of trash in a nearby field, according to the Houston Chronicle. The acquaintance told authorities Thomas said she needed to move immediately and asked for his help, the paper reports.
The man asked where the children were, and Thomas allegedly responded "matter of factly" that she had killed them, the paper reports. At first, believing that Thomas was joking, the man brushed off the comment before later asking again, and allegedly receiving the same response.
He convinced Thomas to get in his car, before driving toward a nearby patrol station and flagging down an officer, the paper reports.
Tejal Patel, a spokeswoman for the Texas Department of Family and Protective Services, tells PEOPLE that the family has a previous history with state officials and that they've visited the home before, but he did not provide additional details.
Patel says the Office of Child Safety will conduct a "top to bottom review" of the case and that the results will be available in a few months.
Neighbors told Houston's KHOU they were under the impression Thomas took good care of her children.
"She goes to the store…to me she was like, a real nice person," said Shirley Baines. "They are good kids. They don't play with nobody. I mean, why would someone do their kids like that? I mean why? They are innocent!"
Kita Thomas-Smith, who claims to be the children's aunt, told the Chronicle, that she'd never seen Thomas exhibit signs of mental illness.
According to the Chronicle, Thomas has some minor criminal offenses. She pleaded guilty to failing to identify herself to a peace officer in 2011, a misdemeanor charge. The year before, she pleaded guilty to two charges of misdemeanor theft. She was also put on probation for misdemeanor theft in 2009, the Chronicle reports.
It is unclear whether Thomas has entered a plea.
* * *
Source: PEOPLE