Germany: AfD Proposes Expelling "Migrants" to Islands, Turning Immigration Agency Into Emigration Agency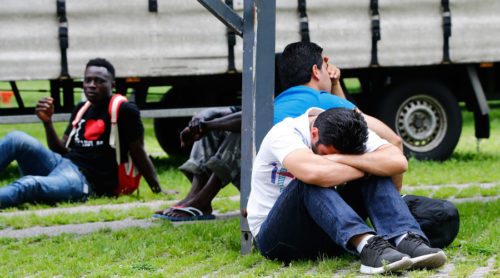 Meanwhile, the unspeakable traitor Merkel insists that German companies hire more invaders.
THE LEADER of the far-right Alternative for Germany (AfD) party known for its anti-immigrant stance has proposed deporting illegal immigrants and rejected asylum seekers to islands outside Europe. It comes as the German chancellor is trying to make businesses hire more "refugees."
In an interview to Germany's Bild newspaper on Saturday, AfD's Frauke Petry said she would like to see all migrants unlawfully staying in Germany as well as applicants who were denied asylum to be repatriated to the"two islands outside Europe that are protected by the United Nations."
While on the way to the islands, the male "refugees" who are traveling alone should be separated from female "refugees" and families as it is allegedly "cheaper and more secure than the current practice," Petry said. …
… Petry proposed an overhaul of the Germany's migration system to shift its focus from accommodating "refugees" to getting rid of illegal migrants as fast as possible.
"I propose the transformation of the Federal Office for Migration and Refugees into an office for emigration," Petry told Bild, adding it will be tasked to ensure that "all illegal migrants leave this land as soon as possible."
Petry has come under heavy criticism for her controversial anti-migrant rhetoric, with mainstream political forces accusing AfD of populism and exploiting common fears to garner support. Green Party chairman and German Minister for Economic Affairs and Energy Sigmar Gabriel has branded Petry's cause "a class struggle at the wrong address," accusing her of making "'refugees' responsible" for all the problems in Germany.
Meanwhile, German Chancellor Angela Merkel reportedly plans to call on bosses of Germany's biggest companies, including Siemens, Opel, Volkswagen, electric utilities company RWE and chemicals group Evonik to hire more "refugee" force as she will on September 14, Bild reported on Saturday.
The chancellor is expected to urge big German businesses to employ "refugees" and to extend more traineeships to enable integration of low-skilled "refugee" workers into German society.
So far, only 54 "refugees" have been hired by the 30 largest German companies listed on DAX. Fifty of them were employed by Deutsche Post, according to data cited by Frankfurter Allgemeine Zeitung in July.
More than 1 million "refugees", mostly from North Africa and Middle East, crossed into Germany last year amidst the biggest European migrant crisis since WWII, fleeing war and terrorism. The open-door policy pursued by Merkel has triggered the dramatic rise of right-wing sentiments. The recent spate of terrorist attacks, with three of them committed by migrants, and reports of Islamic State terrorists infiltrating Germany disguised as "refugees" only fueled the tension.
* * *
Source: RT