The Rarity of Independent Thought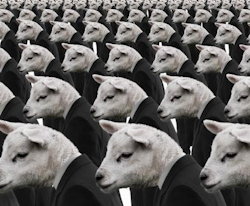 INTRODUCTORY NOTE by John I. Johnson: Why are intelligent (in the sense of high IQ) people so often malevolent (e.g., leftwing totalitarian and anti-White)? We need to go beyond conventional explanations of IQ to understand this. For example, Revilo Oliver and Willis Carto spoke of "mattoids," individuals who are brilliant but also mentally unbalanced and highly destructive; and, on a larger scale, many who are very bright are also authority-worshipping conformists.
* * *
by Raymond Martin
HIGH IQ people are usually just as brainwashed as low IQ people. I noticed this phenomenon back when it still wasn't nearly as clear to me as it is now. I have two closely related theories about this.
One is that being able to see the world as it really is, independently of any outside conditioning (the media, books, academic "theories," etc.), is almost certainly a totally different mental ability from what we normally think of as intelligence, and most intelligent people simply don't have it any more than dumb people have it. Most people, both stupid and bright, are totally incapable of taking in the world without some mediating factor, without some interpretation from outside themselves. They simply cannot see the world as it is on their own, and they require that their theories of the world be provided by a book or from those in authority.
I remember noticing this years ago about a friend who shared my views but has since abandoned them. I would show up at his house to go out for dinner, and I would typically be worked up about something I'd noticed, perhaps something to do with race or the government, etc. And I recall that his response, even when he agreed with me, would almost always involve referring to some book or another, or to some author or another. "Well, Nietzsche says this," for example. I always thought this so odd. Sure, we were both college kids at the time, young, and both of us big readers. But I nevertheless always wondered: Why don't you just give me your take on the matter? (He is an academic now of course.) Well, in retrospect, I don't think most intelligent people are capable of truly independent thought, and I think one reason is that they simply cannot read the world itself — they can only read books!
My other theory is based on considering inner emotional life: I also simply don't think that most people emotionally have what it takes to think in a truly independent way. It takes a lot of guts to stare down all authorities and say — even internally, to oneself — you are wrong! Most people are not wired in such a way that they can do this. Why? Well, I'd say it is because of natural human conformism and the natural human deference to authority.