Obama and FDA: Let Gay Men Donate Blood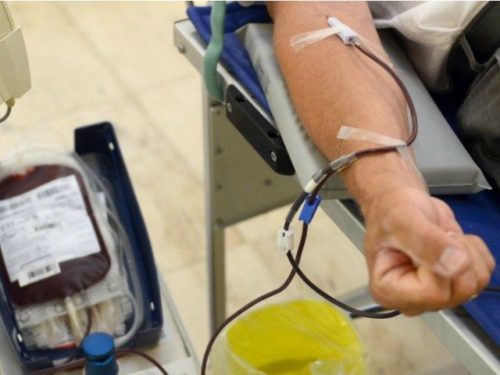 by William Bigelow
THE OBAMA administration, more interested in pleasing its LGBT supporters than in protecting the health of the general public, is proposing "new rules" through the FDA that would terminate the 32-year-old ban on blood donations from gay and bisexual men.
Hilariously, the FDA would still ban gay men from donating if they confess to having sex with a man within a year before donating blood.
The FDA did admit that "some individuals knowingly donate despite the deferral."
The American Medical Association, which endorsed same-sex marriage in 2011, was thrilled, stating the change was "a step in the right direction to end the lifetime ban that prohibits men who have had sex with men (MSM) from ever donating blood."
The American Red Cross and America's Blood Centers echoed their support; they have called the ban "medically and scientifically unwarranted," according to The Hill.
According to the FDA, the BOTS Working Group, comprised of members from Centers for Disease Control and Prevention (CDC), Health Resources and Services Administration (HRSA), National Institutes of Health (NIH), HHS Office of Civil Rights, Office of the Assistant Secretary for Health (OASH), and FDA, considered the idea of conducting a pilot study to estimate the effect of changing the policy and allowing gay men to donate blood.
But the BOTS Working Group "decided that such a pilot study examining the potential effects of a policy change would not be feasible. Instead, the BOTS Working Group determined that resources at HHS could be used in more efficient ways to carefully review the studies that had been initiated."
The FDA decided that the MSM group (men who have sex with men) was much less of a risk than those in the commercial sex work (CSW) and injection drug use (IDU) groups, even though the agency reported, "In 2010, male-to-male sexual contact accounted for 63% of newly diagnosed HIV infections among adults, and 78% of newly diagnosed HIV infections in men, indicating that male-to-male sexual contact remains associated with high risk of HIV exposure." Further, the FDA allowed that "the available epidemiologic data in the published literature do not support the concept that MSM who report mutual monogamy with a partner or who report routine use of safe sex practices are at low risk for HIV."
So why make the change? The FDA admits, "Although not making a change would maintain the current level of safety of the blood supply, as noted above… there is evidence that the deferral policy is becoming less effective over time. In addition, the policy is perceived by some as discriminatory."
* * *
Source: Breitbart