Airline Now Offering Homosexual-Only Discounts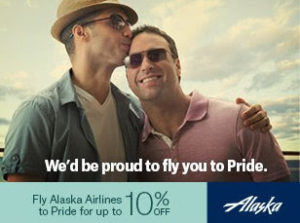 ALASKA AIRLINES is now offering discounts to those traveling to so-called "pride celebrations," and "gay" themed events around the nation.
The airline issued the following statement on the recently added
LGBT section
of their Web site:
We were elated when the State of Washington expressed the same commitment by legalizing marriage for everyone, regardless of sexual orientation or gender identity. To show our continued support we are encouraging the LGBT community to travel, not only to Seattle, but to Pride events and gay friendly destinations all over the country.
With that aim, we have put together this section of our site to highlight destinations that support marriage equality, Pride celebrations, and other things of interest to the LGBT community.
Alaska Airlines has extended discounts to the "LGBT traveler" ranging from between 7 and 10 per cent. to these homosexual events (taken directly from the airline's Web site):
Enjoy discounts on travel to these Pride events:
Dates
Event
City
Discount
May 16-17
Long Beach Pride
Long Beach
Save 7%
May 17-26
Puerto Vallarta Pride
Puerto Vallarta
Save 10%
June 2-8
Gay Days – Disneyworld
Orlando
Save 7%
June 4-7
Utah Pride Festival
Salt Lake City
Save 7%
June 12-14
LA Pride
Los Angeles
Save 7%
June 12-14
Capital Pride – DC
Washington DC
Save 7%
June 13
OutSpokane
Spokane
Save 7%
June 13-14
Pride Northwest
Portland
Save 10%
June 13-15
Boston Pride
Boston
Save 7%
June 19-21
Gay Wine Weekend
Oakland
Save 7%
June 19-21
Gay Wine Weekend
San Francisco
Save 7%
June 19-21
Gay Wine Weekend
Santa Rosa
Save 7%
June 19-21
New Orleans Pride
New Orleans
Save 7%
June 26-28
Chicago Pride
Chicago
Save 7%
June 26-28
New York Pride
New York
Save 7%
June 27-28
San Francisco Pride
San Francisco
Save 7%
June 27-28
Seattle Pride
Seattle
Save 10%
July 17-20
San Diego Pride
San Diego
Save 10%
Sept 2-7
Southern Decadence
New Orleans
Save 7%
Oct 9-11
Orlando Pride
Orlando
Save 7%
Oct 10-11
Atlanta Pride
Atlanta
Save 7%
Oct 10-11
Hard Rock Vallarta
Olivia Travel
Puerto Vallarta
Save 7%
Oct 25 – Nov 1
Halloween in Mexico Cruise
Atlantis Events
Burbank
Save 7%
Oct 25 – Nov 1
Halloween in Mexico Cruise
Atlantis Events
Los Angeles
Save 7%
Oct 25 – Nov 1
Halloween in Mexico Cruise
Atlantis Events
Orange County
Save 7%
Nov 1-8
Club Atlantis Vallarta
Atlantis Events
Puerto Vallarta
Save 7%
Nov 6-8
Palm Springs Pride
Palm Springs
Save 10%
* * *
Source: 14 Words