Moldova: Jewish Oligarch Under Arrest for Billion-Dollar Looting of Nation's Banks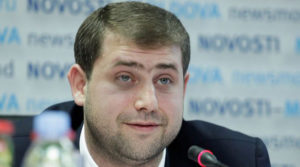 Theft amounts to one eighth of Moldova's GDP

THE JEWISH COMMUNITY in the desperately poor Eastern European country of Moldova fears the arrest of a local Jewish businessman, Ilan Shor (pictured), in the $1 billion looting of local banks will spark a new wave of antisemitism.
According to a report in the Algemeiner based on a report by Israel's Channel 2 News, Marina Lecarteva, a leader of Moldova's organized Jewish community, told Israel's Channel 2 News Shor's arrest and his alleged behavior are dangerous.
"There is a lot of antisemitism here, especially on the Internet…[and] the community is concerned. The masses have identified him as a Jew, and people here are outraged over the fraud, connecting him to the [Jewish] community." …
Lecarteva said Shor's alleged thefts will likely exacerbate the anti-Semitism that already exists in Moldova.
Channel 2 noted Lecarteva said the small Moldovan Jewish community, which numbers between 35,000 and 40,000 members, "has not yet seen any violence, with an emphasis on [the word] 'yet.'"
Shor, a 28-year-old millionaire, reportedly made his fortune selling duty-free goods at Chisinau (the current name for Kishniev) International Airport.
The missing $1 billion amounts to about one-eighth of Moldova's annual gross domestic product (GDP).
According to a confidential report by Kroll – a US-based company that bills itself as a "global leader in risk mitigation and response" and which provides investigate services, research and cyber-security, among other services, for some of the world's top businesses – companies tied to Shor took control of the Moldovan banks which then allegedly issued large loans to other companies linked to Shor.
While it is still unclear if he played a personal role in the alleged thefts, Shor has been under house arrest since May 6.
* * *
Source FailedMessiah.com