Vaxxassination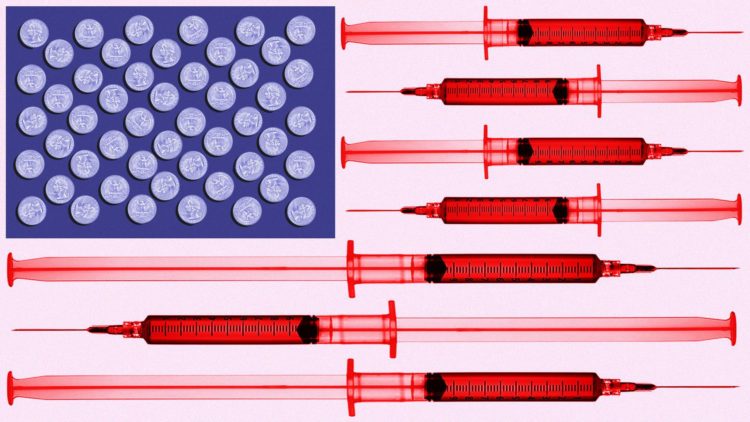 by David Sims
NICKI MINAJ is a Black singer. She is a celebrity with leftist politics. But recently Minaj told the truth about covid vaccine side-effects that happened to someone known to her family.
My cousin in Trinidad won't get the vaccine cuz his friend got it & became impotent. His testicles became swollen. His friend was weeks away from getting married, now the girl called off the wedding. So just pray on it & make sure you're comfortable with ur decision, not bullied. (Nicki Minaj, on Twitter, 13 September 2021)
Business Insider commented, in an article by Allana Akhtar on 17 September 2021:
Nicki Minaj's vaccine tweets were the latest test of social media's imperfect system for stopping misinformation's spread" (article headline)… Twitter's response to Nicki Minaj's bizarre post claiming that a COVID-19 vaccine caused her cousin's testicles to swell shows how the platform uses patchwork policies in curbing misinformation.
Do you see how Business Insider's writer implicitly calls Minaj a liar? Writer Allana Akhtar presumes to know the truth about what happened to Nicki Minaj's cousin's friend better than the people directly involved do. That's the kind of arrogant deception you get from media writers who spread misinformation, while alleging that other people are spreading misinformation. The media writers' accusations are, themselves, misinformation. The real liars call the truth-tellers liars, hoping that they will convince most people by the boldness of their lies about who the liars are.
Nicki Minaj, Black leftist though she is, is probably telling the truth about what happened to her cousin's friend. Most likely, the covid vaccine caused him to become impotent with swollen testes, and his girlfriend broke off their engagement to be married as a result. And the media's writers, who understand that their paychecks depend on their presentations of convincing lies, are doing just that.
I think that as time goes by an increasing portion of what the mainstream media and Big Tech social media have been calling "misinformation" will turn out to have been the truth all along. The covid vaccines are still so new that they could still have side-effects in the long term that haven't revealed themselves yet. They were fast tracked with an Emergency Use Authorization and were administered to the public without the customary safeguard of human testing with volunteers paid compensation for the risk they were taking. The FDA's approval of one version of the Pfizer vaccine is widely suspected of having been a result of political pressure, rather than being a data-driven decision.
Also, you might have noticed that Allana Akhtar made a careless error. The swollen testicles problem didn't happen to Nicki Minaj's cousin. It happened to a friend of that cousin. But media liars on a falsehood rampage can't be bothered with keeping their facts straight. Facts are rather beside the point with writers such as they.
Babies are being born with problems, such as palsy and blood clots, as a result of their mothers getting vaccinated against covid while they were pregnant. A pregnant woman was told that the hospital wouldn't deliver her baby unless she was vaccinated. So she got the vaccine. About a month later, her baby was born with some form of nerve damage that causes the baby's limbs to vibrate unnaturally.
Alpa Tailor, age 35, was a mother of two children who was healthy until she got vaccinated against covid. The vaccine caused blood clots to form in her brain, which led, first, to a stroke, and then to her death. Her family says that she got the vaccine "to protect her family."
Remember also: Black Lives Matter protests were exempted from social distancing rules, and excuses were made for them. Illegal immigrants are exempted from vaccine mandates that apply to US citizens, even though their infection rates are higher than ours.
Does this make sense to you? It should. It only makes no sense if you assume that our government is all about doing the right thing for us. But that really isn't its agenda. When you realize is that White people are being replaced as "the people of the United States," everything makes perfect sense.
The elites of our country — the rich, the Jews — intend that we will disappear (i.e. become extinct) and that our places will be taken by Blacks and by Mestizos.
* * *
Source: Author