Flaying Their Forgetful Servant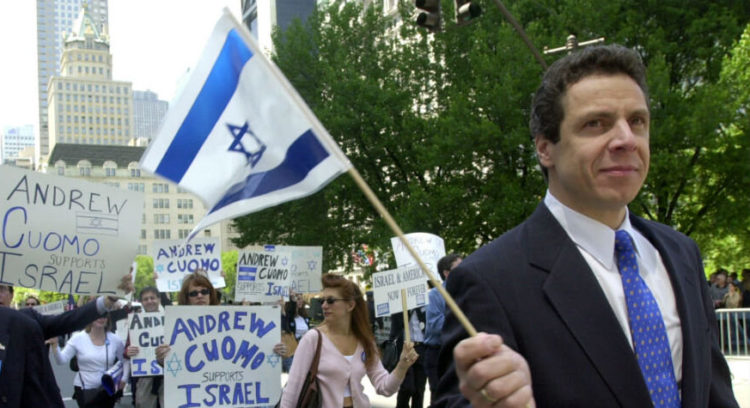 by David Sims
NEW YORK Governor Andrew Cuomo has become a textbook case of Jewish vengeance carried out by political means. In 2020, during the coronavirus pandemic lockdowns, Cuomo failed to make the expected exceptions for Jews. He required Jews to obey the same restrictions that everyone else had to obey, and he arrested some Jews who did not.

I should make it clear that Andrew Cuomo is a swine; he is a pig of a person. He's served our enemies and lied for them and harmed us as a race and nation innumerable times, for example. And he's now accused of sexually harassing women subordinate to him. He is also accused of underreporting the number of deaths he caused among elderly people in nursing homes, when he packed them full of coronavirus-infected patients. Cuomo deserves all the trouble that he is in, and more.

But he deserved that trouble last year and the year before that, too. Why are his wicked ways catching up with him only now?

Basically, the Jews of New York have deemed Cuomo to have gotten too big for his britches, for daring to make Jews obey the laws as if they were mere White goyim. So the Jewish-controlled media have let some of Cuomo's sins, which formerly they were helping to hide, come out in public display.

Cuomo's getting spanked. For some good reasons, too, though his worst crimes are still hidden. He deserves the spanking. But the identity and the motivation of the spanker aren't what they seem to be.
Here's an excerpt of what the main Establishment organ, the Jewish-run New York Times, is saying about Cuomo today:
Cuomo Losing Power and Allies as Crisis Deepens

WITH allegations of unsettling behavior toward women spilling into the public eye, Gov. Andrew M. Cuomo spent Tuesday fending off calls for his resignation, with few voluble defenders in a moment of unparalleled weakness in his decade-long tenure in Albany.

Signs of the governor's diminished sway were everywhere.

A small, but expanding, coterie of Democratic lawmakers called on Mr. Cuomo to step down, as did the state Working Families Party, which has frequently clashed with the governor. Among some donors, there was an increasing sense of discomfort with reports of Mr. Cuomo's behavior and uncertainty around his future, with one active Democratic donor describing a growing instinct to "hedge their bets."

[Jewish] Representative Lee Zeldin, a Long Island Republican, announced on Tuesday that he was "actively exploring" a run for governor….

The leaders of both chambers, however, did strike a deal to impose limits and additional oversight on Mr. Cuomo's pandemic-era powers.

The move was the latest rebuke of the governor by members of his own party, a way for the Legislature to flex its muscle and reprimand him for withholding data on nursing home deaths and, more symbolically, the sexual harassment allegations.

Mr. Cuomo, 63, has been accused of sexually harassing two former aides, including Charlotte Bennett, 25, who said the governor had complained of being lonely and asked if she slept with older men during a meeting in his Capitol office last year.

Mr. Cuomo has not directly challenged Ms. Bennett's claims, though he flatly denied some other accusations against him. On Sunday night, he sought to explain his behavior, saying that some of his comments in the past "may have been insensitive or too personal," and "made others feel in ways I never intended."

"I acknowledge some of the things I have said have been misinterpreted as an unwanted flirtation," Mr. Cuomo said. "To the extent anyone felt that way, I am truly sorry about that."

On Monday, The New York Times detailed another encounter where Mr. Cuomo had touched a young woman's bare back, cupped her face and planted an unwanted kiss on her cheek at a 2019 wedding.

That disclosure prompted Representative Kathleen Rice, a Long Island Democrat, to call for Mr. Cuomo's resignation, saying, "The time has come."

Ms. Rice, a former Nassau County district attorney, became the first Democratic member of the state's congressional delegation to call for the governor to step down. Others, including Senators Chuck Schumer and Kirsten Gillibrand, reiterated their support for an independent investigation.

Mr. Cuomo's outsize presence in state politics seems to be cutting both ways in his current political crisis: Many privately express spite toward him, but few in his party have dared to take him on. The promised investigation of Mr. Cuomo's behavior has given many elected officials political cover, allowing them to express concern about the allegations, while asserting that they are still, at this point, just that: allegations, albeit from three women who have given on-the-record accounts.

Mr. Cuomo has not made a public appearance since last Wednesday morning, when the first accuser — Lindsey Boylan — posted a lengthy essay about his behavior, including what she said was another unwanted kiss, on the lips, in 2018. The governor has denied her account.

Mr. Cuomo, a third-term Democrat, had no comment on Tuesday on the calls to resign, though he has previously voiced support for an investigation of his own behavior, granting the state attorney general, Letitia James, permission to deputize an outside lawyer to look into the claims.

When asked what the governor was doing amid intense scrutiny into his conduct, an aide referred to a news release about a pilot program to administer the new Johnson & Johnson vaccine at mass vaccination sites….
* * *
Source: Author, New York Times, and National Vanguard correspondents