Ukraine: Television Network Accused of 'Pro-Russian Views' Attacked by Paramilitaries, Set on Fire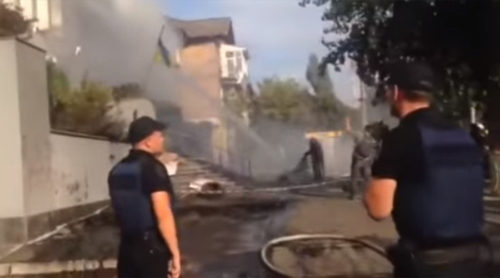 A BUILDING HOUSING studios and offices of Ukrainian broadcaster Inter has been attacked by former military personnel who protested its alleged "pro-Russian" policy. The company said it was an attack on freedom of speech.
The office in the Ukrainian capital of Kiev was set on fire twice on Sunday.
First, burning car tires were brought inside the building, causing a fire on its ground and first floors, Interfax Ukraine reported, citing Ukrainian emergency services.
Some 20 minutes after the fire was tackled, another "foreign object" was brought into the company's premises, and caused a new, larger fire.
The arson attacks reportedly started after a group of people gathered outside the building to protest the channel's editorial policy. The channel was accused of pro-Russian views, as the protesters vandalized the building's walls with slogans suggesting Inter had connections with Moscow.
The attack was carried out by former Ukrainian military personnel, Ukrainian Interior Minister Arsen Avakov said in an interview with 1+1 television channel, according to RIA Novosti. The minister said the men dressed in military camouflage were there to protest the channel's "pro-Russian views," which resulted in clashes with the building's security.
The director of the National Information Systems (NIS) company, which is part of the Inter Media Group, Aleksandr Pilipets, said that a group of unidentified attackers in masks forced their way through the company's security post, and set a studio on fire, Strana.ua reported. The attackers also left an anti-tank mine behind them, he said.
An eyewitness told reporters that some people in military uniform were blocking the company employees' way out of the burning building. He said there were around 10 people blocking the doors, while police did not use force against them.
According to Inter Media Group, a studio of one of the company's programs was completely burned out. Several employees needed medical assistance for carbon monoxide poisoning, the company said, adding that a woman has also been injured, having had her leg broken during the fire.
However, Ukrainian emergency services reported that no one had been injured. Some 45 people were safely evacuated from the building, 25 of them from the roof, officials said, as quoted by Interfax. Six people were detained in connection to the incident, police said.
Inter Media Group has asked Ukrainian President Petro Poroshenko to get involved and protect its journalists from "unlawful actions." Saying that it has informed the country's Prosecutor General's Office, national security services and police of the "crime," in its statement the media company has called for an "impartial investigation."
On Facebook, Pilipets claimed his company had previously received threats that were ignored by the Ukrainian authorities. In his post, he also wrote that some officials had "almost openly called for violence against the channel's employees" and its property, which had now resulted in casualties. "It's clear that the authorities are unable to protect the people and their rights for freedom of speech," Pilipets wrote.
Meanwhile, Interior Minister Avakov said that investigation has been launched not only in connection to the fire, but also in regard to complaints that authorities had received from "activists and deputies" who accused the media group of connections with Moscow and anti-government views.
* * *
Source: SOTT