Le Corbusier Shown to Be a Hitler Sympathizer
EDITOR'S NOTE: Le Corbusier (pictured below) — a major figure in 20th century architecture — has now become the center of controversy because of his positive statements about Hitler and National Socialism. We may deplore his anti-traditionalist pronouncements and his less-than-creative post-war rectangular blocks, yet acknowledge his more creative works and his concern for architecture's social value. His affinity for the socialism of Saint-Simon and Fourier places him squarely in the dreamer class, and it is no surprise that such a man saw the revolutionary potential for change inherent in National Socialism.
New research has uncovered these statements from him, among others: "If he is serious in his declarations, Hitler can crown his life with a magnificent work, the remaking of Europe." He saw Hitler as a "glimmer of good" in Europe, who was about to institute a great "clean-up": "Money, the Jews, Freemasonry, everything will be subject to the law," Le Corbusier said, "these shameful fortresses will be dismantled."
He accepted a position in Vichy France, and aligned himself with the German-centered new order in 1940s Europe, but he was no sycophant and was known to criticize Hitler as well — something that the Jews who are campaigning to have his memory erased in Switzerland conveniently forget. I suppose they cannot forgive that he once referred to such types as "Jewish cretins."
From the Tribune of India:
One of Chandigarh's founding fathers has been unmasked as a sympathiser of Adolf Hitler.
Charles Edouard Jeanneret, better known globally as Le Corbusier, is accused of anti-semitic leanings and an obsession with eugenics in a book scheduled to be released next month. The author of "Le Corbusier, a French Fascism," is Xavier de Jarcy. Another biographer and architecture critic Francois Chaslin has separately accused Le Corbusier of being anti-semitic, quoting from a different letter in which Le Corbusier refers to "Jewish cretins".
Back in the 1950s, Le Corbusier prepared the master plan for Chandigarh in which he developed the metaphor of a human being to design the city. The "head" contain the capital complex, the "heart" the commercial centre and the "arms" have the academic and leisure facilities. The courts, legislative buildings and secretariat are all among the renowned buildings of the City Beautiful which Le Corbusier helped to design.
Jawaharlal Nehru commented back in 1959 about Chandigarh, saying, "I have welcomed greatly one experiment and that is Chandigarh…. It hits you on the head and makes you think."
Supporters of Le Corbusier have long described him as the father of modern architecture, one of the world's most innovative designers. France is preparing to mark his 50th death anniversary with an exhibition in Paris that will look back over his work.
The latest revelations include letters written to his mother in 1940 where he wrote, "If he is serious in his declarations, Hitler can crown his life with a magnificent work, the remaking of Europe." At the height of the war two years later, he described Hitler as "glimmer of good", welcoming the great "clean- up" that was about to happen. "Money, the Jews, Freemasonry, everything will be subject to the law. These shameful fortresses will be dismantled."
Questions are now being asked about how Le Corbusier, who was born in Switzerland, was able to continue working following the end of World War-II and why these shaming allegations have taken so long to surface.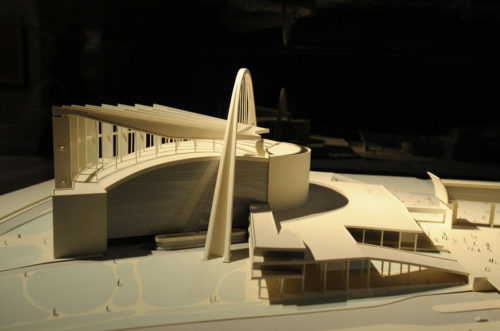 From Fox News:
He's one of the titans of 20th Century architecture, but Le Corbusier is suddenly feeling the weight of history working against him.
The modernist master's legacy is coming under pressure after Switzerland's largest bank dropped an ad campaign featuring the architect and artist last week. Now, Zurich authorities are debating whether to dump plans to name a square after him.
Letters made public in recent years and a 2008 biography suggest that the visionary known for his cool, spare designs and revolutionary urban planning ideas was a Nazi sympathizer whose Fascist tendencies went far beyond what was previously known.
One letter shows Le Corbusier expressing clear enthusiasm for Hitler, even if at other times he calls the German leader a "monster."
"If he is serious in his declarations, Hitler can crown his life with a magnificent work: the remaking of Europe," Le Corbusier wrote to his mother in October 1940, at a time when he was shopping his radical ideas about urbanism across the continent. That was also shortly after Hitler's armies conquered France and much of Western Europe.
It's been a tough week in Switzerland for the artist born Charles-Edouard Jeanneret, who died in 1965 after helping to create an international modern architecture movement along with giants such as American Frank Lloyd Wright and German Bauhaus innovators Walter Gropius and Mies van der Rohe.
The revelations are not completely surprising, as it has long been known that Le Corbusier aligned himself with the French far-right in the 1930s and accepted a post as a city planner for the Vichy regime that ruled France and collaborated with Nazi Germany during World War II.
What is perhaps most noteworthy is the sudden Swiss rejection of a native son — born in the sleepy town of La Chaux-de-Fonds — whose face appears on the 10-franc bill. His name graces a square in the capital of Bern and a street in Geneva.
"For UBS, the most important thing in our campaign is the message we wish to communicate," said Jean-Raphael Fontannaz, a spokesman for the Zurich-based banking giant. "We don't want the message to be lost in a discussion about Le Corbusier. We also don't wish to hurt the feelings of anyone."
Fontannaz said UBS AG used Le Corbusier in an advertising drive that began in August. It dropped the artist last week.
UBS' decision came after protests from Jewish groups and publishers in Switzerland, who accused Le Corbusier of being an anti-Semite. The accusation hit a raw nerve with a bank that suffered a crisis in the 1990s over revelations that it prevented Jewish claimants from accessing Holocaust-era accounts belonging to their ancestors. The row resulted in a $1.25 billion settlement.
"It's incomprehensible that UBS chose Le Corbusier as an exemplary Swiss personality," Vreni Mueller-Hemmi, head of the Swiss-Israel Society, told the weekly SonntagsZeitung. The group's vice president, Lukas Weber, told The Associated Press that he was pleased with UBS' decision.
Zurich authorities decided three years ago to name a square next to the central train station after Le Corbusier once construction was completed. But authorities now say they are taking another look at the historical record. A decision will be made at a meeting of the city's street-naming commission next month, said spokeswoman Charlotte de Koch.
Le Corbusier left an enormous body of work, including some 30,000 architectural plans, 7,000 watercolor paintings, 500 oil paintings and 52 books. He was perhaps as famous for his philosophy of architecture as for actual works. Among his most famous structures are the Villa Savoye near Paris, the Punjab government complex at Chandigarh, India, the Unite d'Habitation apartment block in Marseille and Notre-Dame-du-Haut chapel in Ronchamp, France.
Despite the recent controversies, Le Corbusier still has Swiss defenders.
"It's a different issue if you make a publicity campaign," said Werner Abegg, spokesman for the money-printing national bank. "The bank note highlights essentially the influence of a person. It's uncontested in the case of Le Corbusier."
Abegg told the AP that the bank had no plans to change its currency.
* * *
Sources: Tribune of India and Fox News