Hungary to Crack Down on All Soros-Funded NGOs
HUNGARY PLANS to crack down on non-governmental organizations linked to billionaire George Soros now that Donald Trump will occupy the White House, according to the deputy head of Prime Minister Viktor Orban's party.
The European Union member will use "all the tools at its disposal" to "sweep out" NGOs funded by the Hungarian-born Jewish financier, which "serve global capitalists and back political correctness over national governments," Szilard Nemeth, a vice president of the ruling Fidesz party, told reporters on Tuesday. No one answered the phone at the Open Society Institute in Budapest when Bloomberg News called outside business hours.
"I feel that there is an opportunity for this, internationally," because of Trump's election, state news service MTI reported Nemeth as saying. Lawmakers will start debating a bill to let authorities audit NGO executives, according to parliament's legislative agenda.
Orban, the first European leader to publicly back Trump's campaign, has ignored criticism from the European Commission and U.S. President Barack Obama's administration for building a self-described "illiberal state" modeled on authoritarian regimes including Russia, China and Turkey. In 2014, Orban personally ordered the state audit agency to probe foundations financed by Norway and said that civil society groups financed from abroad were covers for "paid political activists."
Orban and his administration have frequently singled out NGOs supported by Soros, a U.S. Democratic Party supporter with a wide network of organizations that "promote democracy" [read: Jewish financial and political interests — Ed.] in formerly communist eastern Europe.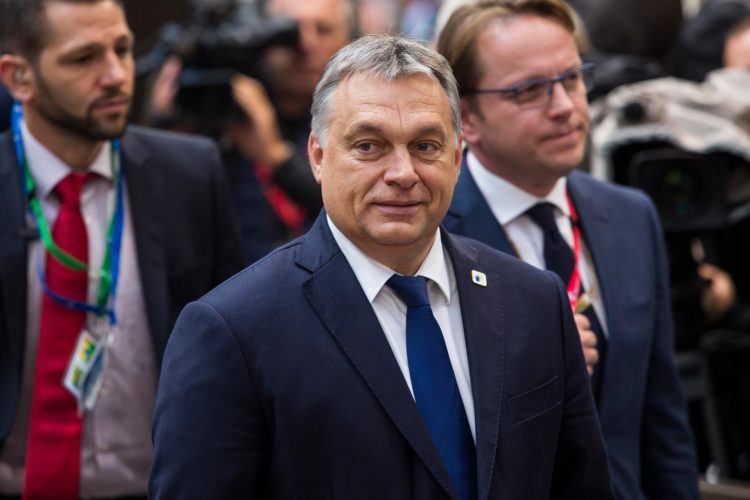 'Power Structure'
Trump also accused the 86-year-old billionaire of being part of "a global power structure that is responsible for the economic decisions that have robbed our working class, stripped our country of its wealth and put that money into the pockets of a handful of large corporations and political entities."
In a pre-election commercial, he showed images of Soros along with Federal Reserve Chair Janet Yellen, and Goldman Sachs Group Inc. CEO Lloyd Blankfein, all of whom are Jewish. The Anti-Defamation League criticized the ad fort ouching on "subjects that anti-Semites have used for ages." Many now doubt Trump's sincerity, since a significant number of his appointees are Jewish Wall Street insiders.
* * *
Source: Bloomberg
* * *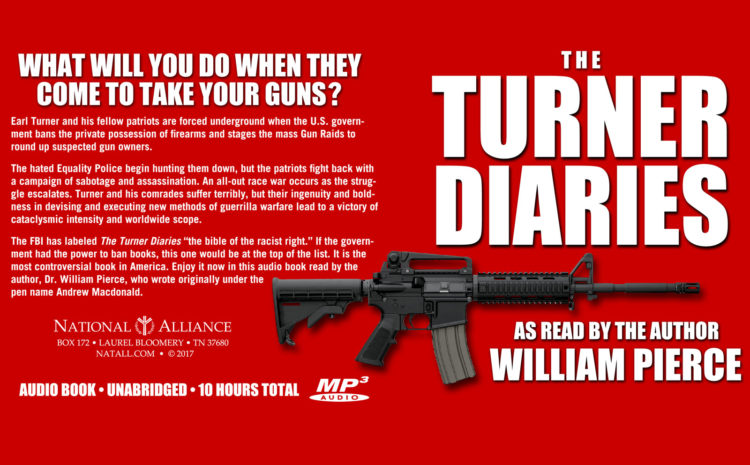 Listen: Turner Diaries commercial
OUR NEW, remastered audio book edition of The Turner Diaries read by the author, Dr. William Pierce, is now available. You can get your copy now — the CDs are are shipping as soon as orders come in.
The original recordings, made by Dr. Pierce and Kevin Strom on reel-to-reel tape in 1995, had been digitized in the early 2000s, but that digitization process was primitive compared to what we are capable of today; we have remastered this important work using the latest software — and we did it the careful, slow, difficult, craftsman-like way — the way Dr. Pierce would have wanted it.
We are proud to offer you the result, which can be ordered online via http://natall.com/td or by postal mail from National Alliance, Box 172, Laurel Bloomery TN 37680 USA. The fidelity of the disc is excellent: On a good speaker system, it sounds as if Dr. Pierce is with you, reading his book to you personally. There is nothing quite like hearing the man who created The Turner Diaries read it to you himself. And, by purchasing this mp3-CD, you will be supporting the important work of the National Alliance.
Listen: Turner Diaries commercial
* * *