The Saxon Begins to Hate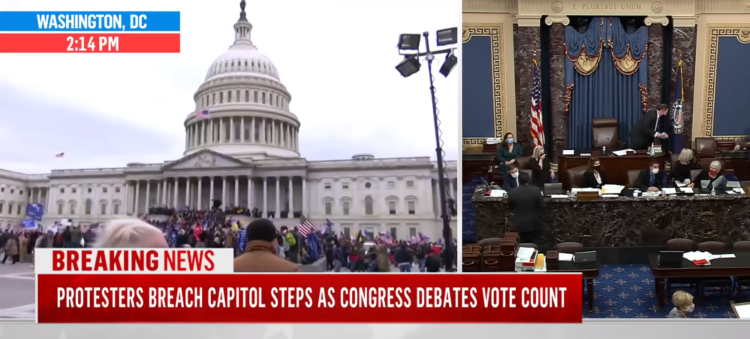 by Douglas Mercer
EVERY COUNT has been proved, so the Saxon went on the march. If there is one immutable law of the social world it's that there's only so much merde that people will eat. And so a justified crowd of decent folk panicked the ruling class and "were in the Rotunda."
According to Glenn Greenwald they just "waltzed right in." Washington DC is still not under American control. But this is a harbinger of things to come, a good sign as we enter into the twilight of civil war.
Of course the usual cowardly cucks immediately began to denounce the brave men and women. Trump said to "be peaceful," "we are the party of law and order." Law and order! Ha! We left law and order behind long ago. Left it when those sick-souled Whites and Jews and Blacks torched our cities and you didn't lift a single finger to stop them. We left law and order behind when you met with Kim Kardashian and her fat behind and freed all those Black super-predators. Bye bye, sir.

Uber-cuck Marco Rubio said such acts as taking back your seat of government from traitors, even symbolically, is "un-patriotic." This bit of scum will be smiling and waving the fifty-star rag as millions of dark monsters overtake our people. This is the home of the brave and the land of the free, Marco Zero, not the home of craven rule-followers in the name of something as useless as "democracy."
Pint-sized Jewboy Bennie Shapiro was outraged at White people taking a stand. He said that such a putsch was "definitionally un-American." I'll ignore that, coming from someone who is himself definitionally un-American. He said that such a march on our government buildings should be "met with the full brunt of the law." Seems to me that patriots marching on the Capitol, as simplistic as their understanding may be, come much closer to representing the law than do the reptiles within. And the "full brunt"? — we haven't come one one-hundredth of the way to that yet, Sunshine.
Shapiro is like a burglar in front of a burning house he's just ransacked, screaming that the firemen didn't ask his permission to go on the property. In our post-constitutional, illegitimate-government, and unleashed-savage age, law too is definitionally in the eye of the beholder.
Cons Incorporated weakling Erick Erickson (sorry for stuttering) said "shoot the protesters." Which statement reminds me that if a Jew is one who cries out in pain as he strikes you, then a conservative is one who says "sorry" as he's struck.
The unspeakable Boris Johnson piped up, saying these were "disgraceful" scenes in the US Congress. (As if every scene in the US Congress for more than fifty years hasn't been disgraceful.) Then he resumed handing his country over to Pakis and Indians and Blacks.
No less a reptile than David Rothschild said that a "MAGA terrorist" has taken over the office of the Speaker of the House. Uh-huh.
Charlie Kirk said "Our side shouldn't act like Antifa," showing that Stockholm Syndrome is a deadly disease.
This of course will be called an ominous and dark day by those who themselves are dark-souled beyond imagining. The recrudescence of an atavistic fascism always latent in the White man's soul, they will say. One can only hope that they are right.
By delaying the "certification," these heroes did us yeoman's service. They laid down a marker. We are not voting ourselves out of this, millions more now know.
Our land has been long occupied, occupied by Jews and non-Whites and traitors, and it was long past time we occupied some public space ourselves. Long shall it be remembered. Make war on us, lie to us, harm us at your peril.
And let the phrases ring down like "The British are coming!" and "Give me liberty or give me death!"
They're in the chamber — There's tear gas in the Rotunda — Guns drawn in the chamber — She is shot in the neck — Senators evacuated to a secure location
The people have re-taken the chamber.
The regime has used tear gas on the people.
The regime has killed a brave and innocent woman.
The pretender regime has fled, and did not return until they could be guarded by a phalanx of their paid mercenaries.
Yes, McConnell and Schumer were eventually able to pose as victors and continue their lies and treason in the chamber.
But among our enemies, there is now a distinct look of being hunted. Of looking over their shoulders. Of straining for the distant sounds of breaking wood and tramping feet.
Of wondering if they can really trust those mercenaries.
Much as the White man needs — desperately needs — an understanding of who his enemies really are, it's heartening to see him finally go berserker. It brings forth and animates deep, too-long forgotten, ancestral memories.
Let all future history be marked from this day, 6 January 132 (2021). The day the Saxon began to hate.
* * *
Source: Author