Red Pill Music by The Decency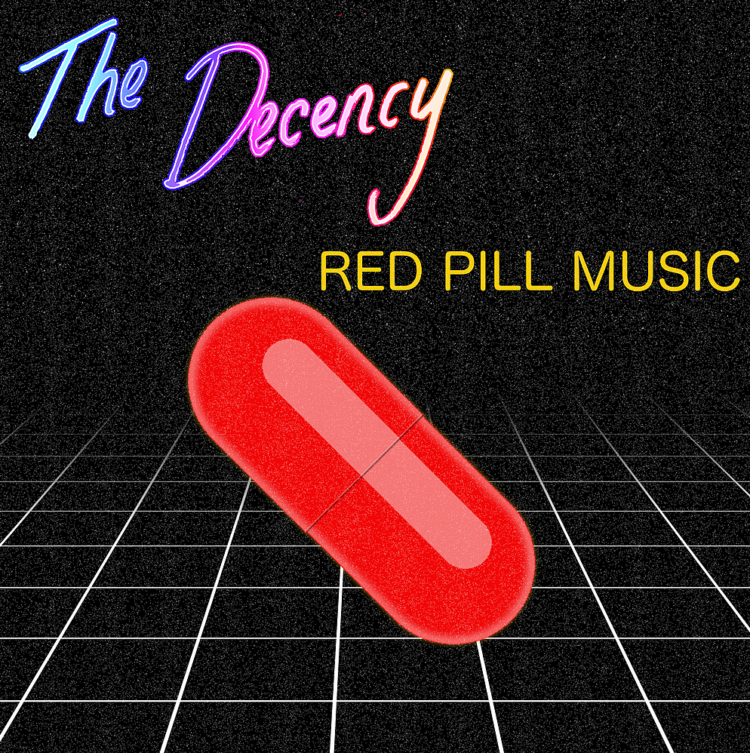 reviewed by John Young
… he has smashed a giant fist through the music establishment by demonstrating just how much is lost with the "pop" song writing formula.
THERE ARE MANY forms of artistic expression. The reason there are so many forms of art is because not all ideas are as effectively conveyed in one form as they might be in another. How does one describe the Mona Lisa or the Sistine Chapel in words? Though one may make the attempt, words will fall short. Thus, it has taken me a while to write this review.
Any artistic review necessarily includes the experiences, knowledge and biases of the reviewer. I am a pro-European-American activist, and have been for a long time. So any review I write will be very different from that of Sarah Jeong. In addition, as a musician, composer, arranger and producer … my appreciation of music is not the same as an unskilled teenager trying to impress his friends.
White Art Collective is an ambitious project to promote artists of European descent and our culture. It encompasses all forms of art from painting and music through cinema. To find out more, see the "About" page on their website.
Most germane to the immediate review, White Art Collective has published Red Pill Music, an album by The Decency, a singer-songwriter and musician from the UK. I listened to this album several times over a period of weeks, and to say it defies trite description would be an understatement. Although most of the music uses synthesizers, musical styles range from thoughtful and beautiful piano pieces (Decency) and cinematic soundscapes (A Higher Calling) through rock-n-roll (Public School is Communism) and everything in between.
A problem that is common in self-produced albums is what I would call a "lack of dynamism." It can be difficult to capture emotion and range. Sources of feedback are often loved ones who won't tell you that you need to do "another take" because they either don't want to hurt your feelings, or they are sick and tired of hearing you play the same piece for the 20th time and just want it to end already so you can take out the trash. This album most definitely does not suffer from that malady. Every piece, whether vocal or instrumental, is dynamic and expressive, completely capturing the artist's intent.
The lyrics on this album are nothing short of amazing. If you were to go to a class on song writing at the Berklee College of Music, you'd learn that to write a "hit" or "pop" song, you'd need to have ambiguous lyrics that subtracted enough information that anyone could relate to them. Though this album has no ambition towards "pop" music, The Decency has included everything he wanted to say, clearly and without ambiguity. By doing this, and doing it with artistic flair, he has smashed a giant fist through the music establishment by demonstrating just how much is lost with the "pop" song writing formula.Far from a "one trick pony" his songs cover contemporary events (It's Okay to Be White, MAGA), greater philosophical issues (Sins of the World Wars, The Leader of the Socialist Party) and matters we need to ponder as individuals to understand our own role in what we face (Self Knowledge, A More Realistic View of Love). He also covers both the darker (The Demons Among Us) and more uplifting (The Red Pill) aspects of our current situation. The album also includes several instrumental pieces of exceptional merit, demonstrating not only clear mastery of the instruments, but an intimate understanding of their emotional application.
There can be no single description of the musical compositions, whether instrumental or lyrical, because The Decency covers a range of styles from orchestral to electronica to rock. This isn't like an album by AC/DC (who I happen to love) where every song follows a similar pattern and style. It's more like a trip to a fine art gallery, where each corner contains something different. What I can say is that there is not a single "dud" on this album, and that every piece demonstrates an impressive understanding of every aspect of music composition and arrangement. When I say that, it makes the album sound technical, but that's not what is going on. This album shows what happens when someone who has consummate skill and knowledge merges that with dynamic emotional content to yield true art.
The production value of the album is also high. Music production – the process of mixing and mastering – is a skill in its own right that is under-appreciated. When listening to live music, our brains have a way of directing our attention in a fashion that cancels out anything suboptimal. But recorded music makes even the slightest problem glaring. Without getting too technical, recorded instruments and vocals tend to walk all over each other or sound artificial and it takes skillful application to turn these performances into something that remains cohesive while highlighting what needs to be in the center. Red Pill Music is very well produced, entirely on a par with any mainstream music production you will hear, except with better content. The mastering is also excellent. Volume levels are consistent between tracks and the songs retain excellent and natural dynamic range.
Although, as mentioned, there are no duds on the album, a few songs stand out as favorites of mine. These include "Public School is Communism," "A More Realistic Vision of Love," and "The Demons Among Us," though I don't skip any tracks when listening.
I highly recommend this album and if you are a thoughtful person, I believe you will enjoy it too. I am very impressed with Red Pill Music. This is not really the sort of "fun" music you might jam out to with your friends while driving to the beach, but it is definitely an album you will listen to again and again when alone, deriving new insights and appreciation from it every time you listen.
You can buy the album via the White Art Collective.
Disclosure: Neither the author, nor the original Web site, nor this site, have have any financial linkage or receive compensation from either the artist or publisher. Permission is granted to use this review for promotional purposes with a link back to its source.
* * *
Source: Western Voices World News