South Africa: Massive Protest Against Murders of White Farmers
Executive Summary: At least 18,000 people and 5,000 vehicles gathered at Kanonkop, a farm in Klapmuts near Stellenbosch, South Africa to protest against farm murders. There have been tens of thousands of racially-motivated attacks on White farmers since Black rule began in South Africa in 1994. (The murder rate for White farmers is worse than that for Honduras, "the most dangerous nation on Earth." There have been 341 farm attacks with 71 fatalities so far in 2017.) The City of Cape Town's Richard Bosman said the group "Genoeg is Genoeg" (Enough is Enough) was given a permit to stage demonstrations on Sunday, but the number of people exceeded what the City planned for. The farmers have called on all South Africans to wear black in commemoration of those killed on farms.
by Michael Walsh
THOUSANDS of mainly White South Africans on October 30 took to the nation's streets to protest the ongoing epidemic of savage farm murders sweeping the country. The #BlackMonday protests were organised after civil rights group Afriforum released figures claiming the murder rate for South African farmers was 156 per 100,000 — higher than that of even the most dangerous places in the world.
This appalling carnage puts the deaths of the nation's breadbasket-fillers well above the already high national average. The anti-European bloodbath makes farming in the troubled nation arguably the most dangerous occupation in the world outside a war zone.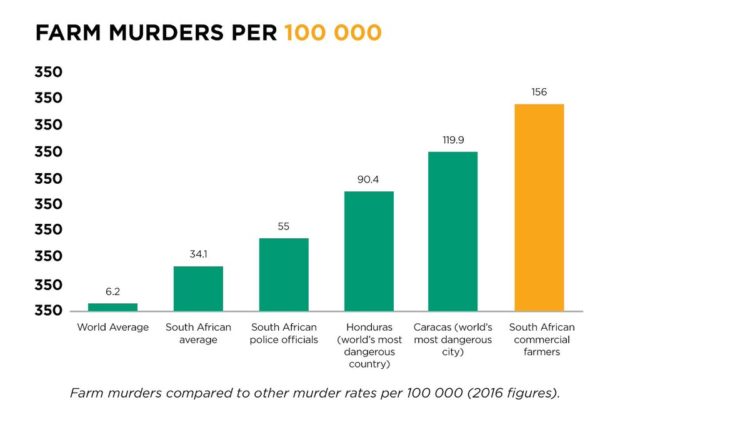 Western liberal media still wear their hair shirt over the death of a solitary Black revolutionary who died in police custody in 1973. The same hacks don't shed a tear or print a line of newsprint for thousands of farmers, their families, and their Black workers butchered in 24 years of Black South African despotism. This year alone, the number of slain farmers has hit 71 in 341 separate attacks, surpassing the estimated death toll for 2016.
Local news outlet Times Live reports another elderly farmer hacked to death on the day of the #BlackMonday protest itself, and another three farmers were killed the day after, increasing the AfriForum total as of October 31 to 74.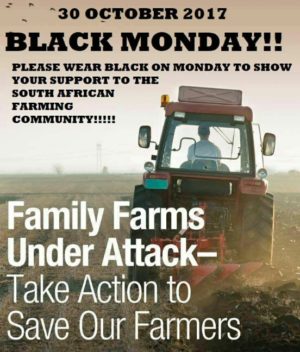 Definitive figures are not available, as the African National Congress (ANC) government ordered the authorities to stop releasing details about the ethnicity of murder victims in 2007.
ANC politicians and other Black leaders have been accused of encouraging attacks on rural ethnic-Europeans, with thousands murdered from the 1990s onwards, and AfriForum believes they represent something more sinister than regular crime, given the racist gratuitous brutality which often accompanies the selective killings.
"These are not any normal form of crime but an outright act of terror. Anyone who still describes this as [only] crime is committing himself to unnecessary bloodshed," said spokesman Thomas van Dalen.
The government's official position is to condemn farm murders while insisting that they are merely ordinary crimes and not indicative of a wider pattern of persecution, and that tackling them should not be prioritised, lest this give the impression that farmers' lives are more important than anyone else's.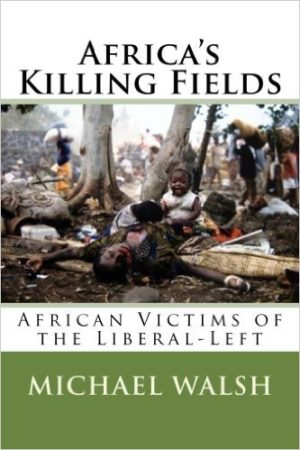 However, South African president Jacob Zuma has been filmed whilst chanting the anti-European ballad 'Kill the Farmer, Kill the Boer' while in office. ANC politicians have shouted 'Bury them alive!' during parliamentary debates on the plight of ethnic-European farmers.
One can imagine what Western liberal hacks would have to say if, during the era of separate ethnic development, European parliamentarians had sung 'Kill the Blacks' and chanted 'Bury them alive.'
Leading South African politician Julius Malema, who heads the Economic Freedom Fighters party, the third-largest in the country, has called for farms owned by ethnic-Europeans to be confiscated, he told supporters.
South African President Zuma, constantly mired in corruption scandals, has also begun calling for European-owned farms to be confiscated without compensation.
South Africa would not be the first African nation to go down this path: Europeans were killed or forced to flee their farms in neighbouring Zimbabwe in huge numbers after mass land grabs initiated by Robert Mugabe, the 93-year-old Black Marxist tyrant who has ruled the country with an iron fist since 1980. President-for-Life (thanks to treacherous Westminster) Mugabe openly states his approval: "Yes, we have those who were killed when they resisted," he boasted only a few months ago. "We will never prosecute those who killed them. I ask, why should we arrest them?"
Zimbabwe's European farmers were not the only victims of this move, which resulted in agriculture collapsing in the country once regarded as the 'Breadbasket of Africa', an economic depression, ferocious hyperinflation, and its peoples starving and wracked with disease.
* * *
Source: Michael Walsh