Recent American History: Never Forget the Killing of Jonathan Paul Foster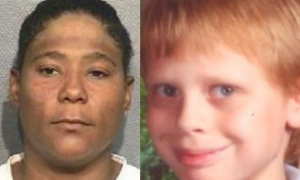 When Black kills White, the Jewish-dominated national media are quiet, no matter how heinous the crime.
by David Sims
HERE'S THE KIND of crime the media won't report nationally. On 24 December 2010 in Houston, Texas, a Black woman named Mona Yvette Nelson, age 44, abducted and killed a 12-year-old White boy named Jonathan Paul Foster, torturing him to death with a blowtorch. The mainstream media dropped the story quickly, once it became aware that the killer was Black and that the victim was White. That's why you never heard about this crime until just now.
Now that you know about it, you can probably imagine how the crime went. The negress tied the little White boy up so he couldn't run away. Then she lit the blowtorch and burned out his eyes. Then she burned off his ears and lips. Then she went after his private parts. She thrilled to the sound of the little boy screaming and crying all the while, taking pleasure in the fact that he was trying to get away from her, but couldn't. Eventually, the boy died, and the sheboon dumped his body into a ditch.
According to an article in the Houston Chronicle on 28 December 2010, "Police unsure if body found in ditch is missing boy," by Lindsay Wise and Dale Lezon, the police could not identify the victim right away partly because the burns prevented them from discerning the child's gender.
Mona Nelson went on trial for the murder in early August 2013. Although this was a capital murder trial, aggravated by the sort of extreme torture that soldiers get hanged for, the prosecution didn't even seek the death penalty. On 27 August 2013, a judge (the defense opted to do without a jury) found Nelson guilty and sentenced her to life without parole.
In prison, Mona Nelson is probably popular with the other Black inmates as a sort of stand-up comedienne, able to keep the other Black women laughing for hours as she describes how Jonathan Foster would jerk around, cry for his mommy, and beg for her to stop hurting him.
This kind of thing isn't as rare as you think. While he was alive, Dr. William Pierce specialized in finding out about crimes like this one and spreading the news that the Jewish-owned mainstream media would not allow the public to see.
Comments transferred from MEDIAite:
David Sims said: Hey, Nancy Grace. Why don't you finish reporting about the 2010 murder in Texas of 12-year-old Jonathan Foster by Mona Nelson? As I recall, you dropped that story the moment you found out that Foster is a little White boy and Nelson is a 44-year-old Black woman. Tell us about how a feral Black woman murdered the White boy with a blowtorch. Inquiring minds, you know. Where did the torture-murder happen? In what position did she tie him up so that he couldn't run away from her? In what order did she burn his body parts: did she start at the top and work her way down, or did she begin with his privates and end by burning out his eyes? Why didn't the prosecutor seek the death penalty? How is Mona Nelson doing in prison today? Is she popular with the other Black women as some sort of stand-up comedienne? Come on, Nancy Grace. If the victim had been Black and the perp had been White, you'd have told us all those things, and more I'm sure. So what's the problem, huh?
Somebody else wrote: In other words a Black woman was convicted of killing a White child and is still in prison for her crime. And your analogy is to a White man who killed an unarmed Black kid and was never indicted and will not serve one day in jail for it? You're moving into idiotland where you try to debate a point and make your opponents argument for him.
David Sims wrote: There are some differences that make your simplistic comparison invalid. The Black kid was a criminal. The White kid was not. The Black kid was 19 (and so not a kid). The White kid was 12, and so he was still a kid. The Black kid was killed in self-defense. The White kid was killed by torture.
Do you see where we're going with this?
Somebody else wrote: Where we're going is to a dictionary so that you can learn the difference between convicted and unindicted. The simplicity is yours. You think the issue is an interracial killing, when the real issue is that the Black killer was convicted and is serving time while the White killer was rewarded with a two week paid vacation. If you can't see the difference you're not intelligent enough to continue this conversation.
David Sims wrote: While you're doing your linguistic research, pull down a book on civics. You'll find out that the standard of proof required of juries for conviction is "beyond a reasonable doubt," whereas the standard of evidence required of grand juries for indictment is far lower. A grand jury only has to see enough evidence of wrongdoing to justify having a trial.
If a grand jury won't indict, then it's a fairly safe bet that a trial jury won't convict, either.
The Black killer, Mona Nelson, committed capital murder (aggravated by torture), and so she is in prison.
The White killer, Darren Wilson, committed justifiable homicide (justified by necessary self-defense), and so he is not in prison.
That's the real, true difference between the two cases. If you can't see that, then you're not intelligent enough to continue this conversation.
NOTE: After I posted that last comment, my comments were placed on auto-delete or auto-hide by the MEDIAite forum administrator. That's how leftists pretend to win debates. And it is also why I put the entire discussion here (among other places).
In closing, here is a quote from one of America's greatest writers, Revilo Oliver, which is very relevant to this case:
"We [Whites] have a racial reluctance to inflict unnecessary pain, and we are ourselves distressed by the sight of suffering. That is, of course, a peculiarity that brings upon us the ridicule and contempt of the numerical majority of the world's population, who are beings differently constituted. The savages of Africa, who are now your masters in the sense that you have to work for them every day, find the spectacle of a human being under torture simply hilarious. And when they see a blinded captive with broken limbs squirm as they prod him with red-hot irons, they laugh with glee — with a merriment, a real merriment, that is greater than the funniest farce on the stage has ever excited in you."
—Revilo Pendleton Oliver, American professor of Classical philology, Spanish, and Italian at the University of Illinois at Urbana-Champaign.
* * *
Source: Author