Sweden: Patriots Remove, Burn Homosexual Flags in Södertälje
HERE IS A FILM that shows how Fighting Group 103 confiscated and disposed of "homosexual pride" flags during the disgusting and racially harmful homosexual-themed "Pride Week" being promoted by the anti-White Establishment in Stockholm.
The activists report the following: During "Stockholm Pride Week" we conducted intensive activism against the homosexual lobby in the Sodertalje area. Fighting Group 103 seized twenty of the lobby's signature flags — that were then taken care of properly.
All activities during the week passed without impediment and everyone involved feels satisfied with our performance. Highlights of the week can be seen on the film.
Earlier, activists in Trelleborg conducted a similar operation: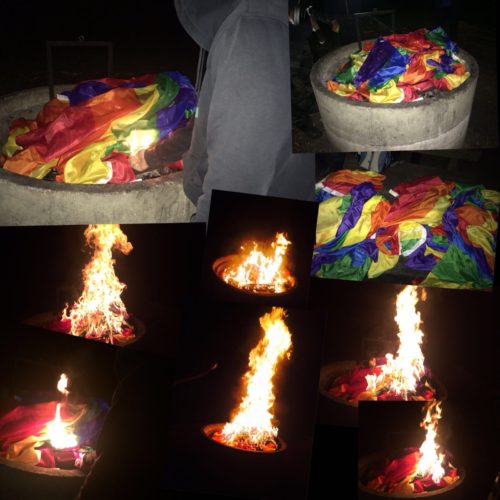 Patrotic activists have cleaned Trelleborg of homosexual "pride" flags — and the city has no such flags left immediately before their "Pride Week" propaganda event.
It seems that the locals in Trelleborg will not see any "pride" flags during Sunday's "pride parade." This is a result of diligent work by activists who cleansed the city of all the municipality's "pride" flags.
On August 12th, around a dozen "pride flags" were removed from Trelleborg. According to the secret, anonymous, and unconfirmed tips that reached the Nordic Resistance, affiliated patriotic activists took possession of the flags.
The Trelleborg municipality now no longer owns any "pride flags," and are therefore obliged to hoist the usual city flags instead of "regnbågsflaggorna" on their flagpoles.
"Some 12 or 13 flags have disappeared. And we have unfortunately not been able to obtain more, so now they are replaced by municipal flags," said park manager Mark Huisman. This means that the municipality will not be able to hoist "pride flags" during the "pride parade" to be held on Sunday.
"I see it as a violation, and an ideological crime. In 20 years we have had a flagpole, but this is the first time someone touches it. I get sad. It is really a sign that Sunday's Pride is needed," squeaked vicar Gustaf Centervall, whose church was robbed of one of the unholy flags.
Update: The campaign has now been confirmed by a battle report published Saturday.
* * *
Source: Nordic Resistance Movement