The Torch Bearers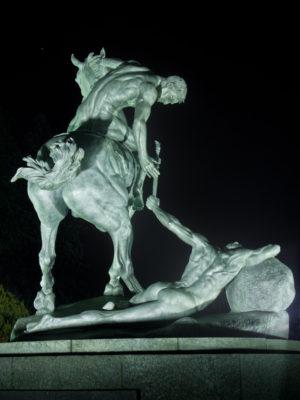 by Andrew Hamilton
DESPITE the triumph of modernism, a handful of American sculptors, including Anna Hyatt Huntington, creator of The Torch Bearers (1955), continued to work in the neoclassical mode prior to and after WWII. Huntington was highly regarded for her large-scale public commissions at a time when the preferred product of most women sculptors was the small bronze statuette. In the words of one art journalist, she "made a name for herself depicting fierce creatures, strong leaders, and legendary heroines." (ILLUSTRATION: Los portadores de la antorcha (The Torch Bearers) (cast aluminum, University of Madrid, 1955))
Born in Cambridge, Massachusetts in 1876 to Alpheus Hyatt II, a professor of paleontology and zoology at the Massachusetts Institute of Technology (MIT), Anna had an older sister, Harriet Hyatt Mayor, who was also a sculptor, and a nephew, A. Hyatt Mayor, who was a prominent art historian.
Anna Hyatt studied sculpture at the Art Students League of New York under Hermon Atkins MacNeil and Danish American Gutzon Borglum, who later carved Mount Rushmore in South Dakota. Borglum, who was born into a polygamous Mormon family in Idaho Territory, later became a member of the second Ku Klux Klan.
In 1923 Anna Vaughn Hyatt married wealthy philanthropist Archer Milton Huntington, the adopted son and heir of a builder of the transcontinental railroad, Collis P. Huntington (Central Pacific Railroad; Southern Pacific Railroad, Pacific Mail Steamship Co.), when he was 54 (it was Archer's second marriage) and she, a world-class sculptor who had never married, was 47. As early as 1912 Anna had been listed among the top 12 American women who earned a minimum of $50,000 a year ($1.2 million today). This she earned from her sculptures. The couple had no children.
Archer Huntington founded New York City's Hispanic Society of America, the largest Mariners Museum in the US at Newport News, Virginia, and Brookgreen Gardens, a sculpture park and nature preserve in South Carolina situated on a ten-thousand-acre beach and wilderness tract uniting what had once been four antebellum rice plantations. He was a major benefactor of several other organizations as well.
The Hispanic Society of America
Founded by Archer Huntington in 1904, this institution, which in the 1950s accommodated 50,000 visitors annually, is still housed in its original Beaux Arts headquarters on Audubon Terrace in the Washington Heights section of New York City. Anna's towering El Cid Campeador (bronze, 1923) graces the entrance. The museum and research library boasts world-class paintings by Goya, Velázquez, and El Greco, thousands of decorative-arts works, and important manuscripts, prints and photographs.
As the New York Times noted in 2011, though the name of the now down-at-heel Hispanic Society misleadingly suggests a relationship to the Mestizo neighborhood which today engulfs it, the museum "primarily celebrates the Old World cultures of Spain and Portugal, not the arts and traditions of the New World lands they colonized. The potential audience [sic] just outside the museum's doors has never had much contact with it."
Archer Huntington's goal was to display art and artifacts that captured "the soul of Spain" at a time when the word "Hispanic" was associated with the Iberian Peninsula, not Latin America. Even today the museum has no intention of fundamentally altering its mission.
This rubs representatives of the ruling class the wrong way.
Marjorie Schwarzer, the Jewish editor of an influential academic journal, Museums & Social Issues, sniffs that to survive museums like the Hispanic Society must "breathe," "embrace innovations," and "evolve." Otherwise, she snickers, "They could become like grandma's jewels, admired, but no one wears them."
Schwarzer approvingly cites the Swedish American Museum in Chicago as a model. It shifted its focus from Swedes exclusively to immigration by others, and created a children's museum to appeal to non-Whites who have been imported to ethnically cleanse its once-White (and Swedish) neighborhood.
Similarly, Pamela Palanque-North (note the impressively hyphenated surname), a colored woman who makes a professional living as a corporate, academic, and government "diversity" consultant, complains that the museum's art "depicts Europe. It's definitely not Caribbean artists." ("An Outpost for Old Spain in the Heights," New York Times, November 11, 2011)
Much of Anna's work was in the form of public monuments. Throughout the ages, public sculptures, symbols of civic pride, have served as didactic tools offering moral, patriotic, and cultural instruction. Such works, together with their custom-designed pedestals, architectural settings, fountains, and approaches, in the most successful instances seamlessly harmonize with the parks, squares, cemeteries, or grounds on which they are situated.
The growth of the bronze casting industry in the United States during the late 19th century facilitated the transition from marble as the preferred sculptural medium to bronze, a durable material that has greater tensile strength than stone and better withstands the outdoor elements.
At the same time an ancillary market developed for models and reductions of monuments, effectively bringing public statues into private homes. Reductions are small-scale reproductions of works, while excerpts replicate a portion of a larger whole, sometimes with modifications. For example, 359 bronze casts were made of a 13-1/4-inch-long version of Huntington's Yawning Tiger (bronze, c. 1917), which one art historian refers to as an "astounding" number, exceeding even that of Frederic Remington's iconic Bronco Buster.
Anna was well known for her animal art. Her companion sculptures Jaguar and Reaching Jaguar (bronze, 1906-1907), based on studies she did of the first feline occupant of the Lion House at the Bronx Zoo, are representative. Stone versions adorn the gateposts of the Bronx Zoo.
But much of her work evinced heroic themes. Joan of Arc (bronze, 1915, Riverside Drive and 93rd Street, Manhattan) depicts the French heroine in full armor astride her horse, raising her sword heavenward to receive God's blessing upon that instrument of war.
Because Huntington's Joan of Arc was so well-known, the organizers of a large pageant in Madison Square Garden asked Anna to lead a procession on horseback as Joan. Armor resembling the heroine's was used. "It was the most uncomfortable thing you ever could imagine to ride in," Huntington, a skilled horsewoman, later said. "I don't know how she ever managed to be active and go into battle with it because it was a very stiff, heavy, uncomfortable thing. I had to be lifted on the horse; I couldn't get up otherwise."
The Torch Bearers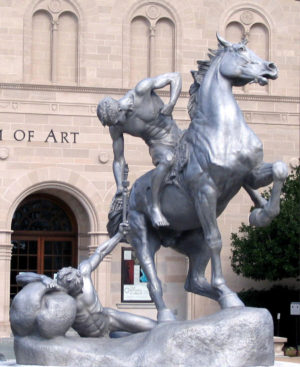 One of Huntington's most striking works is The Torch Bearers (Spanish Los Portadores de la Antorcha) (cast aluminum, 1955, University of Madrid), a gift to the people of Spain. It is a massive public sculpture depicting a muscular young man on a mission symbolizing the life force — energy, strength, capability, and iron determination — astride a powerful stallion, leaning over to grasp a torch from a fallen, dying comrade, symbolic of the passing of the flame of Western civilization. Upon completion, it was the largest aluminum statue in the world — 15 feet high, 12 feet wide, 12 feet long, weighing 3,500 pounds.
Anna conceived the work in 1949 and by 1953 had completed the clay model. The following year she finished the final plaster form and had it cast at a foundry in Long Island City. From there The Torch Bearers was shipped by truck to the Jerome F. Gould Corp., a Jewish packing firm in Brooklyn, which boxed it in 24 hours. The company packed everything from Wedgwood porcelain to oil refineries for assembly in Turkey. Because the statue was made of aluminum, it was not necessary to spray it with an oil-based rust inhibitor or wrap it in paper that would emit an anticorrosive vapor to ward off the salt air during the long cross-Atlantic voyage. But the packing crate and base, together weighing 4,000 pounds, had to be heavier than the sculpture itself, which was moved with special soft manila-hemp ropes rather than ordinary wire ropes that might cut into the soft metal.
Two New Yorker writers who saw The Torch Bearers while it was in the Gould yard described it as a large "dull-silver statue, its figures lithe-looking." (Les Arstak and Rex Lardner, "The Talk of the Town: Package," The New Yorker, May 14, 1955, pp. 31-32)
From Brooklyn it was loaded onto the largest flat-bed trailer in New York City and driven to a barge in Newtown Creek, a 3.5-mile estuary forming part of the border between the boroughs of Brooklyn and Queens, which empties into the East River. At Jersey City it was loaded onto a ship for Barcelona, from whence it was transported 300 miles inland to the centuries-old University of Madrid, the top university in Spain.
Inscribed vertically on the base of the statue is a poem composed by Anna's husband. The English translation reads in part:
Man bears the holy torch fidelity,
Across the glazed and burning sands of Time.
A woman's soul uplifts maternity
Starlight to mark a course no less sublime!
Archer M. Huntington, who wrote and published several volumes of poetry, privately printed a collection called The Torch Bearers (New York: Hispanic Society of America, 1955), the frontispiece of which was a photograph of his wife's statue. The lines probably derive from a poem in the volume.
Replicas of The Torch Bearers are located on the grounds of the Mark Twain Library in Redding, Connecticut (bronze), the University of South Carolina's Wardlaw College (bronze), the Chrysler Museum of Art, Norfolk, Virginia (aluminum, 1957), the Stevens Institute of Technology, Hoboken, New Jersey (aluminum, 1964), and, until December 2013, the Discovery Museum in Bridgeport, Connecticut (bronze).
That month, the Discovery Museum sold its 5-ton replica to a private collector, sight unseen, for $315,000. The museum had hoped it would fetch more than $400,000, but a Houston, Texas man was the only bidder. The bill to move the 15-foot-tall statue 700 miles overland from Connecticut to Houston was $40,000.
The sculpture is expected to be displayed publicly in Houston's Lindale Park, a 1930s-era housing development near the city's downtown that has about 1,200 single-family homes valued at $175,000 to $350,000. The collector lives in Lindale Park, although his name was not publicly revealed.
An oral history interview conducted by the Smithsonian Institution in 1964, when Anna was 88, offered interesting glimpses into Archer and Anna Huntington's political views. Both she and her husband thought the widely-demonized Spanish leader Francisco Franco "had really been excellent" for Spain, giving the country 25 years of peace and prosperity.
In Anna's estimation, Juan de Ávalos (1911-2006), who executed monumental works for Franco during the later years of the Caudillo's regime, was Spain's — and indeed, Europe's — greatest living sculptor. Franco had ordered a monument to Archer and Anna Huntington, on which de Ávalos was then at work.
Asked what she thought of contemporary art, Anna replied, "I'm very much of a conservative. I'm a great conservative in politics. I was for Goldwater. And then that follows through for art. The modernists are undoubtedly extremely interesting to a great number of the young people today, but they don't satisfy me very much."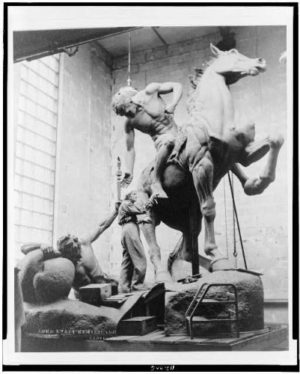 Active as a sculptor for more than 70 of her 97 years, and the creator of 262 works, Anna's last major commission, completed when she was 94, was the Revolutionary War sculpture Israel Putnam's Escape at Horseneck (bronze, 1970, Putnam Memorial State Park, Redding, Connecticut). After a series of strokes, she died in 1973 and was interred in the Huntington family mausoleum together with her husband Archer Huntington (d. 1955) and father-in-law Collis P. Huntington (d. 1900) in the 400-acre Woodlawn Cemetery, the Bronx, one of the largest cemeteries in New York City, where more than 300,000 people, many eminent, are buried.
In a harsh world of strife, The Torch Bearers symbolizes the ideals of heroism and willed perpetuation, through action and the voluntary acceptance of personal responsibility, of Western creative imagination and civilization across the eternal expanse of time.
Further Reading
James F. Cooper, "Archer Huntington and the Hispanic Society: A Centennial Celebration," American Arts Quarterly (Fall 2010)
Mary Mitchell and Albert Goodrich, The Remarkable Huntingtons: Chronicle of a Marriage, (2004), based upon a voluminous diary kept by Anna Hyatt Huntington.
Oral history interview with Anna Hyatt Huntington, December 14, 1964, Archives of American Art, Smithsonian Institution
Stephanie Strasnick, "The Most Famous New York Sculptor You've Never Heard Of," ARTnews, January 21, 2014, announcing a new exhibition at Columbia University titled "Goddess, Heroine, Beast: Anna Hyatt Huntington's New York Sculpture, 1902–1936," celebrating the artist's work.
* * *
Source: Author and Counter-Currents