Greek President to Propose Far-Right Golden Dawn to Form Government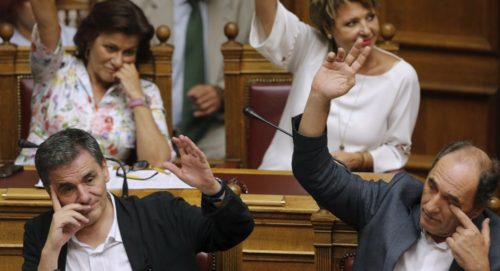 A Greek lawmaker told Sputnik that Golden Dawn party will be given a mandate to form the government.
THE THIRD PARTY to be granted a mandate to form a new Greek government will be the far-right Golden Dawn, MP from the New Democracy Party, Makis Voridis, told Sputnik on Friday.
"The third party to receive a proposal to create a government will be the Golden Dawn," Voridis who is a former Minister for Infrastructure, Transport and Networks, said.
"I do not think that New Democracy will manage to create a new government, it will not manage to form a parliamentarian majority," Voridis, who is a former Minister for Infrastructure, Transport and Networks, said.
Main opposition New Democracy Party will refuse to form coalition with the left-wing SYRIZA party in case it wins the snap parliamentary elections.
"SYRIZA, the party of the resigned Prime minister, will not participate in any kind of discussion around creating a coalition right now. Without their votes, with actually now are 118, it is practically impossible to form any kind of government," Voridis stressed.
Earlier on Friday, Greek President Prokopis Pavlopoulos granted the leader of Greece's official opposition and head of the center-right New Democracy party Vangelis Meimarakis a mandate to form a new government.
Under the Greek Constitution, Meimarakis has three days to determine if his party can create a viable government before a caretaker regime is put in place.
Golden Dawn is a radical right party, whose 69 members have been accused [by the corrupt banker-owned regime — Ed.] of creating and running a criminal organization.
* * *
Source: Sputnik News