Hundreds of Latvian Waffen-SS Veterans March in Riga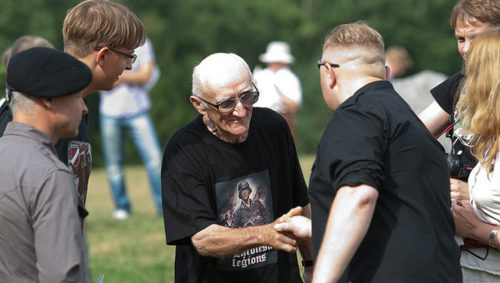 Up to a thousand Waffen-SS veterans and their supporters have marched through Latvia's capital, Riga, in their annual commemorating procession.
THE MARCH of the SS veterans started in Vecriga, in Riga's old town, at 11:00 local time Monday after a religious service. The participants, holding the national flags of Latvia, Lithuania and Estonia, walked through the city to the Monument of Freedom, where they lay flowers. Many veterans wore uniforms of the legion and pre-war uniforms.
The annual march causes outrage among various Jewish and communist groups. Anti-fascist and Jewish organizations, such as the Simon Wiesenthal Center, believe such rallies "glorify Nazism".
Numerous policemen were present at the march and also a private security agency's employees as the authorities expected confrontations with local anti-fascist organizations. Latvian Interior Minister Rihard Kozlovskis had earlier called on the residents to stay away from the city center unless absolutely necessary. The US Embassy in Latvia also recommended its citizens to pay more attention to security.
Anti-fascist activists staged a protest, wearing white overalls and pretending to "disinfect" the area from the "Nazi disease," cleaning and washing the pavement near the Freedom Monument. Other participants displayed photos from working camps in Latvia.
Russia has condemned the holding of the "Nazi veterans' march as a violation of international law".
"This is a direct contradiction against the ruling of the Nuremberg Trials," Konstantin Dolgov, the Russian Foreign Ministry's human rights ombudsman, told the lower house of parliament, the State Duma, in Moscow.
The Latvian legion of the Waffen-SS consisted of almost 150,000 Latvians and was split into two divisions. The legion was created in 1943 on the orders of Adolf Hitler. In March of the same year, the legion was already battling the Soviet Red Army near the town of Pskov. It was among the last of the Nazi forces to surrender in 1945.
The Waffen-SS march has been held annually on March 16 since 1998, although it is not an official holiday. Latvia's national day of remembrance for war heroes is on November 11.
EDITOR'S NOTE: The European race is threatened by mass immigration, by the oligarchs who promote it, and by debt slavery to those same oligarchs. The Rigans who marched to honor their WW2 dead know that. And surely many Russians know it, too. Both Russians and Latvians should drop their petty-nationalist rivalries of the past and work together to defeat our race's enemies.
* * *
Source: The White Resister