Bill Cosby Finally Charged; Dozens of White Women Have Accused Him of Drugging and Rape Over Many Decades
EDITOR'S NOTE: As Kevin Alfred Strom stated recently, the real motivation for Cosby's crimes is a totally taboo topic in the Jewish-controlled media. Think about it: Did Bill Cosby really have to drug and rape anyone to have sex? No. He was married to a cultured and shapely mulatto woman all through the period when these rapes took place, and she bore him children. And this was Hollywood in the anything-goes era of the Sexual Revolution. There were surely any number of ambitious starlets and high-price harlots of all races who would have given rich, famous Bill Cosby all the sex he could handle and more. And I don't doubt he took advantage of that degeneracy.
But sex with a willing White woman was apparently not enough for Bill Cosby. If these accounts are true, and I believe they are, he wanted to rape White women, and these were nearly all White women, not just sexually possess them. He wanted to violate them against their will. White women — all manipulated or forced or drugged — all taken against their will. Taken against their will because that's the way Bill Cosby wanted it. It was exactly the way Bill Cosby wanted it.
* * *
FOR YEARS, women — dozens of them — have accused Bill Cosby of sexual assault, with incidents dating back to the 1960s. Now, for the first time, Cosby is facing criminal charges in connection with one of those accusations, Montgomery County prosecutors in Pennsylvania announced on Wednesday.
Prosecutors charged Cosby with aggravated indecent assault in connection with an alleged sexual assault in early 2004, First Assistant District Attorney Kevin Steele said in a morning press conference.
Aggravated indecent assault is a second degree felony.
"Today, after examination of all the evidence, we are able to seek justice on behalf of the victim," Steele said. Prosecutors launched a new investigation into the allegations against Cosby after new information about the case emerged in July, he said. The 12-year statute of limitations to file felony charges in connection to those allegations expires in January.
Attorneys for Cosby said that they would "mount a vigorous defense."
"The charge by the Montgomery County District Attorney's office came as no surprise, filed 12 years after the alleged incident and coming on the heels of a hotly contested election for this county's DA during which this case was made the focal point," Cosby's attorneys said in a Wednesday afternoon statement released to several media outlets, including CNN.
"Make no mistake, we intend to mount a vigorous defense against this unjustified charge and we expect that Mr. Cosby will be exonerated by a court of law."
According to the criminal complaint, Cosby faces three counts of the indecent assault charge: assault without consent, assault when the complainant is unconscious or unaware that penetration is occurring, and assault when the person impairs the complainant.
['You are a very sick man': Bill Cosby's accuser and the full details from the criminal complaint]
Reporters waited for hours outside the small courthouse in Elkins Park,where Cosby arrived in a black-and-white hooded sweater on Wednesday afternoon for his arraignment.
Cosby's bail was set at $1 million, and he posted the required 10 percent of that amount on Wednesday. …
* * *
Source: Read the full article at the Washington Post
* * *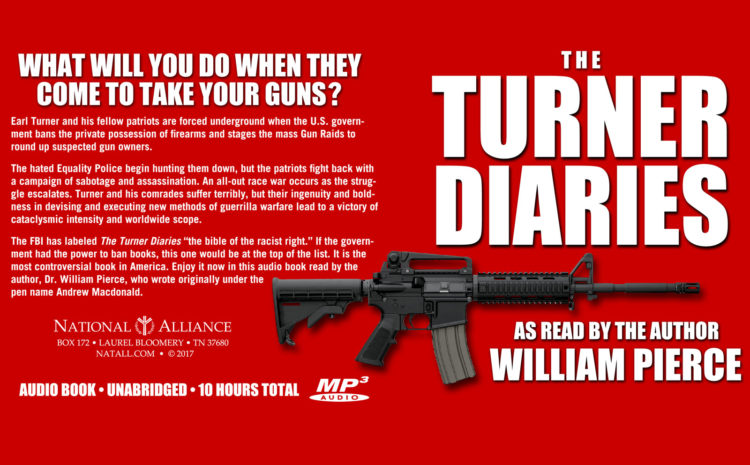 Listen: Turner Diaries commercial
OUR NEW, remastered audio book edition of The Turner Diaries read by the author, Dr. William Pierce, is now available. You can get your copy now — the CDs are are shipping as soon as orders come in.
The original recordings, made by Dr. Pierce and Kevin Strom on reel-to-reel tape in 1995, had been digitized in the early 2000s, but that digitization process was primitive compared to what we are capable of today; we have remastered this important work using the latest software — and we did it the careful, slow, difficult, craftsman-like way — the way Dr. Pierce would have wanted it.
We are proud to offer you the result, which can be ordered online via http://natall.com/td or by postal mail from National Alliance, Box 172, Laurel Bloomery TN 37680 USA. The fidelity of the disc is excellent: On a good speaker system, it sounds as if Dr. Pierce is with you, reading his book to you personally. There is nothing quite like hearing the man who created The Turner Diaries read it to you himself. And, by purchasing this mp3-CD, you will be supporting the important work of the National Alliance.
Listen: Turner Diaries commercial
* * *