The Lies Told by the Lying Liars Who Commodified the Lie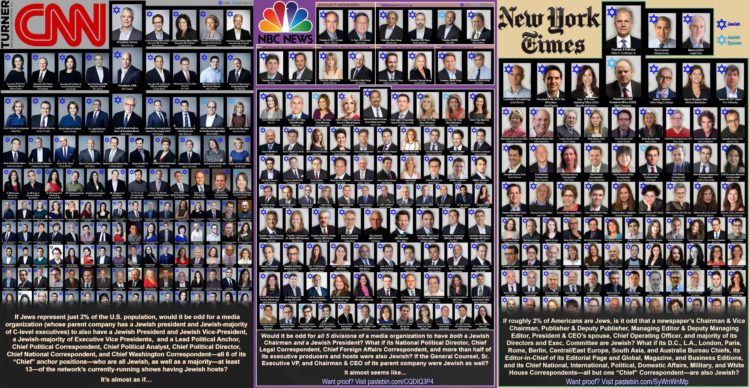 by David Sims
THE JEWS have controlled the "mainstream" media in the West since they bought out the press in the early 1900s. They did that, at least in part, because Adolphe Cremieux told them to "capture the press" at an Alliance Israelite Universelle meeting in Krakow in the 1890s. They used it as a means of mind control until the rise of the Internet in the 1990s, and they've been working hard to regain their media monopoly by capturing the World Wide Web, too.
What CNN and MSNBC and the rest are currently doing is nothing new. They've always lied to us. The only difference is that, increasingly, we know them to be liars now, whereas before 1990 many of us believed every lie they told us. In order to acquire CNN for Time Warner, a Jewish media boss named Gerald Levin told Ted Turner a whopping pack of lies and false promises. Lies, lies, lies.
Tucker Carlson threw some light on the habitual and extreme lying from the "mainstream" media… as if this weren't something that we already knew. It's good to hear his acknowledgement of his industry's duplicity though.
One thing Tucker didn't come clean on, however, was the connection between the dishonesty of the mainstream media and the fact that nearly all of those media are run by Jews. I guess that much honesty would have been a step too far.
But why are so many of the best makers of deception Jews?
Jews, in disproportionately great numbers, seem to have a talent for any sort of activity that involves getting into someone else's mind and turning the thinking and opinions of that person in the direction they want them to go, even when doing so involves some disregard of the facts.
Jews are frequently good storytellers, and there are many other talented Jewish writers of fiction besides Asimov and Silverberg. Not only are Jews often good authors, they are also commonly skillful lawyers, excellent teachers, persuasive advertisers, accomplished movie-makers, clever politicians, cleverer propagandists, and good liars. Very good liars. Jews are adapted to their peculiar set of skills, and that's why they are dangerous to everyone else.
* * *
Source: Author