Big Tech Is Eating the World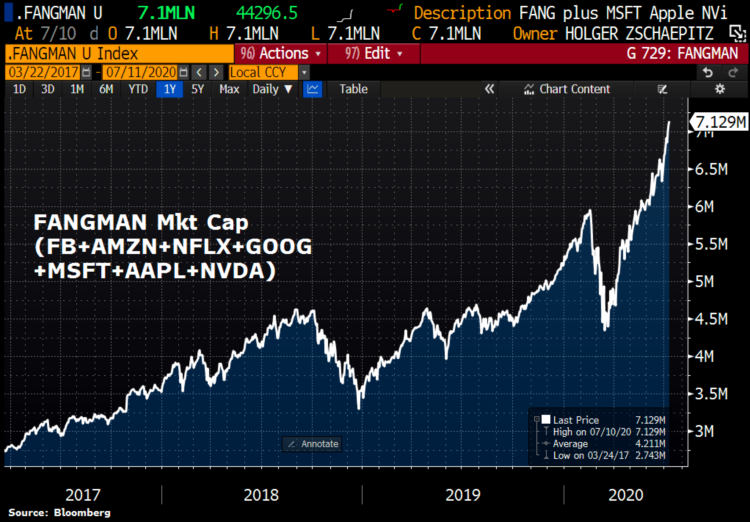 As they are richer than many nation-states, they are also more powerful than, and dominate, many nation-states. Effectively, they are a part of a supranational government dominated by Jews. Though they are not all headed by Jews, many are, and the Jewish presence in top management is vastly disproportionate — and they are all interlocked closely with the banking system, one of the major levers of Jewish power.
BIG TECH IS eating the world: The combined market capitalization of #FANGMAN (Facebook, Amazon, Netflix, Google, Microsoft, Apple, Nvidia) topped $7 trillion this week, equal to the combined GDP of Germany, Italy and Indonesia — and nearly double that of Germany alone.
The Economic Times predicts that these companies will continue to "dominate the world" despite Covid-19 disruptions, as the combined market cap of the seven FANGMAN stocks has rallied 24% so far this year — which is more than the GDP of several countries including Japan ($5.15tn), Germany ($3.86tn), India ($2.94tn) or the UK ($2.83tn). The total market cap of all 3,000 stocks that are traded on India's main stock exchange on Thursday was $1.8 trillion — whereas Apple alone commanded a market cap of $ 1.5 trillion.
"World's most valuable company" Apple currently trades at 28 times its earnings whereas Microsoft, Google, and Facebook are currently trading at between 30 and 35 price-to-earnings ratios. Some analysts see this as a bubble ready to burst, whereas others point out the nearly monopolistic and quasi-governmental character of some of the FANGMAN companies and suggest that the bubble will "not be allowed to burst."
That mammoth market cap gives these corporations enormous financial power to buy stakes in other assets. Facebook last month had invested $5.7 billion in Jio Platform while Google is looking to buy a stake in Vodafone Idea and Amazon in Bharti Airtel. A billion-dollar acquisition is a commonplace month-to-month event. Do you think they cannot also buy legislators? According to The Print, all except Nvidia (so far) had made some sort of public statement in support of Black Lives Matter as of June, and their consistent support of open borders, globalism, and the demonization of racially conscious Whites is long established.
One observer, Sam Johnston, asked, "Are we okay with this much concentration of power? They've already begun to censor and control the information we consume, influence our democratic institutions, shape the narratives, and stifle competition, progress, and innovation. Time to break them up." National Vanguard has for several years taken the position that the social media and print/book marketing components should be regarded as public utilities and, under a proper National Alliance government, would be regulated as such, and their opposition to and hindrance of racial-nationalism should be regarded as the most serious crimes. Kevin Alfred Strom, the National Alliance's media director, said on Sunday, "Under no circumstances should Jewish capital or Jewish-dominated tech firms be allowed to dominate, or even operate, in our nations. In the new order we will establish, technology in our nations will be under the control of our people alone, as will government."
* * *
Source: Holger Zschaepitz and Economic Times