"Trust Me": Massive Hedge Fund Ponzi Scheme is Jewish Through and Through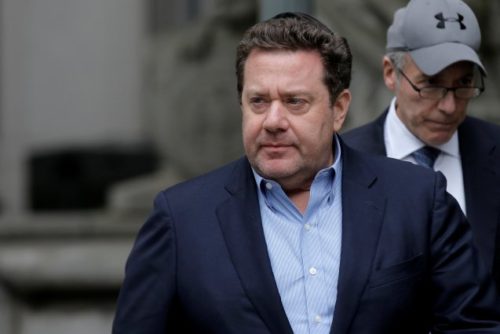 Billions of dollars went into assets "so esoteric" that investors had to "trust the fund managers" to tell them what they were worth.
PLATINUM PARTNERS, the hedge fund at the center of an alleged New York City municipal union kickback scandal, has a history that's sordid even for Wall Street — with alleged ties to one of the largest Ponzi schemes in history, and a confusing trail of documents that raise more questions than answers, The Post has learned. (ILLUSTRATION: Murray Huberfeld, founder of Platinum Partners.)
Murray Huberfeld and Mark Nordlicht, two top executives of the $1.3 billion fund, allegedly enlisted other hedgies and their wives to invest in a feeder fund for Scott Rothstein, a trustee lawsuit claimed.
Rothstein was convicted of running a Florida Ponzi scheme and is now serving 50 years for racketeering and securities fraud, according to court documents.
Rothstein scammed investors by getting them to bankroll fake lawsuits for litigants who couldn't afford to pay for their own litigation, with the promise of repaying those investors with settlement money, which turned out to be fake, court documents show.
It ran from 2005 to 2009, and ballooned to $1.2 billion in part because of the investments made by Huberfeld and Nordlicht, according to the suit.
A group of hedgies and their wives were accused in a civil suit brought by the trustee in charge of unwinding Rothstein's scam of knowing ahead of time that they were funding a Ponzi scheme — a claim they deny. The civil suit was settled in 2012 for $38 million.
Platinum came into the public eye through the charges brought against Norman Seabrook, the ex-head of the NYC correction officer's union, who pleaded not guilty on Friday to allegedly taking a $60,000 bribe for a $20 million investment in Platinum. Huberfeld has also pleaded not guilty. Nordlicht has not been charged.
Platinum is now in the process of liquidating all three of its funds, Montieth Illingworth, a spokesman for Platinum, told The Post.
Like Rothstein's fund, Platinum invests in hard-to-value assets, like life settlement policies.
Because its assets are so esoteric, investors were almost entirely dependent on Platinum to say how much they were worth. In one report obtained by The Post, the fund showed gains in 119 out of 120 months in its main credit fund.
Illingworth told The Post that the fund used an "industry standard" metric to value its assets, but declined to describe it, or who developed those metrics.
He added that a valuation committee, which included Nordlicht, met monthly.
The company's auditor, Cohn Reznick, didn't return a call seeking comment.
"Platinum Partners stands behind its performance record," Illingworth said. "Its ability to generate returns for investors derives in the effective management of the positions."
Appendix
Murray Huberfeld, described in many places as a great "Philanthropist." "As part of the Simon Wiesenthal Center delegation that met with Pope Benedict XVI in 2005, Murray has found success in his advocacy for admirable causes, business endeavors and philanthropic giving."
Huberfeld has been known to donate significant sums of money through his various family trusts and endowments to different Chabad-Lubavitcher organizations, the Simon Wiesenthal Center, a number of other Jewish causes and varying arts and music charitable institutions.
We believe that he has not come by a single dollar of his money honestly. Perhaps in his previous life his soul was mixed up with that of Errol Flynn, and he should have been Robin Hood. One cannot be too sure.
While he was arrested this week in connection with Jona Rechnitz and Platinum Partners, we do not think he should be going down with the Platinum ship alone. He should at the very least be taking Mark (Meir) Nordlicht (the CIO) and David Bodner (whose original investment helped build Platinum) with him.
In order to understand whom we view as Huberfeld's co-conspirators in many of Platinum Partners' mind-numbingly sophisticated schemes, you need to fathom how a few of them worked. The intricate weave of highly questionable ventures illustrates Platinum's many tentacles. To grasp the complexity of how Huberfeld and his minion made unimaginable fortunes at the expense of less-sophisticated investors, like Norman Seabrook, one must understand some of the history. So please read on. This is your first in a portfolio of historical adventures.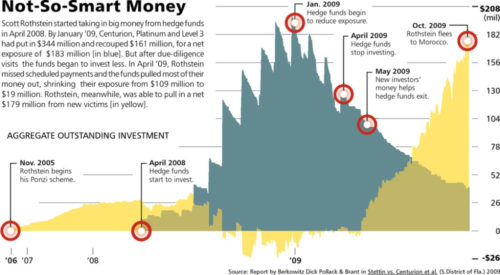 Before you embark on this epic voyage, an editor's note:
What follows first is a summary, then a diagram of the scheme (which illustrates its complexity) and finally additional sources of information for your perusal. This will be the first part of many; and each will travel down the same path. We are hoping eventually you will be able to view things from our vantage point. Viewing through our periscope, Huberfeld was the second in command under Mark Nordlicht. The Platinum ship and all its crew really should go down together.
Understanding the Incestuous Relationships in Wealth Management – Part I
The Rothstein Scheme – 2012
Major Players:
Scott Rothstein "special kind of Ponzi schemer" — Plead guilty to racketerring, fraud and money laundering in 2012. Sentenced to 50 years and forfeiture of $1.2 Billion — Formerly Scott Rothstein was a partner at Rothstein Rosenfeldt Adler, his law firm, which declared bankruptcy. [Note to reader: Rothstein's firm "rounded up the single largest total of contributions to the 2008 McCain-Palin campaign"].
Platinum Partners — Platinum Partners Value Arbitrage Fund/Centurion Structured Growth Fund
Mark Nordlicht (Chief Investment Officer of Platinum) and Murray Huberfeld (second in command and initial investor with David Bodner) of Platinum (Rothstein claimed Nordlicht and Huberfeld knew of scheme and assisted)
Centurion's Counsel — Brian Jedweb
Centurion's portfolio manager — Jack Simony (Rothstein claims knew of the scheme and assisted)
Level 3 Capital Fund
Regent Capital Partners — A fund allegedly established by Laura Huberfeld, Naomi Bodner and Dalia Kalter, Mark Nordlicht's wife
Banyon Fund — established by Florida entrepreneur George Levin — which used money from Centurion to purchase "settlements" from Rothstein
Frank Preve — Banyon's Manager who had been convicted of Bank Fraud previously
Michael Szafranski — a Miami accountant (Platinum connection) who was hired to examine the Rothstein deal and verify paperwork and bank accounts
Toronto Dominion Bank (f/k/a Commerce Bank) — Murray Huberfeld insisted that funds wired for the purpose of the deals be wired through Commerce Bank (n/k/a TD Bank)
Frank Spinosa (regional VP of TD Bank) who took $50,000 bribe to falsify records and persuade Jedweb, Simony and Szafranski that Rothstein had underlying funds to repay investors
Steve Caputi — fake TD Banker "Ricardo Mejia" who managed Rothstein's nightclub Cafe Iguana and a strip club Solid Gold.
Doug Von Allmen and A.J. Discala — Part of a group of additional investors netting $179M into the scheme.
Prostitutes — hired to keep Centurion's Simony and Ari Glass, a Platinum employee, happy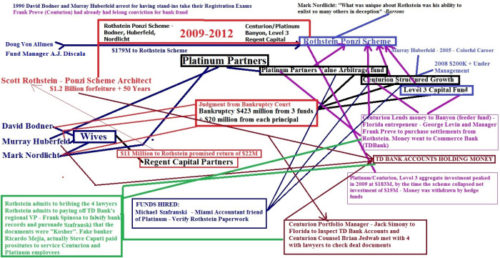 * * *
Source: New York Post and Lost Messiah