White Refugees Not Welcome in Australia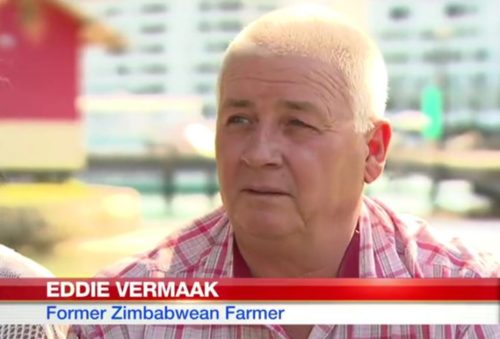 WHITE refugees fleeing anti-White murderous violence in Zimbabwe are not welcome in Australia — unlike the 12,000 "Syrians" which that country's government has announced are welcome, proving once again that the "refugee" issue is not about genuinely helping people in need, but only about flooding White nations with non-Whites.
The latest example of anti-White establishment hypocrisy has been highlighted with the case of White Zimbabwean refuges Edward ("Eddie") and Audry Vermaak.
The Vermaaks were farmers in Zimbabwe when the Black government there decided to violently expel the last of the Whites. They were subjected to violent attacks, beatings, and extended periods of persecution.
With their lives clearly in danger — and many other White Zimbabweans having been butchered by Black mobs — the Vermaaks decided to apply for asylum in Australia, where they have extended family members.
According to a petition started by family member Cathy Vermaak, the two Whites were "threatened that they would be found and killed for a number of years by three rogue CID officers in Kariba, Zimbabwe, right up to the day before they managed to leave Harare and come to Western Australia on a 457 Business Long Stay Visa, as this was the quickest way for them to leave."
The Vermaaks managed to escape Zimbabwe four years ago, and have been living in Western Australia ever since. They have applied for a Protection Visa — which, according to the Australian government's own definition, is granted to anyone who is a "refugee as defined by the Refugees Convention" — which the Vermaaks clearly are.
The petition points out that if the Vermaaks are returned to Zimbabwe, they would be in "fear for their lives" and that they have many family members in Australia, including grandchildren, son and daughter-in-law, brother and sister-in-law, mother, sister, cousins etc., who are all residing in Western Australia and are citizens of Australia.
"If our parents return to Zimbabwe this will be devastating to the whole family as the likelihood of them being murdered is extremely high. They also fear they will never see their grandchildren or any of their family again," the petition reads.
However, the Australian government has now formally turned down the Protection Visa application.
"They are currently appealing to the Immigration Tribunal in the hope that they will understand the horrific ordeals that they have been through, and that it is extremely unsafe for them to return to Zimbabwe," the petition says, ending with an appeal for signatures to be presented to the Australian government to ask that these "hardworking, law-abiding people be allowed to stay in Australia."
The disparity in approach to White refugees genuinely fleeing for their lives and the "open welcome" granted to thousands of "Syrians" who are already safe in third countries — where they are under no threat at all — illustrates perfectly the establishment's anti-White nature.
* * *
Source: New Observer