Great Rotten Apples: A 2021 to 2023 Calendar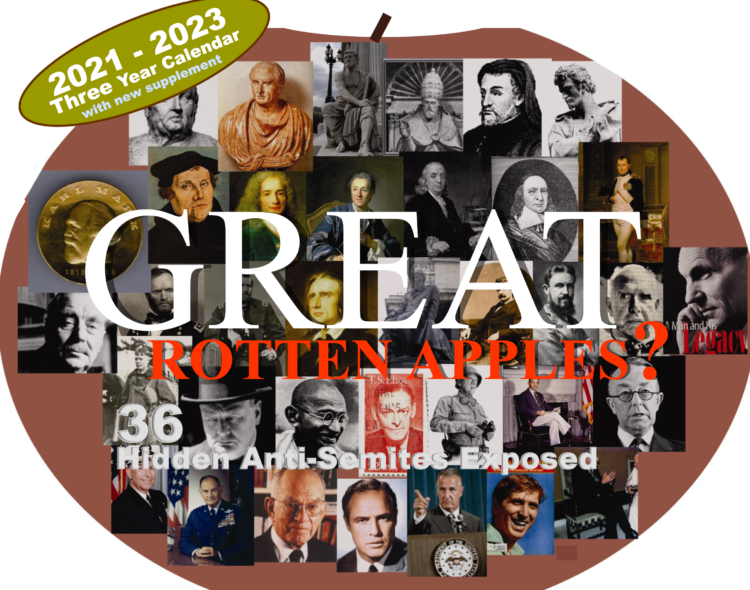 36 hidden anti-Semites exposed; with new supplement
TODAY WE PRESENT a way for every reader, every member of his family, and everyone with enough Bitcoin to afford printer ink, to educate himself and do his part to expose the hidden anti-Semites of American and European history: The Great Rotten Apples 2021 – 2022 – 2023 illustrated calendar. Just click on the link to download it!
This amazing calendar will teach you that it wasn't just foaming-at-the-mouth conspiracy theorists, Mom's-basement dwellers, or Spotlight subscribers with bad breath who denounced or criticized the always-right and always-innocent Jews — it was often men (formerly) thought to be highly accomplished or even in the intellectual vanguard of our civilization. Here we have exposed them for what they are — vicious, insane Jew-haters undeserving of their fame or even oxygen. Appropriately, we set off their hateful words with sober, corrective commentary from the Jewish Encyclopedia or other reliable, fact-checked sources of Real News.
We must remember the words of the great English Jew and lifelong opponent of anti-Semitism, Anthony Julius:
Such is anti-Semitism's power that it has beguiled not just demagogues and those other, ordinarily vicious enemies of the Jews, but also creative artists of the highest quality. The educated public, however, is liable to forget this, and so, every few years, it needs to be reminded of what many of its favorite authors were capable.
So that is what we have done.
We want you to enjoy this three-year calendar; all through 2021 and 2022 and 2023, may it be like a combination ADL bagel of information and IDF cluster bomb of truth to keep you terrorized, obedient, and afraid. Even your greatest men were evil, goyim! Never forget that.
* * *
Source: Hebrew Benevolent Committee to Expose, Humiliate, Starve, and Kill All Anti-Semites