The Unforgivable Destruction of Ireland
The Jewish power structure's murderous agenda has descended full force on the Emerald Isle.
The Silent Genocide of Ireland
FROM THE dangerous city streets of Dublin and Cork to the smaller towns of Balbriggan and Courtown, there is no place untouched by the domineering tyranny of multiculturalism and the White genocide agenda. As the ever increasing premeditated demographic shift happens across the Western world, Ireland rarely gets a mention. It is ignored by the mainstream and even if not intentionally, it gets little coverage in pro European media. We hear about the relentless crimes plaguing the UK, Germany, Sweden, the United States of America and more, but what about Ireland? This country of ancient roots is rarely given consideration when we think about the destruction of the European peoples. Many eyes tend to look at countries like France and Sweden, the UK, and we wonder which nation shall be the first to "die" or rather, suffer becoming a White native minority first, and the potential Islamisation.
The political establishment, mainstream media, and academia do not mention the current assault on Ireland as something dreadful and in need of amending. They only speak of it in celebration of the genocide of the Irish people and to promote their ambitions in finishing this very agenda. As a reminder of the definition of genocide the United Nations Convention on the Prevention and Punishment of the Crime of Genocide states:
Killing members of the group;
Causing serious bodily or mental harm to members of the group;
Deliberately inflicting on the group conditions of life calculated to bring about its physical destruction in whole or in part;
Imposing measures intended to prevent births within the group;
Forcibly transferring children of the group to another group.
Genocide comes in many forms. People in the West today mistakenly have the belief that the only genocide to occur is mass murder of a group. This is factually incorrect and ignorant of the genocidal process itself. Even by the definition of the United Nations themselves (who are also a collaborator of this agenda) genocide does not mean automatic death of the target population. The main principle is that one or more groups target another group to wipe them from existence using all and any means possible, including violence. How this happens and by how many various forms the agenda takes place isn't relevant to the definition, and it does not alter the fact that Irish people, as all European descended peoples, are being wiped from existence today.
Genocide also comes in stages. When a people are killed en masse it might seem sudden but it usually comes after a build up of persecution, manipulation and appears as the final stage to bring the goal of racial/group death to its conclusion. It is unfathomable to any person (who isn't clinically mentally deficient) that we across the Western world are knee deep in the pre-stages of final genocide. Ireland is no different. If anything, Ireland might be in one of the most precarious positions of all due to their low population numbers of four million and the speed and scale of the replacement taking place.
Demographics — Do the Eyes of the Irish Deceive Them?
One frightening aspect of the current genocide agenda against native Europeans is the intense anti-White/anti-native hatred which is already taking place. For instance, the native Irish are not yet a minority in Ireland and yet, already they are dehumanised and relentlessly abused by the media, academia and the political forces in power. Basically, any structure which holds any type of institutional power is pushing the narrative that the Irish people not only need to be replaced, but they are being replaced and any push back shall be treated as criminality.
On top of these hostile and murderous policies and media narratives the native Irish are also told that the reason they are suffering this fate is because they are innately evil as White natives; a dying people who deserve to be made extinct; and who need to just hurry up and disappear so the newcomers can take over! This is all done in a very nonchalant manner which borders upon sociopathic.
The question is: If this is how bad it is now as a majority — what happens when the native Irish become the minority? Can a population of four million people withstand the relentless immigration levels from the third world? Look at the city of London, England, where White native people are already a minority today in 2020. How is Ireland supposed to survive under this torrent of diversity ideology which is systematically committing genocide upon them? Will we see Ireland become the first White European nation to have official minority status?
A person does not need to be an expert in any particular study to understand how human nature works. If the natives are treated with hatred, hostility, resentment and anger now, it will only become worse as time goes by and as the natives become a minority. Merely observing the trend alone is enough evidence. From being homogeneous to the gradual process of eliminating the native Irish, this agenda has brought with it a dehumanisation or the Irish people; developing over time and increasing in severity. There is no logical reason why this shall not continue to increase. Since we have already established the definitions for genocide — we know this is extermination and we also know the tragic and murderous end result!
Islamisation
Like most of Europe, Ireland is also experiencing the creeping Islamisation of their people. Islam is fed as a positive ideology by the media, academia and politicians and as always, Muslims are given protective status and privileges over the native Irish people. Even school children are not omitted from the promotion of Sharia Law. Irish children are not only taught about Islam as a positive ideology at school, but are taken into mosques to be lectured and brainwashed by Imams. This is bad not just because of the toxic nature of this additional Semitic religion, but because it will encourage irreversible and genocidal racial mixing.
Already the signs of Islamic dominance is surfacing and has been for a long time. This, with the full protection and backing of the Irish State and their anti-Irish media and academics. According to this article from The Irish Times in 2016:
Ireland is working towards "More integration, more involvement, and more dialogue" where its Muslim community and other ethnic minorities are concerned, said Minister for Equality, Immigration and Integration David Stanton."
He wasn't lying either. Only three years since then and we see Irish school children being indoctrinated inside mosques and more Islamisation propaganda than ever before.
Get Them From an Early Age — Indoctrination and an Attack Upon the Irish Psyche
The indoctrination is heavy and insidious and it starts very young from nursery age. An example of this is an article written by a mixed race journalist promoting a book to influence young children and accept their own extinction. The author, Constantina O'Sullivan, created the book called Everybody Loves Bubbles as multicultural propaganda. According this article on the Irish Examiner she purposely wrote the book in order to indoctrinate very young Irish children. Even though not native Irish she still felt the inner urge to project her desire for an Ireland of non-Irish people and whilst smiling, she openly celebrates herself for doing so.
The said article is not only promoting O'Sullivan but is a hit piece against the native Irish and even attacks them as parents and families. In reality a non-native woman to Europe travels around whilst peddling anti-European hatred, rolls up on Irish soil and proceeds to create anti-Irish/anti-White propaganda simply because of her own inner turmoil of being mixed race and the contempt she has for native Irish and Europeans.
If Constantina O'Sullivan was a lone figure and wasn't listened to by anybody this might seem harmless, but she isn't, not in the slightest. People like her are paraded around, praised, taken as gospel truth and knowledge. She is only the tip of a great iceberg of White genocide. From the article above the journalist quotes:
Once upon a time in the quite recent past, Ireland was a monocultural, monotheistic place where pretty much everyone was a white Irish Catholic, with cultural diversity comprised of a small scattering of white Irish Protestants. A line in Ulysses notes how Ireland "never persecuted the Jews", because "she never let them in", and a person of colour was so rare in Ireland that the Irish language could not quite describe black people other than as a 'fearr gorm' — a 'blue man'. It would not be an overstatement to say that racist attitudes were ingrained, despite there being almost no racial or cultural diversity.

These days, we have the youngest population in the EU, which now includes Polish, English, Lithuanian, Latvian, Nigerian, Romanian, Indian, Philippine, German, American, Chinese, Slovakian, French, Brazilian, Hungarian, Italian, Pakistani, Spanish, Czech, and South African communities."
The article continues by attacking the parents of native Irish children:
"Children are not inherently racist," says Peter Mullan of the Irish National Teachers Organisation. "They get it from parents, older siblings, communities. Two decades ago racism was not an issue in our schools because we had the whitest population in Europe, but today 12% of our school population is made up of nationalities that are not [native] Irish."

"The most crucial place for a successfully diverse society is preschool."
The levels of indoctrination on the young are intense and relentless. Nobody has a right to do this to a native people! It does not matter if they are smiling and using language which sounds benign! The language they use is specifically formulated to manipulate and shame the native Irish into submission. Words like "tolerance" and "inclusive" and "racism" and so many more, they are all designed to be used as weaponized targeting of your inner emotions.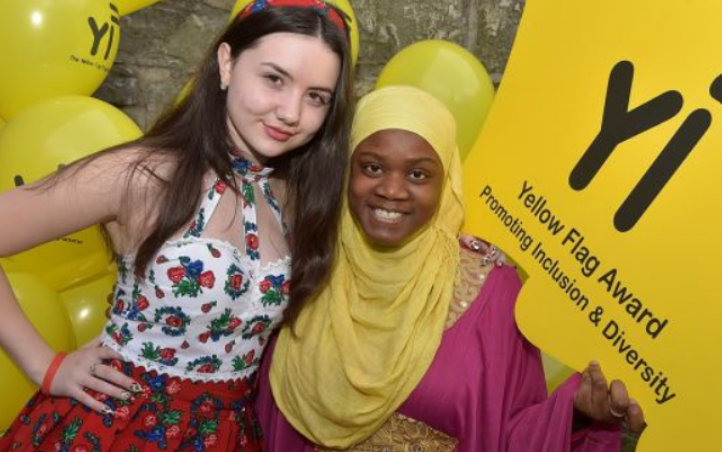 * * *
Source: White International News