The Planet Kolob and Theology for Dummies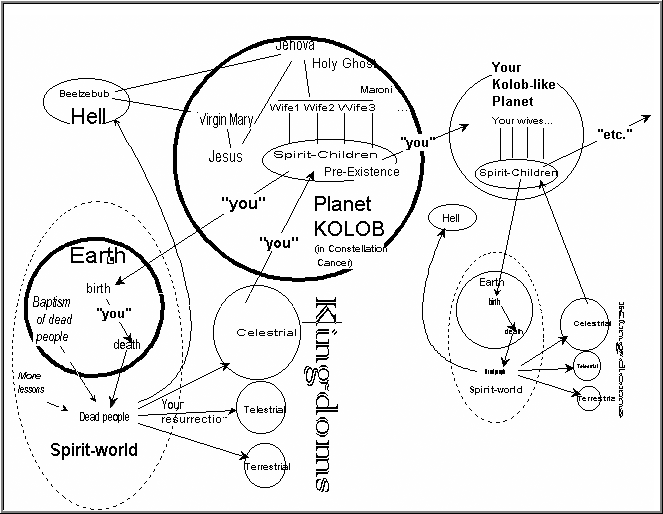 by David Sims
YOU'D THINK THAT theologians would know better than making pronouncements on the structure of the real universe, by now. The Holy Roman Catholic Church thoroughly embarrassed itself by taking a militant stand in favor of the geocentric universe theory, which was disproved during the 17th century by Galileo and since by thousands of others.
Well, apparently the Church of Jesus Christ of Latter Day Saints (the Mormons) have yet to learn their lesson. They still think that there's a planet, somewhere in the Milky Way galaxy, named Kolob. During the 19th century, this planet was identified as orbiting Polaris or Sirius.
Polaris was convenient because time-lapse photography (in the Northern Hemisphere of Earth) does show the stars apparently circling Polaris, though this is a consequence of the Earth's rotation, not the result of any actual orbital motion.
Sirius was convenient because it is the star in Earth's sky with the highest apparent brightness, though that's mostly because it is close to Earth. There are intrinsically brighter stars than Sirius.
You can see how the Mormon theologians assign theological importance. They go by whatever they think that the uneducated masses will believe.
When astronomical measurements of stellar proper motions proved that the stars don't all orbit either Polaris or Sirius, but did orbit the center of the galaxy, the Mormons changed the location of Kolob to the center of the galaxy.
Then modern astronomy discovered that many galaxies, including ours, have at their centers supermassive black holes. The one at the center of the Milky Way galaxy has a mass of four million suns. A black hole doesn't seem suitable as the Throne of God, however. And so the Mormons are finally out of luck. They must now either begin denying reality — pretty much forever — or they must admit that their whole narrative about Kolob has been a big fat lie from the very beginning.
The Catholic Church did, at least, have the grace to apologize posthumously to Galileo four hundred years after its persecution of him. I remember reading about it in a newspaper some decades ago.
* * *
Source: Author