King Day: Let's Blanket the Nation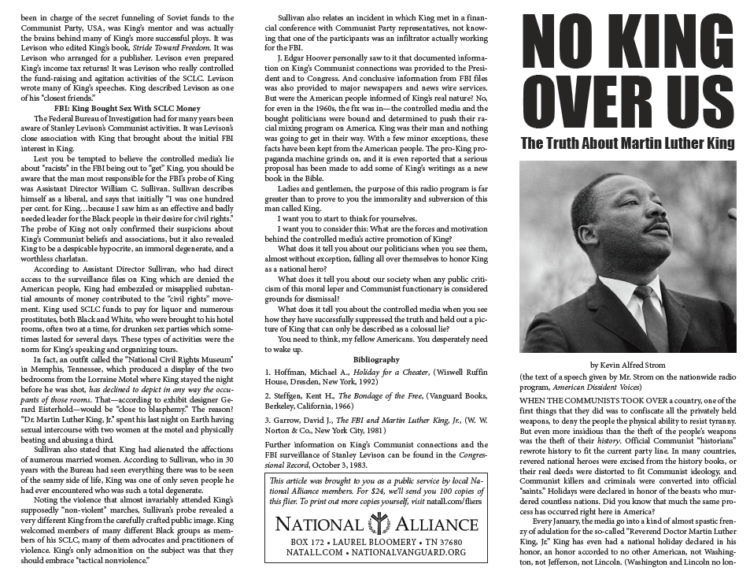 by Kevin Alfred Strom
A NEW, home-printable National Alliance flier exposing the lecherous Negro fraud who went by the name of Martin Luther King is now available for download. Just click here to download the high-resolution PDF, print it out and fold it in any quantity desired, and you're ready to go — and get the truth out to hundreds or thousands of people in your community.
These fliers have also proven to get results through the reaction of the controlled media too, who often take the (mistaken) attitude that they can reduce the impact of the flier by attacking it (and the Alliance) as "bigotry," "hate," or "neo-Nazism." All they succeed in doing is inoculating the public against the use of those pejorative terms, since any reader can easily see for himself who is speaking with reason and authority — and who is frantically trying to prevent the public from reading an alternative point of view.
These fliers can be placed inside screen doors, under windshield wipers, posted in quantity on community bulletin boards, handed out on the streets or at community events, slipped under the doors at college campuses and dormitories — wherever our people can be found.
Let's make 2017 the year we break all records in flier distribution and keep up the momentum of the tsunami of truth that is washing over our land!
Download the MLK flier "No King Over Us"
Check out other available National Alliance fliers
* * *
Source: National Alliance