BNP's "Bring Our Boys Home" Is the "Most Successful Non-Election Time Campaign Ever"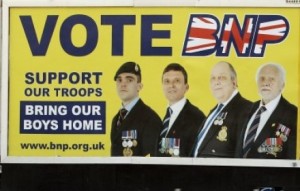 THE BRITISH National Party's "Bring Our Boys Home" campaign is far and away the most successful non-election-time recruiting campaign ever, and the entire stock of 200,000 leaflets, 100 banners and thousands of petition forms have already been used up, party Communications Officer Paul Golding has announced.
"The public response has vastly exceeded our expectations and we have ordered a rush printing of tens of thousands more leaflets to meet demand," Mr Golding said.
"Best of all is the fact that so many members of the public have been willing to put their names to a petition calling for an end to the Afghan war.
"They are delighted to hear that these petitions are going straight to Downing Street and so many have said that they want to accompany the forms so that they can tell the ConDem regime exactly what they think about this war."
Mr Golding added that the effectiveness of the table top recruiting method had once again proven its worth in the campaign.
"The tables and their eye-catching banners serve as a focal point for public attention far better than just some individuals standing in a street," he said.
"The truth is that none of this would have been possible without the dedicated work of the activists who turned out for this first weekend of action. The BNP thanks all these people collectively for their dedication and sacrifice."