"Gay" Omar Mateen and the Cult of White Hate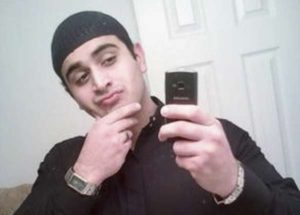 Note by John I. Johnson: It has been revealed that most of the Orlando shooter's victims were in fact Mestizo — 36 out of 48. So: 75% Mestizo, 25% (presumably) White.
The article below on Mateen's own likely homosexuality is quite interesting. Down the memory hole this goes, presumably.
Besides being a homosexual, or at least drawn to that orientation, the article says he graduated from a police academy. Not mentioned here, he also had spook ties through his employment.
At least the Whites he killed were members of another Jewish/government anti-White, anti-family constituency. This is an example of a clash between two anti-White groups (homosexuals, immigrants) being used by the Establishment to biologically destroy the West. The Jews can easily massage it. There is no meaningful opposition to it. Everything's pretty far gone.
I did read the statement the killer supposedly made about Blacks, so this appears to be a case, in an increasingly non- and anti-White country and world, where people perceive anyone who isn't clearly Black as "White" (indeed, it can be confusing). Jews and governments need to better teach the necessary subtle racial distinctions through coded propaganda and education (which they can and will do) so that such things do not happen, and Whites are more precisely targeted by laws, cops, secret police, Politically Correct terrorists, non-White killers and mass killers, and so forth.
Orlando was a sort of Jewish/government trifecta (or, from their perspective, triple loss): Black eye for Muslims and replacement populations (a non-White killer, the son of immigrants), and victims who are doubleplusgood (homosexual and Mestizo) rather than doubleplusungood (evil heterosexual Whites).
All of this is to be ultimately blamed — mark my words! — on Whites, for saying Politically Incorrect things, observing Politically Incorrect facts, or drawing Politically Incorrect conclusions. And for just being, thereby creating a "climate where hatred flourishes."
The Kenyan's response was clever in this regard: He blamed the shooting on "hate." Those who propagate "hate" are the real killers. And who "hates"? Whites do.
We have a mass population, over 300 million in the US alone, plus everyone abroad, even the most doltish of whom (and the most sophisticated) unconsciously grasp the de facto racial denotation and connotation of the word "hate." That is a sign of centralized, very sophisticated mind control.
* * *
THE FBI is investigating reports that Orlando nightclub shooter Omar Mateen (pictured) used "gay" dating apps and regularly visited the homosexual club Pulse before he shot more than 100 people inside, killing 49.
At least five people have come forward saying they saw Mateen at gay clubs, painting a complicated portrait of the American-born Muslim whom the FBI believes was radicalized by terrorist groups.
One former classmate of Omar Mateen's 2006 police academy class told The Palm Beach Post that he believed Mateen was gay, saying Mateen once tried to pick him up at a bar.
The classmate said that he, Mateen and other classmates would hang out, sometimes going to gay nightclubs, after classes at Indian River Community College police academy. One night, he said Mateen asked him if he was gay. He said no, because he wasn't telling people he was gay at the time.
"We went to a few gay bars with him, and I was not out at the time, so I declined his offer," said the former classmate, who asked that his name not be used.
"He said, 'Well if you were gay, you would be my type.' I said OK and just went on with the night," he said. "It was not anything too crazy, but I take that as a pick-up line."
He believed Mateen was gay, but not open about it. Mateen was awkward, and for a while the classmate and the rest in the group of friends felt sorry for him.
"He just wanted to fit in and no one liked him," he said. "He was always socially awkward."Other news outlets talked to people who said they saw Mateen at Pulse years before Sunday's massacre.
Jim Van Horn, 71, told The Associated Press that Mateen was a regular at the club. "He was trying to pick up people. Men," he said.
While acknowledging he didn't know Mateen well, Van Horn said: "I think it's possible that he was trying to deal with his inner demons, of trying to get rid of his anger of homosexuality."
At least four regular customers of Pulse, the lesbian, gay, bisexual and transgender nightclub where the massacre took place, told the Orlando Sentinel on Monday that they believed they had seen Mateen there before.
Drinking in the corner
"Sometimes he would go over in the corner and sit and drink by himself, and other times he would get so drunk he was loud and belligerent," said Ty Smith, who also uses the name Aries.
He saw Mateen at the club at least a dozen times, he told the Sentinel. "We didn't really talk to him a lot, but I remember him saying things about his dad at times," Smith said. "He told us he had a wife and child."
His first wife, who left after he became abusive to her, told the New York Times that Mateen might have been gay, but chose to hide it because of anger or shame. She also said that he frequented nightclubs before their relationship, but didn't say they were gay clubs.
The Los Angeles Times reported that Mateen attended the Pulse nightclub possibly as many as a dozen times before the rampage. Kevin West said he had messaged Mateen back and forth over a year's time on the gay dating app Jack'd but never met him until he saw Mateen crossing the street about 1 a.m. Sunday.
"He walked directly past me. I said, 'Hey,' and he turned and said, 'Hey,'" and nodded his head, West said. "I could tell by the eyes."
The Canadian Press reported Monday that Mateen had been seen there over three years.Chris Callen recalled the eventual killer being escorted drunk from the Pulse bar on multiple occasions, including one incident where he pointed a knife at a friend. Said Callen, who performs under the name Kristina McLaughlin, "He's been going to this bar for at least three years."
Mateen's father emphatically told The Post Monday that his son was not gay.
"If he was gay, why would he do something like this?" Seddique Mateen asked.
Mateen's motives for the attack have been questioned since it happened. Although FBI director James Comey said the Bureau was "highly confident" Mateen had been radicalized, how he was radicalized, and by whom, has not yet been revealed.
Even the allegiances he declared during his 911 calls the morning of the attack were in conflict. Comey said he first pledged loyalty to the head of the Islamic State. In a later call, he stated his solidarity with the Vero Beach man who traveled to Syria and become a suicide bomber in 2014.
But that man, Moner Mohammad Abusalha, had joined al Nusra Front, which is an enemy of the Islamic State.
According to the former classmate, he, Mateen and a few other friends went to four gay clubs in the Treasure Coast and West Palm Beach in 2006: Kashmir Night Club in West Palm Beach, Byrd Cage in Port St. Lucie, Cold Keg in Melbourne and Rebar in Port St. Lucie.
All but Cold Keg have since closed, and the owner there said he hadn't seen Mateen.
Neither had one of the former owners of Kashmir, who said none of his former employees have reached out to him, either.
Rebar closed in February and became Tattle Tails. The owner of Tattle Tails, Johnscott Willett, said Monday that he did not recognize Mateen. Willett said he worked for nine years at Rebar and didn't recognize him from his time there, either.
He said St. Lucie County Sheriff's deputies visited the club on Sunday and asked if he recognized Mateen.
Mateen graduated from Indian River State College, worked briefly as a state prison guard before being fired, then spent nine years working as a security guard for G4S, the global security company.
His troubles with one of his co-workers, Daniel Gilroy, played a role in Gilroy's leaving his security guard job with G4S.
Although Mateen brought his prayer rug with him to work as a security guard at PGA Village in Port St. Lucie, and regularly prayed, "He had very low regard for women," said Gilroy, repeatedly making "derogatory remarks."
But, said Gilroy, Mateen was also constantly hitting on women driving in and out of the gated community, where the two men handled guard.
Fed up with Mateen's attacks on women, gays, and African Americans, as well as his outbursts — "You could hear him yelling and cursing" in the guardhouse — Gilroy said he finally told Mateen, "I do not share your views. You come in at 3, I leave at 3. Let's just keep it at that."
And that, said Gilroy, is when Mateen "went boiled rabbit crazy on me."
Mateen began texting Gilroy repeatedly, he said, writing such things as, "'Why aren't you contacting me?' 'You are betraying me'."
Based on the relentless messaging, Gilroy said his girlfriend became suspicious the two men were in a romantic relationship, Mateen being the jilted lover. "I actually had to explain to my girlfriend that I was not having an affair with a man."
When he showed her all of the text messages, said Gilroy, "She burst into tears because he was so scary."
Gilroy quit.
* * *
Source: Palm Beach Post and National Vanguard correspondents