Noel Biderman: Monetizing Sexual Infidelity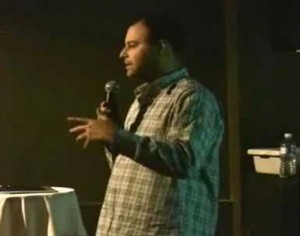 In this Jewish Business Magazine excerpt, one also notices Biderman's adoption of the aristocratic and ultra-Anglo-sounding "Ashley Madison" name for his sex business.
ACCORDING TO the creators of South Park, Sex Addiction is a huge epidemic in the United States today. And it doesn't just afflict horny high school teenagers. Sex Addiction has become a serious problem for married men as well, with a seeming increase in infidelity. The solution that the South Park episode came up with was simple, Don't Get Caught….
So what can someone looking to have an affair do to prevent from getting caught? How can an individual in a relationship safely go out and find a mistress?
Noel Biderman (pictured) created a solution, and in doing so, created an amazing business platform as well in Ashley Madison Agency. Ashley Madison is an online dating service for people currently in a relationship who wish to cheat on their partners. The website was launched in 2001 and has over 5.2 million members, in five different countries and many languages. Noel Biderman, CEO of Ashley Madison, says, "I think it's a naïve notion that someone is going to hear 'life is short have an affair', and they're in a happy relationship, you know what, it is short, I'm going to do that, or they see my TV commercial, or they hear my radio spot on Howard Stern." …Along with Ashley Madison, Avid Life Media runs Cougar Life, a dating site for older women looking for younger men, Man Crunch, a dating site for gay men, Hot or Not, a picture rating website and Swapper Site, for couples in open relationships.
If you are a Howard Stern listener you've heard Noel Biderman when he recently sponsored the Tiger Wood's Mistress Beauty Pageant. Ashley Madison put up $100,000 for this contest, but they did so to stress the usefulness of their site for people planning on committing infidelity.
Noel's business is just that, it's a business and a great business at that. But, Noel has faced more than his share of adversity because of his company. "I've received my fair share of hate mail. People directing everything from anti-Semitic comments to aggressive and violent threats to people wanting the business to be shut down to people ultimately suppressing the freedom of commerce and expression… The biggest challenge, honestly, is archaic notions that float around. Whether it be supposedly progressive companies like MSN, who won't even let me buy a keyword. (MSN) won't even let me buy the word 'infidelity.'…
Ashley Madison's affiliate program also pays affiliates for signup other affiliates and generates a revenue stream from the people they sign up…. And it's not just men that you get paid for, even though they are the only ones paying to be members of the website. Women are a commodity in the online dating business world, so Ashley Madison pays up to $25 per woman that signs up for the service for free….
On Being Jewish
Noel grew up in the Jewish community and his family is currently active at his synagogue. Noel says, "I grew up in a community that put a lot of emphasis on marriage and monogamy within that marriage, and that's the path I chose for myself, but I think there are a lot of people around the world that can be really effective at creating a product or service that they don't necessarily need to consume themselves. I think I do understand where my member base comes from, and where they're trying to get to, and I think that I built them a world class product. But, I myself happen to be a very dedicated partner and family man…" He does face challenges on his product in the Jewish community, particularly, but when it happens Noel is able to articulate his side of the argument and can easily win over most detractors willing to be open-minded.
In conclusion, Noel thinks that infidelity is misunderstood, like Ashley Madison is misunderstood, "It's being pursued because want to stay in their relationships, they love and cherish their partner and their children, their extended family, their economic situation, they're just not happy in the bedroom."
Ashley Madison is a success, and continues on its path and more and more people take their cheating out of the massage parlors, night clubs and office coat rooms, and onto this website. Ashley Madison Australia just launched recently and plans on expanding over the next couple years. Noel expects the website to be in over a dozen countries with over 12 million members as they grow. Avid Life Media's other websites are also growing and prospering. Cougar Life has become one of the fastest growing websites in America, and has a lot less marketing obstacles than Ashley Madison.
And Noel thinks that the next big thing will be Man Crunch. He feels that the United States is lagging behind the rest of the world in its acceptance of gays and lesbians, and hopefully that will change soon.