Kindle Versions of Old Children's Novels: Censored, Edited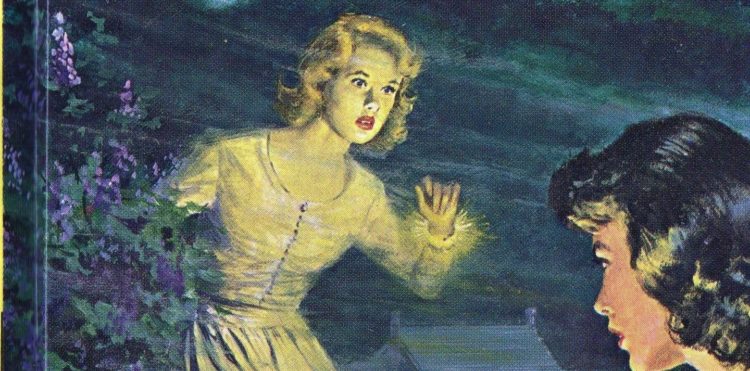 by David Sims
YOU SHOULD NOT buy the Kindle versions of the Nancy Drew mystery books. They are ebook versions of the dumbed-down, shortened, and inferior rewrites of the books in the series. They are not at all the same stories that climbed to fame among girls in the 1930s. I have most of the Nancy Drew series published before 1950, in hardcover, and have made a side-by-side comparison with the re-written newer stories. The old ones are far better. By contrast, the re-written stories are shallow and tawdry, and, of course, more "woke."
Incidentally, you might like a part in the fourth book, The Mystery at Lilac Inn, especially pages 14-16, where the Drew family's housekeeper, Hanna Gruen, must take a leave of absence to assist her ailing sister. Carson Drew will be entertaining an important guest at his house soon, and it is important that Nancy find a replacement housekeeper. Nancy interviews a number of women, one of whom is a "colored woman" from the employment agency:
"Well, did you get a maid?" he [Carson Drew] questioned a few minutes later when he entered the living room.

"Yes, the agency is sending out a colored woman this afternoon."

Nancy, observing that her father looked tired, refrained from adding that she feared the worst….

Carson Drew lowered his voice as he heard a heavy step on the porch. Nancy sprang up from the davenport where she was sitting and rushed to the door.

"It must be the new housekeeper," she cried hopefully.

As she opened the door her heart sank within her. It was indeed the colored woman sent by the employment agency, but a more unlikely housekeeper Nancy had never seen. She was dirty and slovenly in appearance and had an unpleasant way of shuffling her feet when she walked.

Inviting her into the house, Nancy asked a few questions which the woman answered in an unsatisfactory manner. She was unable to produce references of any description.

"I'm very sorry, but I'm afraid you won't do," Nancy told her at last.

It was with a feeling of mingled disappointment and relief that she watched the woman depart. As a housekeeper, the Negress was impossible.
Later in the book, Nancy hires an elderly White woman as her new housekeeper. She's clean, neatly dressed and competent. Her name is Sadie Carter.
By the way, I'm going to help build the National Alliance's Library for Children, featuring all the best non-"woke" books from the early 20th century, including the original texts from Hardy Boys, Nancy Drew, and Beverly Gray novels. I'll also be including history books from the same period, and from the late 19th century, plus texts on algebra, calculus, and physics, and recipes for kids interested in cooking. Lots of stuff!
* * *
Source: Author