American Renaissance and Fred Reed Cuck on the Jewish Question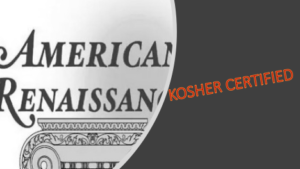 by Dissident Millennial
AMERICAN RENAISSANCE recently published a nasty rant by Fred Reed which displays total ignorance of the Jewish Question and a suspicious lack of even the most basic curiosity about the subject.
The only reason to bring attention to Reed is the formerly august venue which posted his nonsense. Once upon a time, American Renaissance was a serious print magazine which advertised itself, not without justification, as the premier "race-realist" publication in the United States. Amren has always positioned itself as a proponent of White advocacy and freedom of speech in a nation betrayed by gross dishonesty and cowardice on the subject of race, and to this end Amren used to emblazon its site with the lofty words of Thomas Jefferson: "There is not a truth existing which I fear or would wish unknown to the whole world" — a noble sentiment.
Unfortunately Amren has repeatedly displayed dishonesty and cowardice of its own on the subject of the Jewish Question, most recently by publishing Reed's idiotic rambling on the topic. According to Reed, Jews are simply far more successful than Whites in proportion to the degree to which they are far more intelligent, and anyone who resents Jewish power does so out of an inferiority complex. In Reed's telling, White "bitterness"
resemble [sic] the hostility of many blacks toward whites. Blacks, at the bottom of society, apparently need someone to blame. Similarly the commenters appeared to resent the Jews for being much more successful that [sic] house-and-garden-variety whites (Hagvacas). Might the causes be the same: a resentment of a superior people accompanied by an unwillingness to admit the superiority? The infuriated seemed willing, indeed eager, to point to the inferiority of blacks to themselves but, mysteriously, not their own inferiority to Jews. An oversight, no doubt.
Reed goes on:
I offer three helpful rules of racial resentment in gratitude for which an astounded world will doubtless send me their children's college funds:
First, prosperity tends to be proportional to intelligence over statistically meaningful populations.
Second, resentment is proportional to IQ difference.
Third, equal differences of IQ produce equal differences of outcome.
So there you have it, the infinitely rich and varied world of sociology boiled down to Reed's reductionist theory of cognitive determinism.
Of course, while Reed's ideological disposition is badly flawed, his individual assertions aren't entirely worthless. This writer personally grants, for example, that Ashkenazi Jews are smarter than Whites on average and that this contributes to some of the sociological disparities between Jews and Whites. This author also grants that intelligence is important and that it does meaningfully correlate with sociological outcomes.
What's totally missing from Reed's analysis, however, is the fact that the average IQ of different ethnic groups is merely one of any number factors — both internal (i.e., genetic) and external (i.e., environmental) — which contribute to sociological disparities between racial and ethnic groups.
Moreover, Reed's argument fails in its reliance upon the idea that America is some kind of free and just meritocracy rather than an oppressive, genocidal oligarchy ruled for the benefit of Jews at the expense of the nation.
Indeed, Reed's imaginary world of make-believe fails to account for the fact that Jews and Whites aren't governed by the same morality and don't compete by the same rules. Jews believe it is moral for them to ruthlessly and dishonestly advance their ethnic interests at the expense of their host societies, while Whites have been indoctrinated by an alien Jewish culture into doing the exact opposite for generations now, so much so that Whites, unlike Jews, are on the path to racial oblivion. This factor alone — the ethnocentric collectivism of Jews versus the ethnomasochistic individualism of Whites — puts Whites at a material disadvantage when competing against Jews collectively but has absolutely nothing to do with superior Jewish intelligence relative to Whites.
The truth is that the obsession Fred Reed and American Renaissance nurture for IQ smacks of the very sort of "cosmopolitan elitism" William Pierce cogently warned against.
Elitism can be justified by the successful, aggressive White person in terms of his essentially individualistic outlook on life. Furthermore, it jibes with the insidious idea, which was subtly planted deep inside his head by the brainwashers during his earliest years, that it is somehow unjust to judge a person by his race, but that each person should instead be judged only on his individual merit.
The elitist reasons that a person can't be blamed for his race, because he has no control over that; but he can be blamed for his socio-economic status, because he does have control over that. If a White person — or a Black — had any intelligence and any ambition, reasons the elitist, he wouldn't be a garbage collector or a coal miner. If he isn't making a lot of money, then that's his fault, because in our free and democratic society it's only ability that counts.
Per Pierce:
The White elitists in America today may think that they have every justification for rejecting, for cutting themselves off from, their less successful racial kinsmen and allying themselves with Blacks and Jews and other non-Whites of their own educational level or income class, but the day will come when they themselves are the ones who are rejected and cut off and cast out. Then they can turn to their fellow elitists for help, but they will not find it.
Indeed, while it's one thing for Fred Reed to be so enamored of Jewish intelligence as to betray his own race, it's quite another for American Renaissance to co-sign Reed's treason.
* * *
Source: Author