Death of a Con Man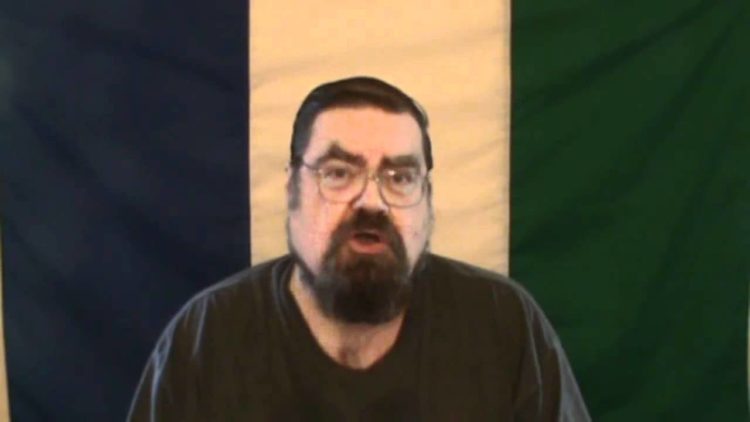 by Kevin Alfred Strom
HAROLD COVINGTON, who died this week, does not deserve to receive accolades or be remembered as a comrade. He was not a comrade.
He consciously sought to ruin our cause and the good fighters who were and are fighting for it.
He was a talented writer — and an unscrupulous liar. His migration ideas weren't original with him.
I almost never talk about him, because the endless online fighting promoted by such as he serves the purposes of the racial enemy, as it probably is intended to do. But I must address him, since the historical record must not be falsified.
Harold Covington was either working for the enemy or had profound mental and moral pathologies beyond almost anyone I have known in this life — and I have known a few doozies.
Covington published a forged letter over my signature back in the 1990s in which "I" denounced Dr. Pierce and resigned from the National Alliance. He published several such forgeries in my name. He has also published forged letters over the signatures of many other good people, some of them of my personal acquaintance: Evelyn Hill, Ron Doggett, Fred Streed, Carlos Porter, Gerald Sprouse — a totally dishonorable act for which I do not believe there should ever be forgiveness, no matter what his other talents may be.
In my case, I believe he issued the forged letter in retaliation for my tracing another forgery of his back to his IP address — a totally fake Associated Press article he published "exposing" my friend (and now National Alliance Chairman) Will Williams, a man of utmost courage and integrity, as "actually" being "FBI Special Agent James R. Finchley."
I published my factual findings. This enraged Covington, leading to his retaliation — which he also used to hurt Dr. William Pierce. Making up falsehoods about Dr. Pierce was another of his obsessions.
In the case of revisionist writer Carlos Porter, when Porter exposed a letter forged by Covington that was purportedly from him (Porter), Covington began making the bizarre claims 1) that Porter had actually died years before (from "acute alcoholism," Covington said), on a date that even preceded Covington's forged Porter letter ( ! ); and 2) that the denials of authorship were being made by someone who was "impersonating" Porter — a person who was probably Kevin Strom, Covington insinuated.
In the case of William Pierce, my friend of decades-long standing and one of the most genuine, authentic people I've ever known, Covington claimed that Dr. Pierce was a "federal informant," that the National Alliance was a "scam" designed to help Dr. Pierce "retire on hundreds of rolling acres in West Virginia," and made many other false, harmful, and unsubstantiated claims — all made up out of whole cloth, like nearly all his accusations.
Covington falsely claimed that the founder of the Church of the Creator, Ben Klassen, whom my friend Will Williams knew well, was a secret Jew and homosexual who would lure young skinheads into his church, rape them, and then murder them with impunity to hush them up. Ask yourself what kind of a man would create, publish, and publicize such lies.
Covington publicly accused Will Williams not only of being an FBI agent, but also of being "John Doe Number Two" in the Oklahoma City bombing case. Williams took him to court over that and won a significant judgement — the only one of Covington's victims to do so, to my knowledge.
One could write a fair-sized book debunking all the lies and forgeries Harold Covington has committed, many of them obviously designed to sow discord and distrust among those fighting for the only cause worth fighting for. Some of them are very well documented here by Hadding Scott:
http://noncounterproductive.blogspot.com/search?q=covington
If our enemies were not paying Harold Armstead Covington in silver, they owe him a debt of deep gratitude. It is they who should be offering tribute to him. We should not.
Back in the 1990s, when I first exposed Covington's forgery campaign, the Con Man wrote to me and threatened retaliation if I did not shut up. When I refused, he replied with a two-word email: "It begins." His lying defamation of me has been nearly continuous since then. But now, not only for me but for all his other victims: It ends.
* * *
APPENDIX 1:
Ingrid Zundel on Harold Covington
from the Zundelsite (1999)
June 13, 1999
Good Morning from the Zundelsite:
Just a few days ago, I wrote:
I have often heard Ernst say that where our opposition gets the upper hand on us is in intrinsic tribe cohesion. The Chosenites stick to each other – we, sad to say, do not.
Those of us who struggle, write and publish openly as activists against historical vilification, using our own names, putting our action where our true, not just professed, priorities are, have had to deal with something that is very ugly: Vicious character assassination attacks that come from within our own ranks.
As often as not, smears out of the blue come from people who don't have the guts to use use their real names and hide behind a pseudonym – or two or three or four! – and seem to think that makes them safe to hurt and badmouth other people who are trying their darndest, and then some, to serve and to further a cause.
Just a few days ago, for instance, I learned of someone – not exactly a friend of Ernst Zundel's – who is writing under the cyber pen name of zundel@webcom.com What will we get from such a malefactor, who undoubtedly chose this web address, knowing that the Zundelsite is parked at Webcom? Your guess is as good as my guess. The man was a teacher. He is intelligent and writes well, but never having succeeded in building up an audience or a following of his own for his writings, he is reduced to this?
These people are the bane of our movement.
My first "trial by fire" with this sort of thing came a few years ago from a fellow who called himself "Winston Smith" and claimed to be the leader of the "National Socialist White People's Party." He, too, writes exceedingly well and knows all the right words – but not the song, alas! This is true of most of these people – they are intelligent and use words like stilettos.
The incident that triggered his ire against me was not itself of great importance – small things will set these people off like rockets – but for a year or so I had to put up with intermittent sniping from this "Winston Smith".
Before too long, it was revealed his name was Harold Covington – a man Ernst had warned me about because he has had the inside information on Covington since the 1970s. Covington left a swath of broken friendships, relationships, ruined political groups, lovers – and children by various women in different places. This is another hallmark of what I call "The Syndrome" – these people don't have many friends. They move into relationships initially with skill and charm – and then they begin to destroy with a vengeance.
More was revealed about this Harold Covington. Among the items was his own admission that the so-called "Party" existed of exactly three people – and it seems he was counting himself.
Recently the patriotic movement in the USA and around the world was upset by what was promoted as an Associated Press article of a deep cover penetration in right wing organizations, naming Ernst Zundel and David Irving as people compromised.
I called Ernst, and he said no such infiltration had taken place – that it must be a concocted article. No such person as the one described or named in the article ever visited the Zundel-Haus.
Here is the text of the full article. For someone who loves the art of writing and practices the craft to earn a living, I thought the style seemed oddly familiar – and sounded just like Covington. I even told Ernst so.
Here is that article [Although the forger intentionally omits Will Williams' name, the details are such that anyone familiar with Williams or the National Alliance would immediately know that it was he who was, according to the article, "really" "Special Agent Finchley." — Ed.]:
Source: Fox News

FBI Agent Penetrated Into The Heart of Darkness 5.11 a.m. ET (9: 11 GMT) June 5, 1999

By Wendy Nakamura, Associated Press

WASHINGTON DC (AP) ó For almost fourteen years, he lived in a world of hatred, bigotry, and violence.

He attended Klan rallies and meetings of buttoned-down intellectual racists in business suits in the most upmarket hotels. He met and hosted Holocaust deniers like German- Canadian Ernst Zundel and British author David Irving. He was there at cross-burnings and street marches, waving a picket sign or a Confederate battle flag and always shouting the loudest of any among his White supremacist cohorts. He drank beer with Skinhead gangs, swapped jokes with them about African-Americans, Hispanics, and Jews, and heard them plot hate crimes and racial assaults. He cruised the Internet, posting racist messages to computer bulletin boards and newsgroups, making contacts with neo-Nazis and nationalist extremists the world over. He infiltrated the inner councils of almost every top hate group in the United States and even in Europe. He even filed a libel suit against another White supremacist who claimed he was an FBI informant.

But he was.

Last month FBI Special Agent James R. Finchley, a decorated Vietnam veteran and "one of the best and bravest men ever to graduate out of Quantico" according to a former instructor at the world-famous FBI academy who knew him and trained him, came in from the cold at last, after successfully carrying out the longest-running deep-cover infiltration of any criminal or terrorist underworld in the history of American law enforcement.

Finchley's fourteen years in the White racist underground produced only a handful of actual prosecutions, but "that wasn't his primary mission," according to the former director of the FBI's Behavioral Science Unit at Quantico, Kenneth M. Lanning. "He was there to listen and learn, and the wealth of information he obtained for us is beyond price."

"It is not too much to say that we now know virtually everything there is to know about organized race hatred in this country. These guys [White supremacist activists and leaders] couldn't go to the can without us knowing about it," Lanning said.

FBI Director Louis Freeh was not available for comment, but U. S. Attorney General Janet Reno told a reporter, "We usually do not make any public statement on covert operations of this nature until all criminal cases associated with an investigation have been brought to a conclusion, but I will say that Special Agent Finchley displayed uncommon courage, resourcefulness, and initiative in a very complex and often dangerous situation."

Finchley's cover was so deep he is reported to have actually married one woman who was involved in a White supremacist group he wanted to penetrate. On that occasion he went to St. Petersburg, Russia to meet and bring to America a Russian woman who was to be the "mail order bride" of a nationally known White supremacist leader who was banned from entering the country because of his views.

Finchley was so taken with the woman that he persuaded her to marry him instead, allegedly in order to keep her out of the clutches of the racist leader. Soon afterwards he and his Russian wife amicably divorced and Agent Finchley arranged for her to get a green card and relocate to Florida.

Justice Department sources are close-mouthed about many of the details of Finchley's fourteen-year odyssey into the murky underworld of racism and hate. "There are still some loose ends to be tied up, and once this gets out there are going to be some very angry White supremacists out there," said a spokesman for the Department.

The source refused to say whether Agent Finchley had been moved into the Witness Protection Program or what measures were being taken to prevent retaliation by Finchley's former comrades in the racist movement.

Possibly the most bizarre event of Finchley's long- running undercover operation was when he was accused of having been involved in the Oklahoma City bombing as "John Doe Number Two" by the editor of a racist newsletter who had long suspected Finchley of being a Federal agent. Finchley took an absolutely unprecedented step: he sued the editor for libel and obtained a 110,000 default judgment when the defendant didn't show up in court to try the case.

"I don't know if he's been successful in collecting any of the money the judge awarded him," said Lanning.
It was not long before Vincent Breeding of the National Alliance put out a press release explaining what apparently happened. Here is that press release:
Fake News Article Source Found

NNA featured an article yesterday detailing a fake news article entitled: "FBI Agent Penetrated the Heart of Darkness". After a detailed search of the AP Wire, Fox (the supposed source) and other news agencies, including calls to AP's Washington DC and NYC offices (who are very interested in who wrote this story for legal reasons), it was found to be a fraud intended to ruin the reputation of a devoted activist to our Cause.

This article was posted and e-mailed using a not-so-anonymous Hotmail address. Well known radio personality and author Kevin Alfred Strom (kevin.strom@innocent.com) traced the IP address of the original Usenet posting of this message. He found that the author was the well known forger, liar, and possible FBI agent (see http://209.196.26.118/) Harold Covington, who was the former "leader" of a bogus Internet organization using the stolen name of "NSWPP". This is not the first use of forged or fake messages by Mr. Covington who had one time posted a fake resignation letter attributed to Kevin Strom (see http://209.196.26.118/articles/Resign.htm).

NNA and virtually every patriotic leader, activist and organization on the planet have universally condemned Harold Covington as a psychopath and a compulsive liar. Covington pops up periodically to distract and attract new racialists who don't know his background. Those who run across him are subscribed to his Internet ranting against their will and subjected to 20, 30 and sometimes 100 messages a day of attacks on various racialists and Nationalist organizations.

The Internet is a powerful weapon against our enemies as it allows us to reach millions with our message. It is also a powerful weapon in the hands of our enemies who know how to disrupt our progress and subvert our aims. Now is the time to focus and work harder than ever toward our goals. Don't give our enemies the satisfaction of sitting back and laughing at our follies while they march us toward oblivion.

Vincent Breeding
NNA Editor
I debated long and hard with myself whether it was a good idea to run these two juxtaposed pieces. In principle I don't believe in "tratsching out", as we would say in German, the emotional problems of marginal, imbalanced people who are unfortunately drawn to our cause. It seems that they mistakenly believe that this is the place where cheap thrills can be found. They could not be more mistaken.
Ernst and I have often talked about what might be the best policy in neutralizing these harmful elements. There seems to be no best policy, for people without conscience are like human pin balls, following most any whim. Anything can set them off – and invariably will. This is why the ADL, the FBI, CSIS and the RCMP often use them as their main "mining" ground for intelligence information. They do not care, for the Cause means nothing to them, in spite of polished words. Their egos and emotions must be thrilled. They get high just on the rush of hurting somebody with impunity. Ernst's take is that they have to be pulled up like weeds – and shunned like stinging nettles.
In general, I have said, again and again: "Let's get along. Let's guard against those infights! They hurt more than they help." But now and then there comes a point where one must take a stand. I am taking a stand – and I say that to do this sort of thing and circulate that kind of fraud is shameful and destructive – and its author knew it to be!
Ingrid
* * *
APPENDIX 2:
Kevin Alfred Strom's tracing of the forgery
from Usenet (1999)
[Context: A correspondent had referred to Covington's forgery alleging that Will Williams was actually "FBI Special Agent James Finchley," calling it the "Fox article," since the forgery purported to have been an AP article published on Fox News. That correspondent then expressed doubt that the forgery originated with Harold Covington. This was 1999, and almost everyone was using dial-up modems.]
by Kevin Alfred Strom
I don't know what you mean by the "Fox" article.
If you mean the fake "Finchley" article, then I must respectfully disagree. The IP tracing was about as conclusive as one could want, short of an actual confession. As I wrote earlier:
I will forward to you three messages as attachments immediately after I send this message.

The first message is from Covington, admitted to be his and signed by him, posted at 23:35:09 on 11th June, 1999. (IP address 1cust23.tnt1.texarkana.tx.da.uu.net)

The second is a copy of the Finchley article, from a phony email address called "Anti-Covington Alliance," posted at 23:38:18 on the same day, three minutes after the previous message from Covington. (IP address 1cust23.tnt1.texarkana.tx.da.uu.net)

You'll note that the IP addresses of these two messages are precisely the same, as are the headers indicating the mail client and ISP used. Since it was a dial-up circuit at UUNet that was used, this means that Covington did not drop his modem connection between switching identities. The only other explanation is that somehow another person managed to connect to the same modem that Covington was using three minutes before. This is unlikely, since there appear to have been more than 200 modems at this particular point of presence — see message three for proof. (Covington also used exactly the same IP address when dishonestly forging replies to his own postings, pretending to be people who were either agreeing with him or arguing with him.)

The Finchley article was also posted six more times that day, within a ten-minute period, under various titles, all with the same IP address and header information as the second one I am sending. I can forward these other six if you'd like.

The third message is another from Covington, posted the next day. (IP address 1Cust234.tnt1.texarkana.tx.da.uu.net) This message shows that the number of modems at this point of presence was over 200. It is quite unlikely that anyone trying to implicate Covington could somehow have 1) known when Covington would drop his connection, or 2) been able to connect to the same modem in a bank of over 200 modems, especially within three minutes.
Now, I admit, there is a bare possibility that I am wrong. The IP address information for articles posted by Covington under his own name immediately before and after the "Finchley" forgery was sent match exactly those of the forgery itself. And the IP block, local dialup, and ISP used for all of Covington's articles for months before and months thereafter all match the forgery, too. Occam's Razor tells us that the most likely explanation is that Covington posted the forgery. And that conclusion is strengthened when you consider that he has been proven — even more conclusively — to have posted other forgeries.
Let's look at the only possible scenarios in which my conclusion is incorrect.
For example, if all the articles that purported to come from Covington on his e-list and on Usenet, for months before that forgery and for months afterward, were all fake and actually not from the Con-man, then my conclusion that Covington transmitted the "Finchley" piece is unlikely.
Also, if the forger had the ability to access precisely the same dialup circuit as Covington (and many such circuits are connected to a single access number), minutes after Covington dropped his connection, and then — by some fantastic coincidence that the forger would not have been able to anticipate — Covington had re-connected to that same exact dialup modem a few minutes after the forger dropped the line, then it is possible that Covington did not transmit the piece.
But, unless you are willing to accept such a wildly unlikely train of coincidences, you must accept my conclusion.
Furthermore, it is indisputable that the article is a fake. It was never carried by AP, nor by any newspaper. A Google search on "Associated Press" and "Wendy Nakamura" turns up only one racialist newsletter which innocently reprinted the forgery, and Ingrid Rimland's exposé of the affair. The forgery could serve no possible purpose but to buttress Covington's bizarre allegations against Will Williams, which it did to a "t," as they say.
In certain other forgeries which Covington committed, not only was exactly the same dialup circuit used for his pieces under his own name and those under forged names, but the timestamp in the headers (generated by Covington's own computer) showed a slow but steady drift away from the timestamp provided by his ISP at the time, Netcom.
What, I ask you, is the likelihood of someone who is using the same ISP as Covington, someone who is using the same dialup circuit as Covington in the same town, someone who is posting in the same threads as Covington and supporting his allegations, and someone who is using a computer that is, within a fraction of second, showing the same time error as Covington's, not being Covington?
Even if I had no expertise in the tracing of these forgeries by Covington, I would still know — absolutely — that he is a fraud. He has repeatedly posted, under his own email address and name, without any concealment, false claims about me (such as his repeated claims that I resigned from the National Alliance), forged letters over my signature, and claims about others that I am certain are false (such as his claim that Carlos Porter is dead).
Now the Internet and especially Usenet are wild and wooly places sometimes, and, as you state, there is quite a bit of forgery. Why I should I be so concerned about Covington's?
Because I have sacrificed twenty years of my life and many things which are very precious to me for this racial Cause of ours; because I care very much about those men and women who have been awakened and changed their paths in life to do something about the plight of our people; and because I know beyond any doubt that this man is an utter fraud whose purpose is to defame good people.
* * *
Source: Author