Georgetown Law School: Even Anti-Racists Are Racist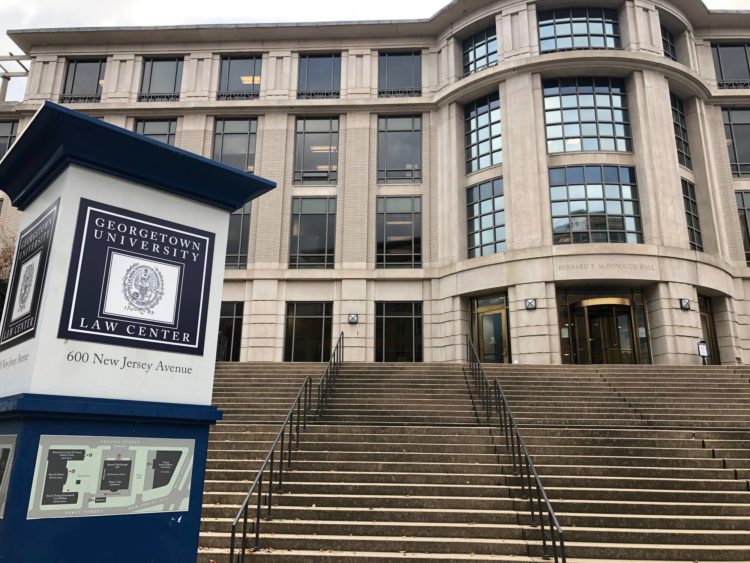 Professor forced out after doing nothing more than privately mentioning how it upsets her that, every year, most Black students are near the bottom of her classes — and now a second professor is sanctioned because he was part of the discussion and did not condemn the other's words with "sufficient vigor." This is end-stage neo-liberal insanity.
A GEORGETOWN UNIVERSITY law professor was terminated and a second was placed on leave after a video clip showed a conversation between the pair that included what an official called "reprehensible" statements about Black students, officials said Thursday.
The conversation between adjunct professors Sandra Sellers and David Batson had triggered an investigation by Georgetown University's "Office of Institutional Diversity, Equity and Affirmative Action." The school's Black Law Students Association had called for Sellers's firing.
The video clip — which was shared on Twitter this week — showed Sellers discussing student performance.
"I hate to say this. I end up having this angst every semester that a lot of my lower ones are Blacks," Sellers said in the video. "Happens almost every semester. And it's like, 'Oh, come on.' You get some really good ones, but there are also usually some that are just plain at the bottom. It drives me crazy."
Law Center Dean William ­Treanor said Thursday that he informed Sellers she was terminated and that she had indicated she had planned to resign. Batson was placed on administrative leave "pending the investigation," Trea­nor said. [As if there is anything to "investigate." This is beyond Stalinism, beyond Alice in Wonderland, probably beyond even the most feverish dreams of Enver Hoxha. If you are more than 1/16th of an inch out-of-step with Comrade Leader's pronouncements — this week's pronouncements, mind you, not last week's — then off with your head! — Ed.]
The dean said the incident underscores the school's "needs" for "more anti-bias training." He said officials are taking steps to ensure that students in Sellers and Batson's class are graded fairly.
Sellers shared a resignation letter with The Washington Post in which she apologized for the "hurtful and misdirected remarks" that were part of a longer discussion about patterns in class participation.
"I would never do anything to intentionally hurt my students or Georgetown Law and wish I could take back my words," Sellers said in the letter. "Regardless of my intent, I have done irreparable harm and I am truly sorry for this."
Batson did not did not immediately respond to a request for comment Thursday.
Hassan Ahmad, a Georgetown Law student who posted clips of the remarks on Twitter, said the conversation happened at the conclusion of a negotiations class around Feb. 21 that was being recorded so that students could view it later. Sellers and Batson stayed on the call after students left, so their conversation was recorded, as well, Ahmad said.
The recording was online for about two weeks before students noticed the conversation between Sellers and Batson, Ahmad said. The video was "reported" Monday morning and then taken down soon after, he said.
In a statement Wednesday evening, Treanor said he had learned this week about a conversation between two faculty members "that included reprehensible statements concerning the evaluation of Black students." He called the content of the video "abhorrent." [LOL — Ed.]
In a petition, the Black Law Students Association also called on the law school to conduct an audit of Sellers's grading and student evaluations. It also wants the school to assess and improve its "subjective" grading system and "commit to hiring more Black professors."
"These racist statements reveal not only Sellers' beliefs about Black students in her classes, but also how her racist thoughts have translated to racist actions," the group of Black law students said. "Professor Sellers' bias has impacted the grades of Black students in her classes historically, in her own words."
The group has urged Batson to publicly apologize for failing to condemn Sellers's statements.
Although years removed from law school, Tiffany Wright said she was disgusted by the news from her alma mater. Wright, a former Supreme Court law clerk, graduated from Georgetown Law in 2013.
"I can't say I was surprised by it," she said, adding that in academia and in practice, "there is sort of this perception that maybe the Black folks, like, we just don't belong."
Wright, now a practicing attorney and co-director of the human and civil rights clinic at Howard University's law school, said she has been dealing with the kind of microaggressions espoused by Sellers since she was a student. She's used to people doubting her abilities and seeing Black people held to different standards than their White peers. "It also has an effect over time on our mental health," she said. "You start to absorb and believe those lies."
The recent incident comes months after Black law students said Carrie Menkel-Meadow, professor emerita at Georgetown Law and professor at the University of California at Irvine School of Law, used the n-word in a class she was teaching at the California school.
In September, the Black Law Students Association said: "Professor Menkel-Meadow's offensive words and rationalizations are dangerous and unacceptable. She claims to understand the pain that offensive epithets cause, yet will not apologize for the harm her own usage of the n-word has caused for her own students."
In an email Thursday, Menkel-Meadow denied using the word but said it was in an article she assigned to students about regulating hate speech.
Menkel-Meadow said that the article had been used for several years and that no one had objected to it or the assignment.
[It is fun to watch the demon-slaves of the Enemies of Life bite one another's heads off, but don't let that delay your joining and supporting the National Alliance for more than two minutes. — Ed.]
* * *
Source: Washington Post and National Vanguard correspondents