They Rule from the Shadows: Ira and Ingeborg Rennert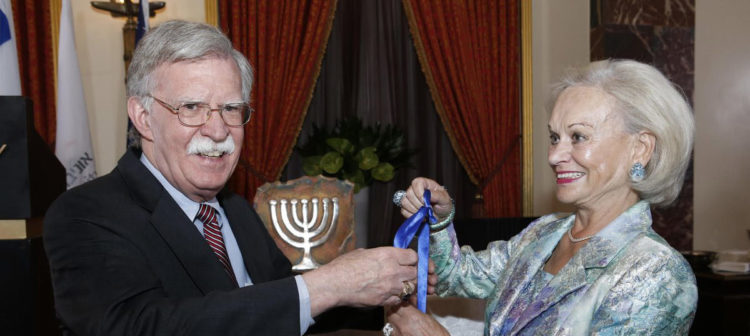 Little-known family bankrolls the pro-Jew and anti-Muslim "right wing."
THROUGH MY RESEARCH into Nina Rosenwald and Gatestone Institute I came across the name Ingeborg Rennert in the list of Gatestone Institute Board of Governors, as seen below.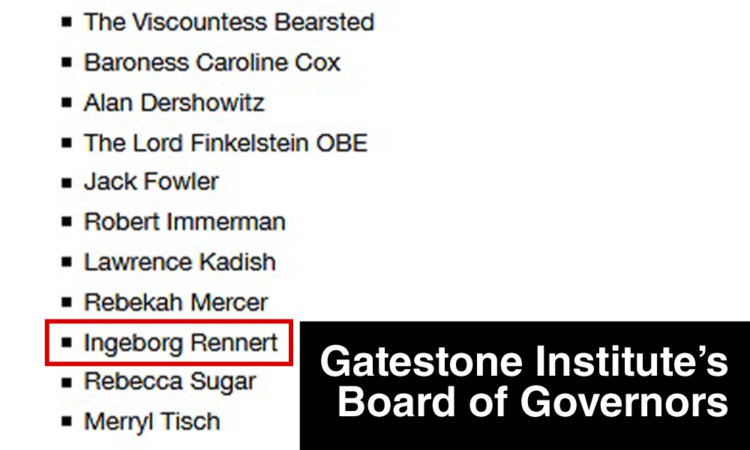 Since using this screenshot in a video, the list of Board of Governors has been removed from the Gatestone Institute website. I take that as a sign that they don't want myself and others prying into these people. Maybe they have something to hide?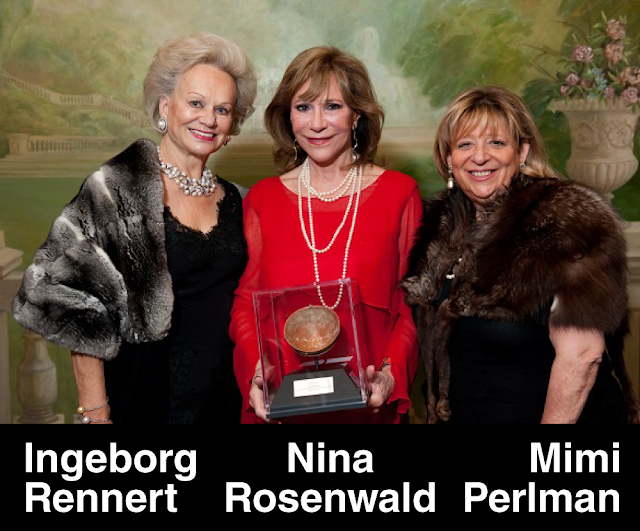 Israel's Open University Foundation benefit raised a total of $620,000. The event was hosted by Foundation President Ingeborg Rennert and Baron Robert de Rothschild. Guests in attendance included Police Comissioner Ray Kelly, Elie Wiesel, lawyer and political commentator Alan Dershowitz and Commonwealth Chief Rabbi Lord Jonathan Sacks who addressed the gathering.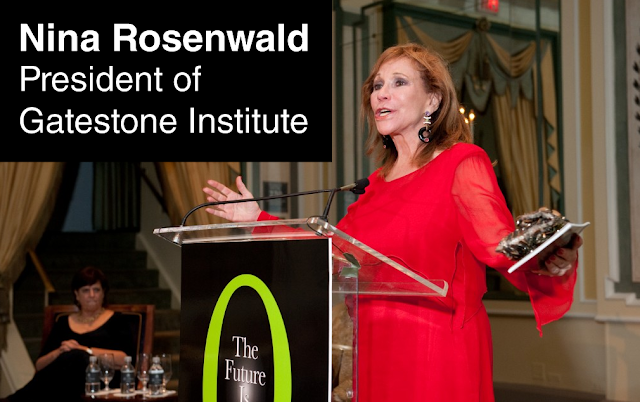 Another connection through the Gatestone Institute to the Rennerts is Donald Trump's new National Security Advisor John Bolton. John Bolton is the Chairman of Gatestone Institute. Bolton has played a significant role in this networks operations. He was one of the first people to endorse Donald Trump on Breitbart News radio. His superPAC and Breitbart are funded by Robert Mercer. Mercer's daughter Rebekah is on the Gatestone Board of Governors.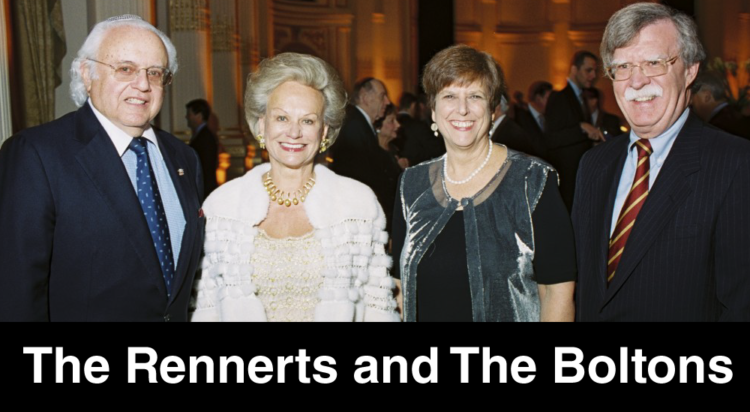 The Guardian of Zion Award is an annual award given since 1997 to Jews who have been supportive of the State of Israel. It is awarded at the Ingeborg Rennert Center for Jerusalem Studies at Bar-Ilan University.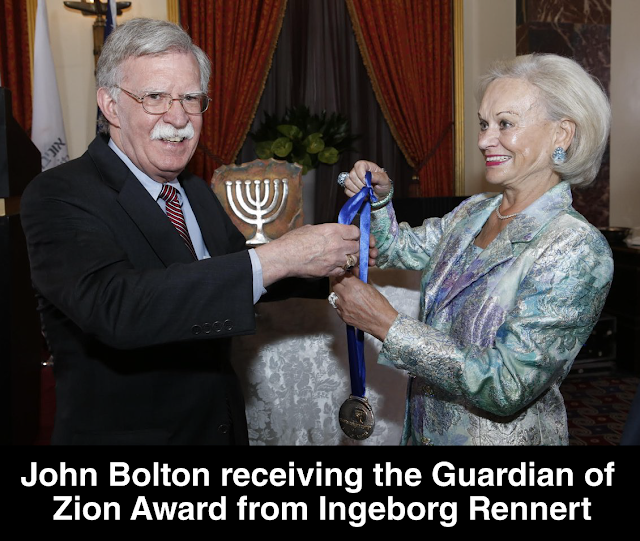 At the 2017 Guardian of Zion Award Ceremony John Bolton received the award. The Ceremony is held annually in the King David Hotel. I'm sure that is a symbolic reference paying homage to the Irgun terrorist attack on the hotel that led to the founding of the state of Israel.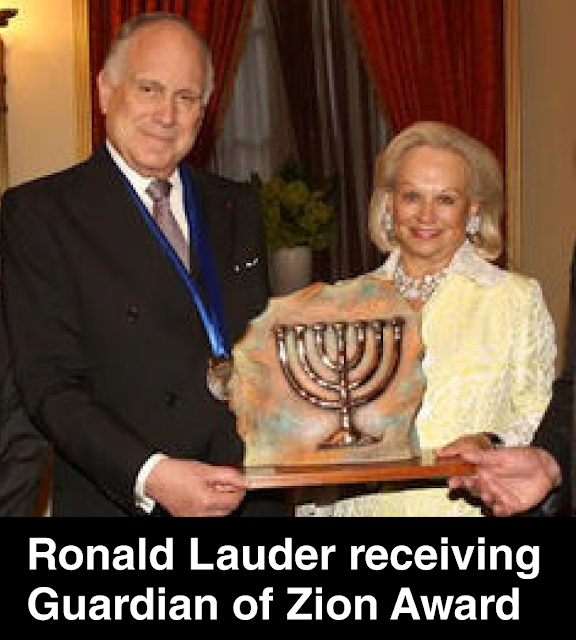 In 2016 Donald Trump's good friend and President of the World Jewish Congress Ronald Lauder received the award.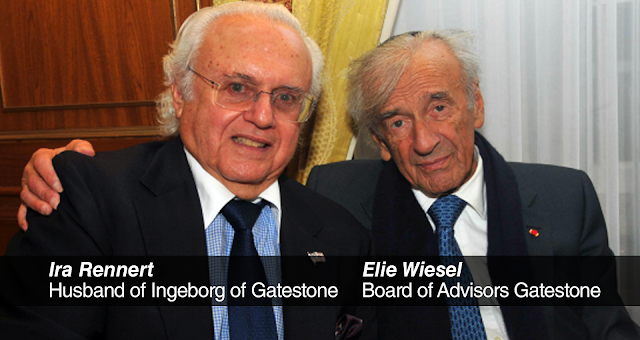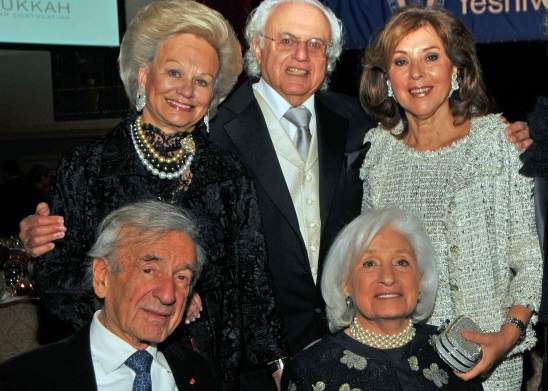 The first ever recipient of the award was the discredited Elie Wiesel. Wiesel and his wife were close of the Rennerts for years. Before his death, Wiesel was an adviser to the Gatestone Institute. The Zionist network used Wiesel to build a victimhood status with Holocaust propaganda which the network has effectively used to hide their Jewish supremacist mind-set and bigotry. They also protected him and provided a huge platform and financing through speaking events.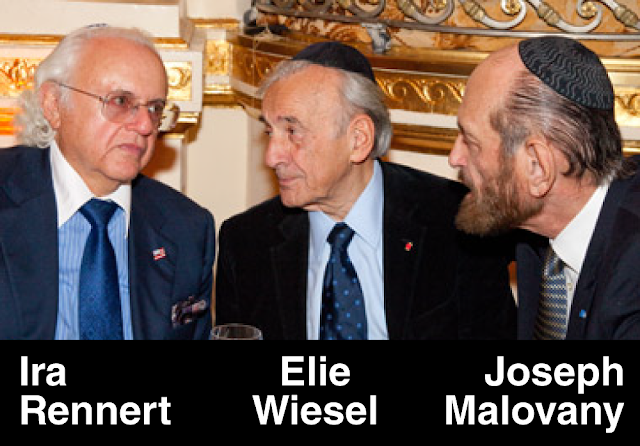 Joseph Malovany is Chazzan at The Orthodox Fifth Avenue Synagogue that Rennert attends. In May, 2010, a new mikvah at the Fifth Avenue Synagogue was dedicated. Funding for construction was provided by Ira Rennert.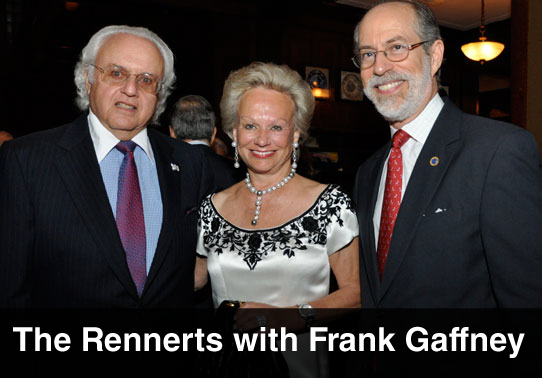 The Rennerts are also tied to the pro-Jewish Zionist and anti-Muslim conspiracy theorist Frank Gaffney. The couple are donors to the Center for Security Policy which Gaffney runs. The image below shows a donation made by the Rennerts to the CSP taken from the CSP's Schedule B 990 form.

Some More Photos of Interest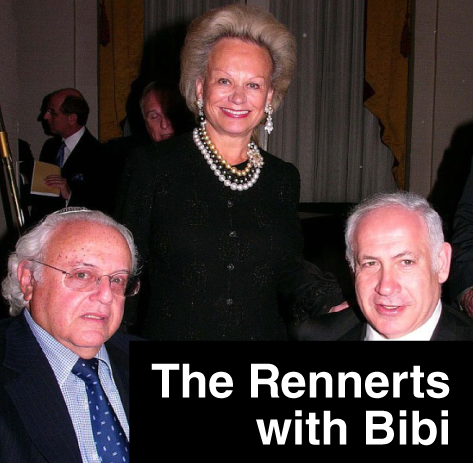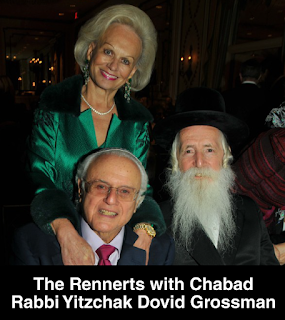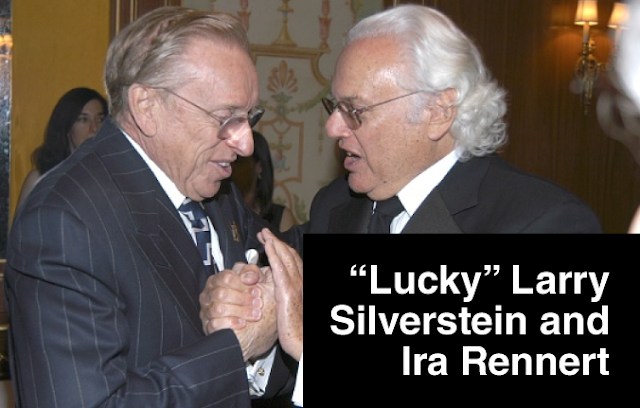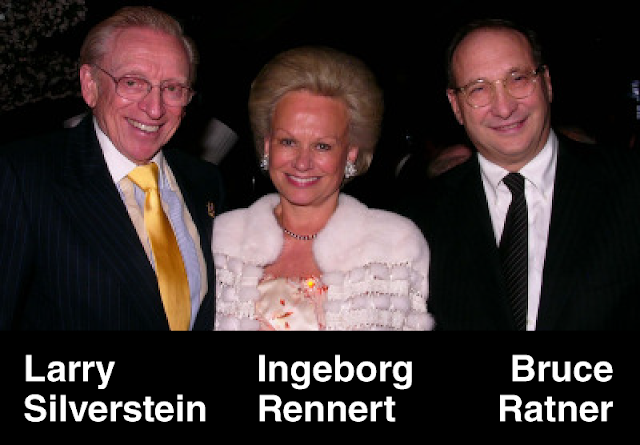 So….Who is Ira Rennert?
Ira was born in 1934 in Brooklyn New York. Rennert's parents were Jewish immigrants from Poland and Romania. He is a graduate of Brooklyn College in 1954, and earned his master's degree from New York University's Stern School of Business in 1956, where he later was on the Board of Overseers.
Early Warning Signs
Rennert started his career as a credit analyst on Wall Street in 1956. He also served as a partner at Rubin, Rennert & Co., before launching his own business, I. L. Rennert & Co. in 1962. At this time he was censured by the National Association of Securities Dealers for operating with insufficient capital. This occurred again in 1963 and as a result, his license was revoked on November 29, 1964, effectively banning him from the securities industry. According to a company spokesman, Jon Goldberg: "Due to market conditions, the firm found itself in violation of the net capital rule and Rennert raised capital and put it into the firm to bring it into compliance. However, the firm once more fell beneath the net-capital requirements and he shut the company down.
Junk Bond Financing
Michael Milken — as a bond trader for Drexel Burnham Lambert — was successful selling high-risk, high-yield bonds issued by struggling or undercapitalized companies.
Integrated Resources raised $2 billion in junk bonds financed by Milken but ultimately collapsed amid scandal and defaulted on $1 billion of bond debt in May 1989 (see the 1991 book Den of Thieves about the junk bond scandal). As an outside board member, Rennert was not dragged down by the collapse and began to raise junk bonds on his own behalf to finance acquisitions for the Renco Group.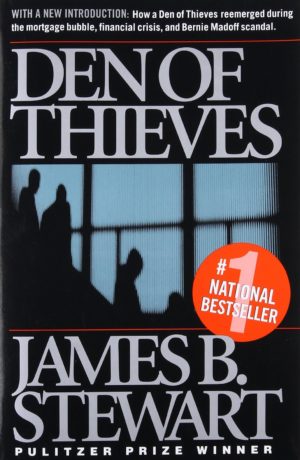 Rennert's strategy for building Renco was to acquire all the shares of struggling companies and to finance the acquisition by issuing junk bonds. Along the way, Rennert paid substantial dividends out of the business to himself. In a series of junk bond issues since 1995, Renco's subsidiaries have borrowed an estimated $1.1 billion and transferred $322 million (29 percent) to Renco Group, according to documents filed with the U.S. Securities and Exchange Commission (SEC). Backed by blue-chip mutual funds and hedge funds such as John Hancock Funds LLC and Putnam Investment Management LLC, Rennert now didn't have to invest much of his own money.
His purchase of AM General in 1992 was bought with a down payment of just $10 million. In 1994, Fluor Corp. of Los Angeles sold the Doe Run Company to Renco, with the latter paying $52 million in cash, and approximately $60 million in debt payable over an eight-year period. In 1997, Doe Run went on to pay $247 million for a similarly environmentally troubled lead smelting complex from the Peruvian government, as well as borrowing more money to service its Fluor Corporation debt. And in 1998, Doe Run sold $305 million in junk bonds for financing its Peruvian acquisition as well as more lead mines in Missouri (according to Doe Run filings with the SEC). Since 1998 most Renco financings have been bank debt.
WCI Steel
In 1988, Renco bought a Warren (Ohio) steel company from its bankrupt parent, LTV Steel Co., for a price tag of $140 million. This company then became WCI Steel Inc., and Rennert was able to ultimately sell bonds totaling $300 million, paying $108 million of the proceeds as a dividend to Renco.] In 1998, Renco Steel Holdings Inc. was created to serve as a holding company for WCI. The holding company then sold $120 million in junk bonds, this time paying an additional $100 million dividend to Renco.
At the time of the bankruptcy, if the pension plan had been terminated, the Pension Benefit Guaranty Corporation calculated a $117 million shortfall. Despite losing the company, Renco agreed to assume responsibility for the existing pension plan, with ongoing support from WCI. Newspaper reports speculated that the Pension Benefit Guaranty Corporation had threatening to put a lien on Rennert's personal estate in order to ensure the steelworkers' benefits. Harbinger sold the business to Severstal, a steelmaker based in Russia.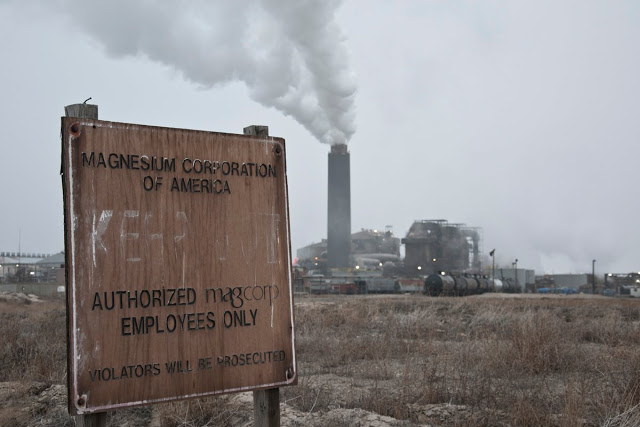 MagCorp/US Magnesium — More Junk Bond Financing and Pollution
In 1989, Renco acquired the U.S.'s largest magnesium producer in Utah. Removing minerals from the water of the Great Salt Lake, Magnesium Corp. uses chemicals to refine the magnesium used in products ranging from bombs to bicycles. In 1996, Renco established Renco Metals, Inc. as a holding company for Magnesium Corp. and issued $150 million in bonds. Just like WCI, the company paid Renco $90 million in dividends by the year end.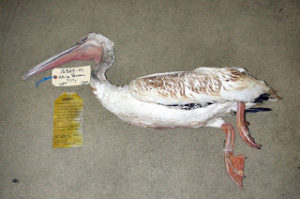 In 2001, the Department of Justice filed suit against Magnesium Corp. for multiple violations of hazardous waste law, and also it cited Rennert's removal of money from Magnesium Corp. through the bond issue, "leaving the companies insolvent and unable to pay their bills". The suit went on until 2007, when the judge ruled in favour of Renco and against the DOJ.
On August 17, 2010, a 10th Circuit Court of Appeals ruling overturned a District Court judge's October 17, 2007, decision that the U.S. Magnesium facility in Rowley, Utah was not illegally disposing five wastes. The initial lawsuit DOJ filed on behalf of EPA in 2001 claimed U.S. Magnesium was not following regulations promulgated under the Resource Conservation and Recovery Act of 1976, which dictates how waste by-products must be disposed. Renco continues to operate the business under the name US Magnesium. At this point, US Magnesium is the only magnesium producer in the United States.
The Run Doe Company Pollution
Rennert's Renco owns a subsidiary company called The Doe Run Company. They are the largest integrated lead producer in the Western Hemisphere. Based in St. Louis, the company's Missouri operations included a primary lead smelter that poisoned the town of Herculaneum, Missouri.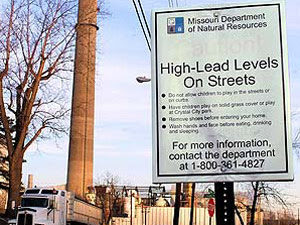 For decades some of the most highly toxic heavy metals such as arsenic, cadmium and especially lead slowly rained down and settled as a fine dust on a community in Missouri called Herculaneum. When asked about the possible danger of the fine dust the town's mining smelter representatives assured local residents that there was "nothing to worry about". Unfortunately for the well-being of the population of Herculaneum, MI the representatives were lying. Taking into consideration the smelter owner's reputation the deception should have been no surprise.
Speaking of the environmental disaster, whistle-blower Jack Warren had this to say about what Doe Run had done and what he thought of Ira Rennert.
It's criminal! It's inhumane what he's done. It's a travesty. I think it just boils straight down to greed.
Speaking about the lack of justice for Rennert's crimes he continued "How can you protect your child from something that you can't see? You don't know it's there. You're battling a ghost. If I fed my son poison every day and any health agency knew that I was purposely feeding my child poison every day they'd removed that child and lock me up. Yet they let Doe Run run their monster (smelter) That is putting poison into my child every day and (they) did nothing. They never locked anybody up. They never stopped them. They're still doing it in this day and age in this country!"
Leslie and Jack Warden lived your typical American life — working hard raising their son then one day everything changed when they realised they lived in a home permeated by a hidden poison — a poison that will affect them for the rest of their lives.
Speaking of Ira Rennert, Mrs Warden said "It's appalling that someone in the United States can acquire so much wealth on the backs of communities and children. He's made his money poisoning children."
The Doe Run Company was acquired in 1994 by American billionaire Ira Rennert, who has such a long track record of environmental abuses that the EPA labelled him America's worst private polluter. His usual tactics of misinformation and stalling worked for years until he was finally forced to buy out an entire neighbourhood and bulldoze it into the ground because the contamination was so extreme.
Doe Run Operations in La Oroya, Peru
Doe Run held in its hands about 4,000 jobs in the city of La Oroyo that at the time had population of around 33,000. Doe Run operated as a major political actor. Stronger than the city government, stronger than the national government as the Peruvian government is politically vulnerable to job losses and lost investment. That includes the jobs and investment that came from Doe Run. Peru's economy at the time was weakened from a long history of political violence and corruption.
The corrupt Peruvian government sold off their nationally owned smelter in La Oroya to Doe Run in 1997 with an agreement that Doe Run would significantly reduce the levels of pollution emitted by the site in a 10 year period. Needless to say, little change in the levels of pollution was made. In the 10th year of the deal after the Blacksmith Institute published their list of top ten polluted place, that contained La Oroya, Rennert split the La Oroya operation off from Doe Run. Rennert did this because he saw another potential costly environmental scandal on his hands. So Run Doe Peru was set up.
Ira Rennert's business strategy is to load up Run Doe Peru with junk bond debt and then have them pay huge dividends the Renco Group, syphoning capital out and leaving the subsidiary in danger of insolvency and unable to clean up the toxic pollution that they produce. This is the same tactic used by Rennert to finance acquisitions for Renco to begin with.
After failed negotiations with the Peruvian government they filed for bankruptcy and has since been liquidated. The Peruvian authorities demanded clean-up costs within the context of bankruptcy negotiations. In the face of this action, Renco (the parent company of Run Doe Peru), has retaliated, and sued Peru before an international investment tribunal that has been convened under the terms of the U.S.-Peru free trade agreement. Renco is seeking $800 million in damages for the cost of complying with Peru's environmental and mining laws. The company is also demanding that the international tribunal issue a declaration that Peru, not Renco, is exclusively liable for personal injury claims in a case filed on behalf of children from La Oroya. Again doing whatever they can to avoid taking any responsibility for their actions.
Ira Rennert's Man-Made Gas Chamber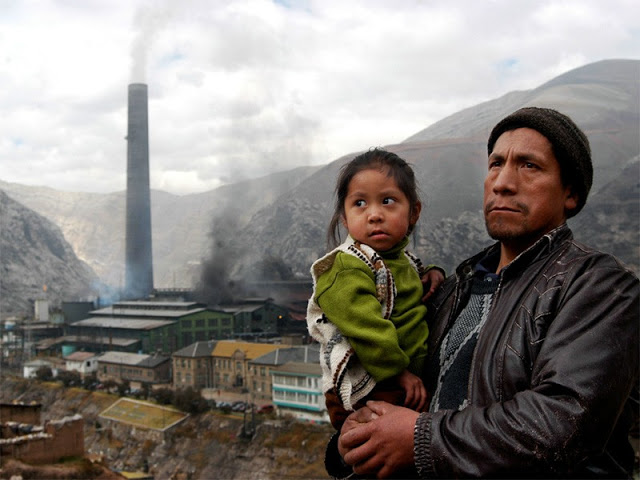 A witness recalls memories of the pollution approaching the city of La Oroya "You smell it, you breathe it. You start coughing, your eyes water."
2 million pounds of contamination were spewing out of those chimney stacks every single day. The contamination billowed out and fell like rain contaminating every square inch of the city. Leaving the place constantly excessively exposed to lead. The poisonous gas became trapped between narrow canyon walls creating a huge gas chamber, literally a man-made gas chamber. That resulted in over 99% of the city's 12,000 children having lead levels many times greater than US standards. The people face the risk of developing cancer as the rates are 2,000 times above the normal rate. Children are at greatest risk because their developing brains are easily damaged by lead exposure.
The longer the time children live in La Oroya the lower their IQ score drops compared to the average. A teenage boy named Moises describes the effects on his health:
I have stomach aches, my bones hurt. It also affects my memory. I study very hard for my exams and sometimes during my exams; I forget everything that I studied.
Lead poisoning expert Dr. John F. Rosen states "The adverse effects of lead which produce brain damage are permanent and irreversible. There's no recovery. You can't see the symptoms of lead. Many people call it the invisible killer because it affects internal organs that affect behaviours in ways that you might not notice. It's only when a child is severely contaminated and the impacts are irreversible that the parent begins to notice."
Of the situation in La Oroya, he continues "The whole environment is contaminated. It's on the toys… it's on skin it's on clothes… it's like being totally surrounded by smoke. It's impossible to escape from."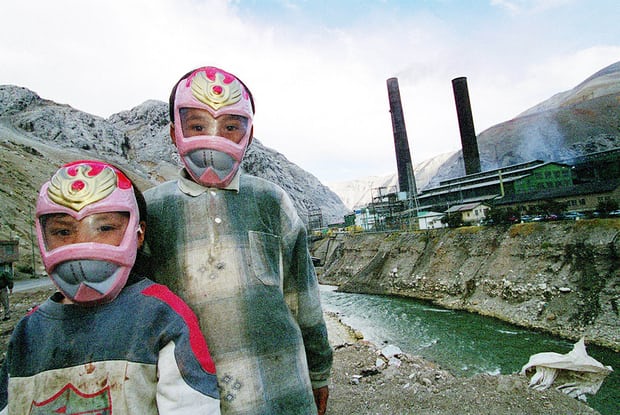 Rennert's Misinformation Campaign
Ira Rennert spent millions on misinformation and denial claiming the children's lead and heavy metal poisoning weren't from his smelter but from bad hygiene, lead painted toys or car exhaust fumes. The local people were told that if they just washed their hands and wiped down their window sills each day they were doing all that they needed to do to protect their children's health.
The Centers for Disease Control did a comprehensive study of La Oroya and they showed that all the hand-washing and street sweeping in the world wasn't going to clean up the city. What was needed at the very least was a drastic reduction in emission and that was exactly the deal Ira Rennert agreed to when he bought the smelter from the Peruvian government in 1997 for a bargain-basement price on the condition he invest his profits to dramatically reduce the pollution. 32 other foreign mining corporations made similar agreements with the government. Only Ira Rennert asked for delays to comply with his agreement claiming the lack of profits from the operation limited his ability to reduce pollution levels.
Built Luxury Mansion and Estate with Syphoned Money
The best business school in Peru did a major study that showed that had Doe Run Peru sent $96 million dollars back to their owner. They could have completed the requirements of their environmental compliance agreement easily. Instead of reducing and cleaning up the population made by the smelter with the profits as promised, IRA Rennert secretly syphoned off almost $100 million to build one of the most expensive mansions in the world with 29 bedrooms and 39 bathrooms at a cost of $186 million.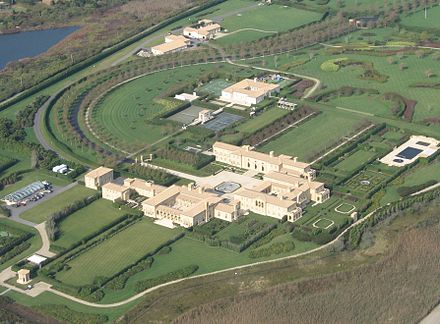 Rennert's mansion created a controversy even in an exclusive New York community because of its obscene size and decadence complete with gold leaf inlays and bowling alley. It would normally go beyond the comprehension on people that somebody would engage is such destructive behaviour to selfishly acquire so much wealth. That is until you understand the mind-set of these psychopathic elitist Zionist Jews. Our failure to stop people like Rennert from carrying out their destructive actions only increases their power, influence and ability to continue behaving in this fashion.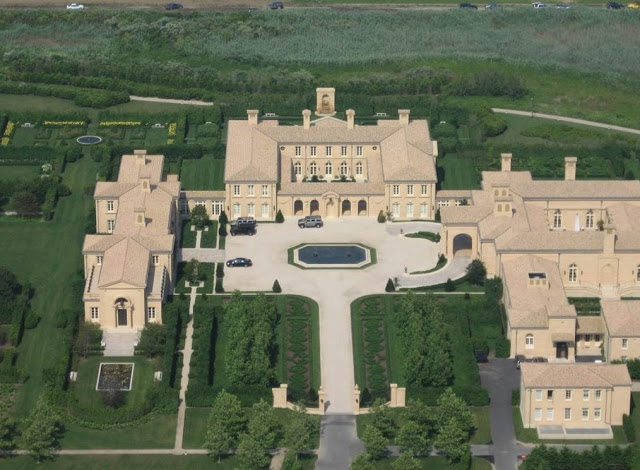 Ingeborg and Ira Rennert opened their home for a special dinner benefiting the Museum of Jewish Heritage — a Living Memorial to the Holocaust.
Jewish Focused Philanthropy
Rennert is a big supporter of Jewish causes using his ill gotten gains through the ILR Ruth Foundation. He is best known for funding Orthodox Jewish causes. Rennert has also given generously to scholarship, religious and construction projects in Israel including giving $25.4 million amount to Jewish settlers in Jerusalem's Arab district. Rennert has also established and funded educational centers in Israel at Yeshiva University and Bar Ilan University.
Rennert has also helped pay for the restoration of Jerusalem's Western Heritage Wall, and contributed $5 million to the creation and publication of a 20-volume encyclopedia of the Jewish commandments. He has also provided 150 Torah scrolls to Israeli communities.
Other noteworthy contributions include a $5 million donation to launch the Wiesel Center at Boston University.
Conclusion
Ira Rennert has purposely pursued a mission to bring misery and pain in many forms throughout his life. Whether it be financial and economic, environmental and ecological, health and well-being. The repeated crimes shows a man without empathy or remorse. This is backed up by his failure to accept responsibility for his actions and willingly help, compensate or show concern for people he has hurt.
Taking this into consideration with the fact that none of his "philanthropic" work has gone to help the children of Peru or the people of Herculaneum, MO, but has been solely focused on Israel, raises the question; Is Ira Rennert a Jewish supremacist? The evidence here strongly indicates that he is.
I don't believe Ira sees the Peruvian people, or even his fellow countrymen in Herculaneum as fellow human beings. He certainly hasn't treating them as fellow human beings. The families association with and fund of anti-Muslim propagandists leaves little imagination of what he thinks about Muslims.
The road to Zion has been paved in blood and the "goyim" are just stepping stones in the eyes of Ira Rennet.
His hardcore Zionist and pro-Likud associations have been a driving factor in the sorry tale of his life. This is a classic case of the devastating effect the Jewish supremacist mind-set and this Zionist cabal can have on the unwitting "goyim".
* * *
Source: The World Needs This Man