Louisiana: After Heroic Effort, David Duke Fights On
In Louisiana, which has one of the most corrupt political machines in the country, David Duke's counted vote total was not sufficient to place him in the runoff election.
by Kevin Alfred Strom
DAVID DUKE, seen in the video above making remarks on the corruption of American politics in general and the rigged senatorial debate which had just occurred, was unable to achieve a high enough percentage of the officially counted vote in Louisiana to make it into the runoff election. Nevertheless, his total placed him above 16 others in a race being contested by more than 20 candidates. Observers have good reason to doubt the validity of the vote, considering that polls taken by a major (and anti-Duke) television station just days before the vote indicated that a huge number of potential voters — over 90 per cent. — believed Dr. Duke had won the debate. Duke points out that the debate was purposely rigged to avoid the two most important issues: non-White immigration and the endless Zionist wars that are impoverishing our nation and making us hated around the world.
Duke, one of the most prominent Trump supporters in the state, said last night as the election results came in, "This is one of the most exciting nights of my life — make no mistake about it, our people have played a HUGE role in electing Trump!" Duke had marshaled a large, mostly young, social media team for his candidacy that observers believe will remain in play indefinitely as Trump's pro-White supporters push for profound social change from Washington.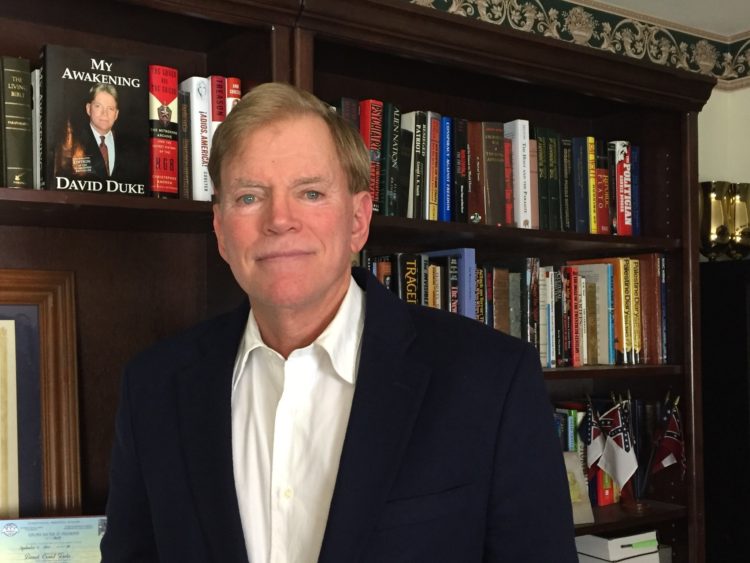 Duke also pointed out that, "no mistake about it," it was the South, as a region, that was pivotal in Trump's victory.
Duke, during a steady stream of tweets published in the aftermath of Trump's win, advised the President-elect not to speak to the controlled media and, presumably, instead give all his interviews to the alternative media who made his election possible: "You people are done — Trump shouldn't talk to these MSM ["mainstream media"], talking head traitors who did everything to destroy him — let them die! …In my personal opinion, President Trump shouldn't go on any of these MSM networks — let these parasites die! …All you filth in Hollywood, who promised to leave — bye bye — your poison is no longer wanted here — get the Hell out!"
Duke also made the incisive observation that the Jewish-led effort to make White women identify as a "minority" and regard White men as enemies is starting to fail. He said: "92% of Blacks voted Hillary — 71% of Hispanics voted Hillary– and only 44% of White women voted Hillary. Our women are awakening!"
He also gave ample credit to Julian Assange, whose dedication to truth above ideology made him a man above politics during this election year: "God bless Wikileaks — Julian Assange is a hero — America owes this man one thing: freedom!!! Thank you, sir; thank you!"
Despite being denied his Senate seat, Duke is determined to continue to work for his people: "We can't stop now," he says, "it's time to make sure President Trump keeps his word and slays the dragon once and for all!"
* * *
Source: National Vanguard correspondents