The "Holocaust" Exposed in 30 Minutes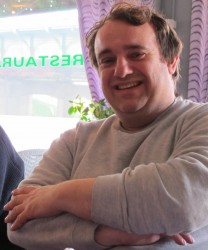 video by Vincent Reynouard (pictured)
VINCENT REYNOUARD, born in 1969, is a French historian specializing in the Second World War and more particularly in the tragedy of Oradour-sur-Glane, an urban battle between a German Waffen-SS unit and the French Resistance in 1944 where many civilians died in what was claimed as a deliberate massacre by certain French but denied by various Germans.
Political commitment
Vincent Reynouard was an activist with the "French and European Nationalist Party" (PNFE) and is at present the main leader of the Fighting Movement of Saint Michael. He defines himself as a "Catholic, National Socialist and Revisionist."
Professional life
Vincent Reynouard studied in Caen, Normandy, and graduated as a chemical engineer with a diploma from the ISMRA (Higher Institute of Materials and Radiation), called since 2002 ENSICAEN.
He was hired by the French Ministry of Education, becoming a professor of mathematics in professional secondary schools. However, he was fired for purely political reasons in 1997 by the Education Minister, François Bayrou, after the discovery of revisionist texts on the hard disk of the computer which he used in his secondary school. Since that political firing Vincent Reynouard survives on his writings as a historian. (He now has a wife and seven children.) He has become known for the lengthy revisionist magazine Sans Concession [= "No Concession"].
A historian facing constant repression
While he was still a university student, Vincent Reynouard founded an association, ANEC [= Norman Association for the Awakening of Citizens] the purpose of which was the distribution of historical brochures that were unavailable through the "conventional" distribution networks.
Vincent Reynouard is himself the author of several dozen brochures on diverse subjects. Most deal with World War II. At present, he directs the French-speaking branch of VHO (Institute for an Objective Historic Version), which publishes in French, German, English, Dutch and other languages.
The writings and promotions by the historian Vincent Reynouard resulted in several serious prosecutions and convictions:
On October 8th, 1992, the Court of Appeals of Caen condemned him to one month in prison (with reprieve) and a fine of 5000 francs [ = $850] for "contesting the existence of one or several crimes against humanity,"Vincent Reynouard having, according to the "Court of Cassation," committed the offense of "sending to 24 pupils of a secondary school, prize-winners of the competition 'Resistance and Deportation,' anonymous letters to which was annexed photocopies of papers disputing the existence of gas chambers in Germany during the Second World War."
In June 2004, the Court of Appeals of Limoges condemned him to 24 months in prison over his writings on the tragedy of Oradour-sur-Glane, claiming he had defended war crimes by creating and distributing a videocassette entitled "50 years of Official lies." The Court of Cassation revoked this judgment, ruling Reynouard had not defended but rather contested the existence of a war crime, which is not punishable by law.
On November 8th, 2007, he was sentenced to one year in prison and a 10,000 euro fine [= $13,000] by the Magistrate's Court of Saverne (Lower Rhine) for "contesting crimes against humanity." Reynouard had written and distributed the brochure "The Holocaust — What They Hide from You." Reynouard appealed the sentence.
On June 25, 2008, the Court of Appeals in Colmar (Alsace, France) condemned Vincent Reynouard to one year of imprisonment and the payment of the cost of placing an advertisement with extracts from this judgment in the Official Journal of the French Republic, as well as in the prominent newspaper Le Monde, the Dernières Nouvelles d'Alsace and Alsace. Raphaël Nisard, lawyer of the LICRA [= "League Against Racism and Antisemitism"], declared: "It is an extraordinary result which satisfies LICRA completely."
On June 19th, 2008, a Court of Appeals of Brussels, in neighboring Belgium (to which Reynouard had fled with his family) condemned him for the publication of a revisionist publication to one year of imprisonment and 25,000 euros in fines.
The Gayssot Act of July 13, 1990 prohibits the diffusion of historical revisionism on pain of imprisonment and fine.
On the grounds of this law, Vincent Reynouard, aged 41 and a father of eight, was in 2007 sentenced to one year in prison without probation and ordered to pay about €70,000 for having written a 16-page pamphlet entitled Holocauste ? Ce que l'on vous cache… ("Holocaust? What They hide from you…").At the request of the French authorities, who had issued a "European arrest warrant" for him, he was arrested by the Belgian police last July in Brussels, where he lived with his family, then jailed in Belgium for over fifty days before being extradited to France.
And throughout the Western world the mainstream media ignore the fact that in France an honest man, father of eight children, is serving a year in prison and must pay €70,000 because he authored a piece of writing of sixteen pages. Having been imprisoned during 9 months, he was liberated on April 5th, 2011.
The Underlying Reasons for Big Brother's Present Triumph
[…] In 1945, those who had defeated the Axis also changed the consciousness of the so-called civilized world.
After having crushed their enemy, plundered his territory, demolished his cities and raped his women, they declared to the whole planet:
"We have fought against a barbaric regime to the point of its complete destruction, and have the right to call it account. But we need not demonstrate that it was barbaric (the fact being common knowledge), nor answer for any of our own violations of international law (since, in defending civilization against absolute Evil, all is permitted)."
Today the consequences of that change are quite plain to see: Big Brother, showing no evidence for his claims, accuses entire countries, drags their names through the mud, heaps insults upon them, starves them, tears up the UN Charter, attacks them, bombs them, poisons them and, in doing so, meets with no real political resistance, for people's minds are conditioned by "Nuremberg".
[…] We go on struggling, alone if necessary, for as Maurice Bardèche wrote, already in 1948: with the verdict of Nuremberg, "it's not just the Germans, it's all of us that are dispossessed".
Until objectivity in History is re-established, nothing effective can even be tried against the New World Order. And action towards that goal is needed now, for Big Brother, at his end, is wasting no time…
* * *