South Africa: Memorial to Anti-White Activist Amy Biehl Unveiled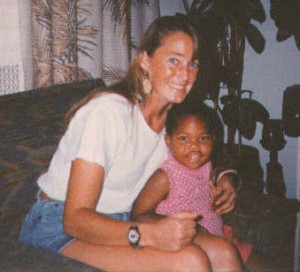 A BRONZE PLAQUE mounted on a stone has been unveiled at the Cape Town site where American Fulbright scholar Amy Biehl (pictured, left) was killed in Apartheid's waning days.
At Wednesday's ceremony, US Ambassador Donald Gips said Biehl was committed to helping build a free South Africa.
Biehl's mother, Linda Biehl, says she is grateful for the memorial, but "the children of this community are our monument."
Wednesday marked the 17th anniversary of Amy Biehl's death.
The Amy Biehl Foundation was established by her family in 1997, providing arts and sports training to more than 1,500 young people in Gugulethu and neighbouring communities.
The four men convicted in Biehl's death claimed the attack was part of the war on apartheid.
[Amy Biehl pleaded for her life when attacked by members of a Black "anti-apartheid" group. Despite her claiming that she was on "their side," it was to no avail. She was White. She had to die. She was brutally slain, though her Black companions in the vehicle were not. The mob, just back from an anti-Apartheid political rally, forced the car to stop, throwing heavy rocks. They chanted "one settler (a code word for Whites), one bullet!" as they swarmed the car, forcing Amy out onto the street where she was slain without mercy. She was 26 years old and just a few days from returning home to America.
According to the Friends of Amy Biehl, she "passionately opposed the Apartheid government, and devoted much of her efforts during her stay to the upcoming South African election, the nation's first all-race election scheduled in April of 1994. She truly believed that Africa was 'the continent of the future' and was committed to voter registration programs for blacks" and an end to South Africa's program of separate development — and, eventually, separate nations — for Blacks and Whites, which was called Apartheid.
During the attack, her Black co-workers cried out that she was a "comrade" — but it made no difference. Four of the gang were eventually convicted of murder and sentenced to 18 years in prison, but the Black ANC government eventually allowed them to go free based on the "political nature" of the killing. The admitted murderers stated "We were in very high spirits, and the White people were oppressive; we had no mercy on the White people. A White person was a White person to our eyes…. What I believed is if you kill a White person, it is how we are going to get the land returned from the White people…."
According to the Friends of Amy Biehl Web site: "The Biehls ultimately supported the [pardon], shaking the hands of the convicted murderers upon their release." — Ed.]