Letter: Agnew Outraged by "Zionist Domination"
by Kevin Alfred Strom
Exclusive to National Vanguard
AN IMPORTANT LETTER from former US Vice President Spiro Agnew (pictured) to German-American writer and activist Hans Schmidt, written on September 24, 1982, reveals the extent to which Agnew opposed Zionist power. The letter is photographically reproduced below and reads:
Dear Mr. Schmidt: Thank you for sending me your letter of August 26th and the enclosures. Having been for a long time in the vanguard of those who protest the domination of this country by Zionists, I am always encouraged to see that others share my outrage.
Even in the face of these horrible actions by the arrogant state of Israel, the broad spectrum of American opinion leaders seem to cling to the fallacy that Jews, because of the so-called Holocaust, can do no wrong. The 70 years of indoctrination that began with the years that immediately followed the Balfour Declaration have brainwashed the western world, and Zionist control of our news media has kept the fields green for Israel.
The vituperation of organized Jewry is zealous to say the least. As one who has endured 10 years of well-organized attacks in the media and in the courts, I can attest to that. One can assume only that Israel is more important to these people than their own country.
I also like President Reagan, but he must develop a more positive attitude on this subject. Reagan must be told that the tail cannot continue to wag the dog. The American people are prepared to follow a strong leader who will refuse to protect a welfare state that insults its donor.
Kind regards.
Sincerely,
Spiro T. Agnew
After he was forced out of office, Agnew wrote a political thriller with an anti-Zionist theme, The Canfield Decision.
* * *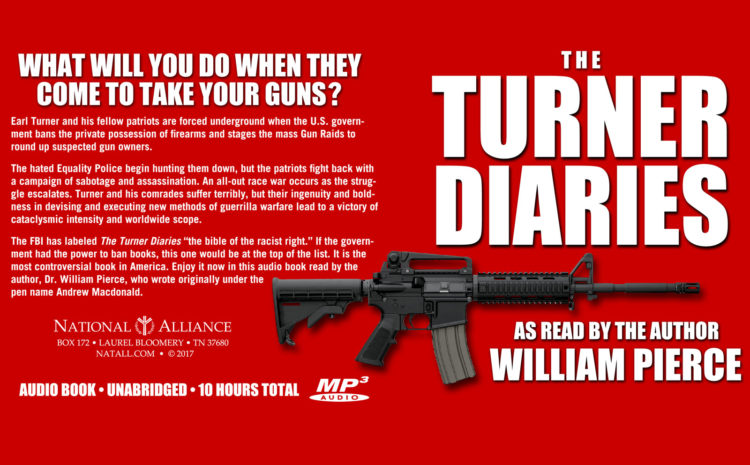 Listen: Turner Diaries commercial
OUR NEW, remastered audio book edition of The Turner Diaries read by the author, Dr. William Pierce, is now available. You can get your copy now — the CDs are are shipping as soon as orders come in.
The original recordings, made by Dr. Pierce and Kevin Strom on reel-to-reel tape in 1995, had been digitized in the early 2000s, but that digitization process was primitive compared to what we are capable of today; we have remastered this important work using the latest software — and we did it the careful, slow, difficult, craftsman-like way — the way Dr. Pierce would have wanted it.
We are proud to offer you the result, which can be ordered online via http://natall.com/td or by postal mail from National Alliance, Box 172, Laurel Bloomery TN 37680 USA. The fidelity of the disc is excellent: On a good speaker system, it sounds as if Dr. Pierce is with you, reading his book to you personally. There is nothing quite like hearing the man who created The Turner Diaries read it to you himself. And, by purchasing this mp3-CD, you will be supporting the important work of the National Alliance.
Listen: Turner Diaries commercial
* * *